Compact home gyms are quite popular for people who want the benefits of a good workout without having to leave home to get it. Like us, you probably like to work out and be on top of your fitness game. But in the modern world, we live now, we are so busy we have little to no time for exercise. Before you go to work and return, attend to your family and do various chores at home, 24 hours are up. Just like that! And whenever you do make time to go to the gym, you are forced to wait in line before you can use the equipment. So frustrating. So how about having your own compact home gym so you don't have to go to the gym? Yeah, the idea has crossed your mind before. 
You probably dismissed it because you think you don't have enough space for a professional gym. But hey, not having enough space isn't enough reason to not work out. Not when there are a lot of compact home gyms out there. Compact home gyms, as the name clearly states, are compact and occupy a small space. This means you can easily create a safe and dynamic workout area based on your fitness goals. Stay tuned, read our reviews and find out which of the best compact home gyms suit your needs.
Top 10 Best Compact Home Gyms
Here, we'll be revealing the top ten best compact home gyms to you. We compiled this list after carrying out extensive research. The truth is that choosing the best compact gym can be overwhelming especially if you've never dealt with them before. But hey, we've done all the hard work for you. 
So we'll start by reviewing the very best compact home gyms. After revealing our top picks, we'll then take you through a detailed buying guide for compact home gyms. 
It's going to be a fun dear friend. Let's get started.
Bowflex PR3000
Bowflex PR3000 tops our list for good reasons. It's the best compact home gym in the market. It features a space-saving design which means you can always find a place for this equipment no matter how small your apartment is. There is also a workout bench that is removable, and this even makes this compact gym take even less space. 
This Bowflex gym gives you the option of performing up to 50 different exercises thanks to the high, middle and low pulley systems. How cool is that? Working out at home just got a lot easier. 
For those specifically looking to build muscle, this compact gym might not be the best option for you. But you are sure to get a full-body workout with this gym equipment. The high pulley allows you to exercise your back and arms. The low pulley caters to your biceps, calf and upright rows. And the middle pulley lets you workout your core muscles and chest. 
When it comes to durability, this compact gym is sturdy and long-lasting. You'll definitely get value for your money should you decide to buy this compact gym. 
Also, it's very easy to use this equipment. And it is very quiet and smooth during use. If you want a redefined workout experience in your home, go for this compact home gym by Bowflex.

Body-Solid G1S Selectorized Compact Home Gym
Body-Solid has been producing high-quality compact home gyms for some time. And the G1S is a successor to the very popular and successful G1 model. And being a successor to an earlier model, the G1S model comes with several upgrades.
This compact home gym is lightweight and doesn't take too much space thereby fulfilling the first requirement for home gyms. It also comes with several features that effectively optimizes it for home use. The smaller footprint (49″ x 36″) also contributes to the compactness of this home gym. 
You don't get a lot of stations on this equipment though. Body-Solid's aim is to provide you with the essential core exercises that work out your entire body. So the bench press, leg extension and lat pulldown machine are some of the things you can work with. 
All these revolve around an interconnected pulley system. There is also a 160 lbs. weight stack for some weightlifting exercises. Stations available to you are a high, mid and low pulleys, a chest press bar and leg extension. 
Another thing we like about this compact home gym is the low maintenance. It's built with several high-quality and self-lubricating materials which makes it sturdy and durable. You don't have to worry about maintenance at all. 
The only drawback about this equipment is that it's not the easiest to assemble. You'll figure it out and won't need any professional help. But the assembling could be a little easier. And if you want to focus on solely heavy strength training, you'll have to look at other compact gyms in this list.

Marcy Multifunction Steel Home Gym
If you have some knowledge about the fitness field, then it's more than likely that you've encountered Marcy products before. Marcy is a well-known and even well-loved brand in the fitness world. They aim to provide high-quality products at an affordable price. So if you are looking for a budget compact home gym, here now. 
Beginners will especially love this Marcy compact home gym as it is very pocket friendly. It's not the flashiest or most sophisticated. But it has a solid construction with stations for core workouts and a good-quality weight stack. Relate these to the price and you realize you are getting a bargain. And that makes it one of the best compact home gyms in the market. 
When we set our eyes on this machine, the first thing we noticed was the high-quality frame. And you are bound to notice that also. This Marcy Home Gym also features a small footprint (67.5″ by 42″). Stations you'll find include the leg extension station, a top-mounted lat bar, a removable biceps pad. There is also a dual function arm/chest press. That's not all. You also get a 150 lbs. vinyl stack. 
Marcy prides itself on providing user-friendly products. As a result, this compact home gym comes with a detailed instruction manual that gets you started on how to assemble and use this product. High-quality construction makes this machine durable and long-lasting.

Bowflex Xceed Compact Home Gym
Bowflex with another excellent compact home gym. The fitness industry has evolved over time to become what it is today. The advancement of the industry is due to innovations by individuals and companies alike. And Bowflex contributed their own share of innovation with the Bowflex Xceed Home Gym. And that's why it makes our list of best compact home gyms. 
The power rods of this compact gym is different from the weight stacks you see around. It's instead made of flexible rods that provide 'inertia-less' resistance. What this fancy word simply means is that the amount of resistance remains as you undergo the full range of exercise motions.
For weight stacks, there is the issue of variable resistance. You experience the greatest resistance at the beginning. The moment you get the weights moving, the resistance decreases. 
If you want an upgrade from the traditional gym equipment, the Bowflex Xceed Home Gym is the equipment for you. The footprint (53″ by 49″) also makes this machine compact. And it won't take a lot of space in your home. 
There are a number of workouts this machine provides. You have a free-floating pulley system as well as different workout stations. This equipment also requires low maintenance and is durable and long-lasting. 
Before we forget, you can do about 65 available exercises to improve your fitness levels.

Body-Solid GLGS100 Corner Leverage Gym
Body-Solid rocks! And that's why we have another product from them on our list. The GLGS100 is indeed an exciting model with some cool features. For one, it uses a set of pulley systems and a mechanical joint. 
You'll also find out that this machine doesn't come with any factory weights. Instead, the manufacturer provided a number of mounting points compatible with Olympic plates. This means you'd have to get your own Olympic barbell and plates. 
Just get as many Olympic plates as you need and you are good to hear. We know what you are thinking, 'Is it good to buy this equipment with no weights?' Well, it has both its advantages and disadvantages. Having to buy your weights is an additional investment. But these extra weights will massively improve the quality of your machine. 
The solid construction of the frame inspires confidence. Quality is written all over this equipment. You'll surely experience a redefined experience with this compact home gym. Stations such as lat station, bench press, and a low pulley station are available for you.

Weider Ultimate Body Works
This compact home gym is another excellent bargain workout equipment. We've been talking about home gyms being compact and lightweight. But how small and compact could they really be? Is it possible they are small enough to fit into your closet? The answer to that question is yes. 
The Weider Ultimate Body Works redefines the field of compact home gyms. The footprint of this gym is 71″ x 25″ footprint when you fully assemble and extend it. You might have noticed we've not talked about the weights yet. Well, that's because this equipment has no weight. 
What this machine does is to combine your own weight with the pulley system to create the required resistance. And it works like magic. 
By finding a way for the machine to make this machine function without weights, Weider has been able to produce very compact and affordable gym equipment. Essentially, this machine is made up of a sub-frame and a seat that is mounted on rails. The pulley system lets you use your body weight to create resistance during different workout sessions. 
You have the option of doing up to 50 different exercises. From targeted workouts to whole-body workouts, this equipment will put you at the top of your fitness game. 
This equipment is of superb quality and is easily one of the best compact home gyms in the market. It may take you a while to get used to this machine though. But when you do, you'll be cruising to fitness and vitality.

Total gym XLS
If the Total Gym XLS is good enough for Chuck Norris, then it's good enough for you. Where's this coming from? Chuck Norris (Yes, that Chuck Norris) uses this machine to stay in shape and he once described it as the 'lean, mean exercise machine'. Norris endorses this machine and that should tell you something. 
What we really like about the XLS is its construction and quality. There aren't a lot of home gyms better than this one. And that's why we included it in our list of the top ten best compact home gyms. The frame is manufactured with high-quality steel tubing. To enhance the durability of this equipment, the rails are plated. The upper rails have chrome plating while the lower rails are powder coated. Put that with the 1000 Ibs cables (which are also vinyl-coated) and you have a piece of extremely durable monster equipment.
You can perform over 80 exercises with the Total Gym XLS. This truly eliminates the need to go to the gym. It's easy to unpack this equipment and set it up. The manufacturers want you to have the best workout experience possible. Because of this, they included a number of accessories in the package. You'll find three training programs for users of all categories (beginner, intermediate and advanced). There is also a nutritional program and meal plan.

BodyBoss Home Gym 2.0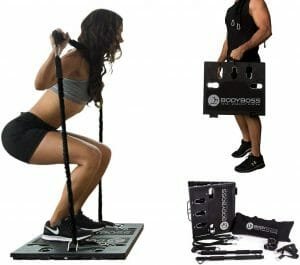 This equipment is definitely going to be one of the most compact and lightweight home gyms you've ever seen. And if you also consider the top-notch functionality and the pocket-friendly price, you'll realize you've got yourself a bargain. 
You'll fall in love with the fact that you can carry out a wide variety of exercises and achieve a full body workout. This machine relies on resistance bands and the manufacturer includes a number of specially prepared ones in the package. 
Using the BodyBoss Home Gym 2.0 is extremely easy. All you have to do is to release the case which acts as a stable and non-slip platform that you can stand on. Then you put in the resistance bands compatible with the kind of exercise you want to carry out. Then you go on to carry out your intended exercise. Simple and straightforward. 
The aim of BodyBoss here is to mimic a real gym and provide you with most of its experiences. And we think they achieved that aim. Athletes and professionals will also find this equipment very useful.

Powerline Compact Home Gym With Leg Press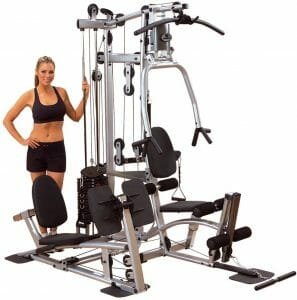 Home gyms when it comes to price are either expensive, intermediate or cheap. And if you are looking for something in between, then you should take a look at the Powerline Home Gym. We really like it and rate it among the best compact home gyms in the market. 
You might have noticed we added 'with leg press' in the name of this equipment. And that's because we really like the leg press feature. The pulley system has three categories – low, mid and high pulleys. 
Like all the other home gyms on our list, this Powerline gym is perfect for people with limited space for gym equipment at home. And with the range of exercise you'll be getting from this machine, you won't have the need to get any other fitness equipment. 
The workstations help you achieve targeted workout exercises. You can specifically exercise your chest, shoulders and back with ease.

TRX Training Home Gym Bundle 
Working out isn't all about lifting weights and undergoing very rigorous routines. You can also undergo TRX training to improve total body strength and stability. Even your cardiovascular health will also improve. 
Suspension gyms provide TRX training and that's why we are adding this equipment to our list. Not only can you increase your muscle strength and flexibility, you can also improve your muscle tone. And this TRX Training Home Gym Bundle provides you with all you need. 
It's easy to set up and use. You also get TRX Home Suspension Trainer, two anchoring solutions and six free workouts delivered straight to your phone. And the icing on the cake is that you can perform up to 300 exercises with this bundle. 

Best Compact Home Gyms Factors to Consider
Many factors were put into consideration before we compiled this list. And they will serve as your buying guide as you are about to buy a compact home gym. Here they are:
Size
Size is the first thing you should look out for in compact home gyms. This is because no matter how superb the functionality of a machine is, it's useless to you if you can't find a place for it in your home. 
The reason you are buying a compact home gym in the first place is that you want to be at the top of your fitness game despite not having a lot of space in your home. So pick the ones that won't eat up your limited floor space. Read Here: Top 10 Best Rowing Machines
For our list, we chose machines that are very compact. You can put some of them in the corner of your house. Some of them even have parts that can be folded. 
Affordability
Your budget determines the kind of product you can get. There are some really top-of-the-line models with high price tags. And there are also more basic models that are more pocket friendly. Your aim here should be to find the balance between quality and price. This will ensure that you get equipment that serves you now and in the future. In our list, we made sure you'll get value for your money on each machine. 
Features
What are your fitness goals? What are you trying to accomplish? The answers to these questions will determine the type of equipment you should get. Some types of equipment are suited for general body workouts, while others allow you to target specific parts of the body. 
We thoroughly explained this in the review of every product above, so you know what you are getting. Some models allow you to build muscle. 
Choosing a Resistance System
Resistance systems vary among compact home gyms. Generally, you see resistance systems featuring weight stacks that are connected to a cable and pulley system. Some models use bars to achieve resistance (Remember Bowflex?). And some models instead use your very own body weight to create resistance. Read Here: Best Barbell For Home Gym Workouts Reviews
The models that use your body weight are cheaper and more compact than the rest. But the drawback is that you can't perform a lot of exercises on them. The ones that use power rods are more expensive. While the weight stack models are the most popular. 
Build Quality 
The durability of your compact home gym matters. Surely, you want a machine that you'll be using for a long time. A compact home gym with good build quality allows you to focus during workouts. This is because you won't have to worry about your machine rattling or wobbling. 
Also, check out the workstations as this will determine the range of exercises you can do. Generally, most machines have a chest press, shoulder press, and lat pulldown. 
Height of the Machine
Check out the height of the compact gym you are getting. The taller models take up more space and may not be attractive to many users. However, if you want more functionality, you might just have to go for them. 
Read More:
Conclusion
There you have it, our top ten best compact home gyms. That's ten wonderful products to choose from. Our buying guide will help you choose the machine that's most appropriate for you. Choose one today and stay at the top of your fitness game.