Ellipticals are a great machine to get your heart pumping. It offers a smoother ride than the treadmills while protecting your joints from injury and stress. So, it is no wonder why ellipticals are a favorite.
Now, if you are looking to add an elliptical machine to your home gym, then it is crucial that you consider a broad range of factors. Ellipticals are pretty complex machines. And with the saturation in the market, without any prior knowledge, you might end up with an unsatisfying purchase.
To save you the hassle and time, we already did the research and compiled the best elliptical machines on the market today. Our top 5 list is specifically targeted towards users who are on a tight budget. All the ellipticals featured here costing less than $500. Read Here: Top 5 Best Elliptical Under 1000
These machines are considered a step away from the professional-grade ellipticals that you can found at high-end fitness clubs and gyms. However, we guarantee you that they are significantly a step up from the entry-level ellipticals. So, without further ado, here are the 5 best elliptical machines under $500!
Top 5 Best Elliptical Machine Under $500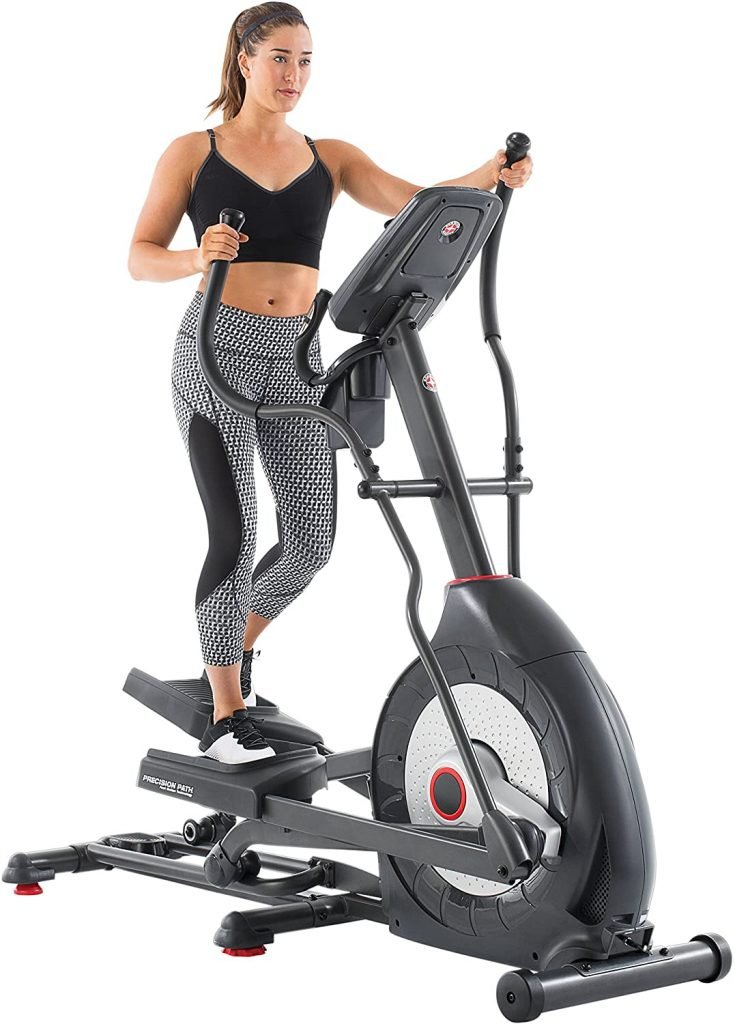 In the Exercycle world, Schwinn needs no introduction. They have a line of high-quality elliptical machines that have kept users satisfied for a long time. One of the best-selling machines in the market today is the Schwinn 430.
With a price tag of under 500, the 430 offers you a comfortable and smooth experience. That and the fact that it helps increase your muscle and cardio strength while shedding those unwanted pounds. With its high-speed, high-inertia front-drive system, you get a smooth and quiet workout.
Choose from 22 preset workout programs to start your workout. IT includes 9 profiles, 3 fitness tests, 8 heart control, and 1 quick start. Meanwhile, its 20 inches stride features Precision Path foot motion tech. Meaning, it simulates the natural running motion. To keep you challenged, this elliptical features 20 levels of computer-controlled resistance. This way you have plenty of intensity options.
For your comfort and ensuring an effective workout, it features large cushioned footplates. This contributes to low-impact and comfortable workouts. That and the ergonomically fixed and moving handlebars offers you better convenience and flexibility for hand placement.
With its Goal Track technology, users can set individual workout goals. It tracks distance, time, and calories you can compare with your previous workout. See all your data on the DualTrack 2 LCD screen display.

One of the most affordable elliptical machines on the market, Sunny Health & Fitness offers the SF-E905 to start for beginners. This rear-drive elliptical trainer is built to provide a smooth lower and upper body workout. You get a full-body workout without causing stress on your joints.
With the 11 inches stride length, it offers a step-like, short-burst motion. Also, it provides a compact unit that can fit easily in small rooms. Meanwhile,the 8 levels of resistance can be adjusted conveniently with a tension knob.
There's also a hand pulse monitor that allows you to track and maintain your target heart rate. The bright and easy to read digital monitor allows you to track your workout progress. It shows data including the speed, time, scans, calories, distance, and even your heart rate readouts.
In addition, it features large and textured anti-slip foot platforms. This foot platform synchronously moves with the arm handles. To provide safety and prevent tipping, swaying, and rocking, the machine features a floor stabilizer. For portability, you will like its durable and large transportation wheels.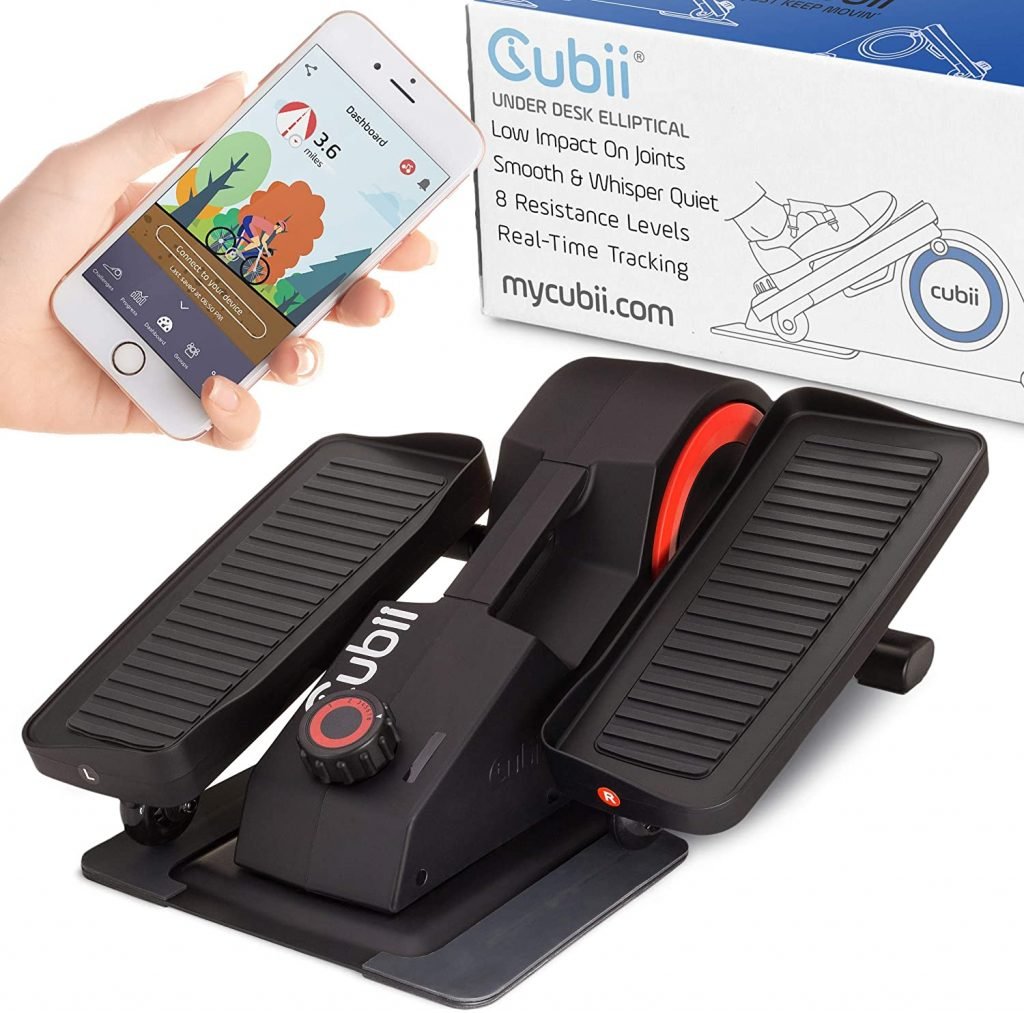 Now, if you are looking for a less bulky, hidden-under-your-work-desk elliptical, then the Cubii Pro is one of the top-rated under-desk elliptical there is. Designed with ultra-smooth gearing, this small elliptical machine is ideal for those little heart-pumping exercise urge while you work on important paperwork.
This popular mini machine uses a small fan wheel with pedals. Thus, it allows you to simulate a full-size elliptical training at your desk. Unlike the standing ellipticals, the Cubii Pro is optimized for seated use. Thus, it reduces the range of motion and cutting down the workload of your legs. In case you need some resistance, this compact elliptical allows you to choose between 8 levels. Meanwhile, stable construction should help you generate more force.
Lastly, the Bluetooth connectivity of this machine is also a nice add-on. It allows you to connect it to the Cubii Android and iOS apps. From there, you are able to track your strides, calories, minutes, PM, and miles. Not only that, but you can also sync your workouts to the Apple HealthKit and Fitbit to reach your step goals.

Another great machine from Schwinn, this is a great option for those people lacking in enough space to place the bulky ellipticals. It features an 18 inches stride length. However, its overall size is quite compact and humbly fits into a small space.
Also, at 120 pounds, this machine is relatively easy to move around. It is smaller and lighter than others. However, the Schwinn 411 still promises to give you an effective all-body workout.
First off is the 5.5 inches High Contrast LCD. With its price, you can expect it to be basic. However, your data are easy to read with both button panel and screen for easy usage and navigation.
One of its best features is the mixed-reality training app. This machine can be synced with your RunSocial app.In which has 27 routes and 19 locations that you can log into with friends. Featuring 16 resistance levels, you get to work your way up from beginner all the way to advanced.
There are also 2 sets of handlebars that are padded and fully-equipped with a heart rate monitor grip. Tracking your exertion output. Furthermore, it has 13 preset programs. Although it is quite modest compared to the previous Schwinn model, these programs are enough to get your heart pumping.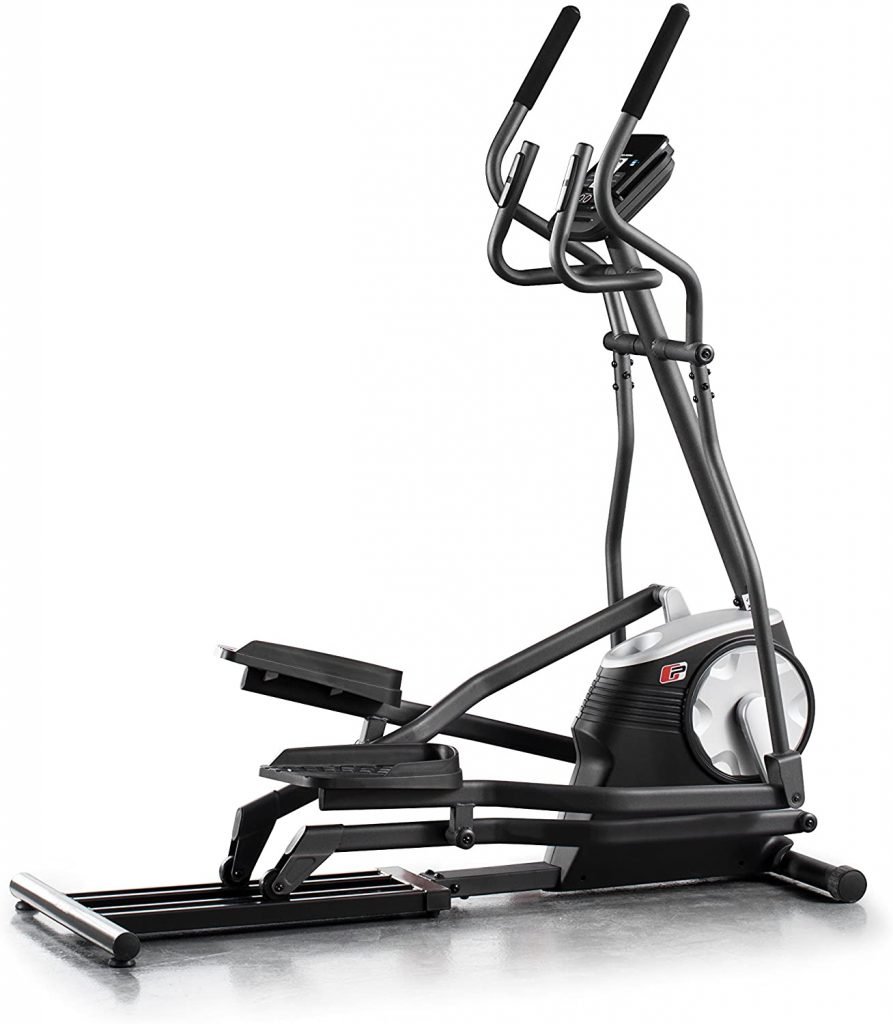 Last on our list is the reliable ProForm 150I Elliptical Machine. Just like other ellipticals on this list, the 150I is a space-saving machine that is suitable for small spaces. Its front-drive design with the 17 inches stride length is enough for most people to have an active exercise routine. The elliptical trainer features 12 workout programs. This gives you enough options to effectively engage your lower and upper body.
To add more challenge to your workout routine, the ProForm 150I also features 12 resistance levels. And the resistance can be adjusted easily according to your personal goals. Meanwhile, it features a console that is super easy to read and navigate. With the bright LCD,you can track and monitor all important data. These include the workout program, calories burned, time, distance covered, and so much more.
Also, the machine is fully equipped with an iFit unit on the pedal. It should allow you to move forwards and backward. There's also the chest strap heart monitor to track your heart rate. With a 250-pound weight capacity, this elliptical machine is durable and sturdy. Plus, it is protected with the 5-year frame warranty and 90-day labor and parts warranty.

Best Elliptical Machines Under $500 Buying Guide: 6Factors To Consider
Elliptical machines are a unique design amongst home cardio machines. And you will need to do some research in order to make a good purchase. If you do not evaluate your options and considerations, you might end up with an expensive machine that does not fit your stride or your home gym. So, we help you once again with our comprehensive buying guide. This should cover all major features that you need to look at before taking out your hard-earned cash.
1) Design
While most cardio machines such as bikes and treadmills offer one main design, the ellipticals come in a broad variety of layouts. Every setup has its own strengths and weaknesses. And depending on how much space you have in your home gym, you might be forced to consider a single type of machine.
The majority of the ellipticals n the market today fall into 2 designs: the rear-drive and the front-drive. However, there are also portable ellipticals. These are designed to fit and work underneath a desk. Such ellipticals allow you to get your cardio workout during a busy day at work.
1) Rear-Drive Ellipticals
Rear-drives house their drive wheel at the back of the machine. There are specific rear-drive ellipticals with foot pedals mounted on tracks. While some simply suspend the pedals on bars and in between the hand grips and the drive wheel.
Rear-drive ellipticals offer the longest possible stride. Plus, they are far longer than their front-drive counterparts. Thus, they require a great deal of space and tend to be a bit more delicate as well.
2) Front-Drive Ellipticals
As the name suggests, a front-drive elliptical runs with their drive wheel at the front. In order to accommodate its big wheels, these elliptical typically features a big case surrounding the wheels. Also, it incorporates the main console and the handlebars.
This design is far more compact than other ellipticals. Thus, they make it easy to keep in small home gyms o compact apartments. Unfortunately, this design type features a shorter stride length than the rear-drive ellipticals. This shorter length also pushes the elliptical up.So, you will need extra ceiling space in order to accommodate it.
3) Under-Desk Ellipticals
These are the smallest machines of the 3 designs. They general resemble a pair of biking pedals running on a tiny track. Although they do not offer much stride, they are extremely compact. Also, they are suitable if you do not have the time to workout outside of the office.
Beyond these listed designs, you might also come across ellipticals with a side-drive. The flywheels on these ellipticals are on either side of the pedal. Although rare, a side-drive offers you the best of both front-drive and rear-drive ellipticals.
2) Stride Length
This one is a crucial feature that you need to consider seriously.
Why?
Well, buying an elliptical machine with a stride length that is too short or too long can harm your stride mechanics. This may also lead to an unsatisfying workout. The stride length falls into several categories, based on the design you are eyeing. Still, individual machine models vary.
Most home elliptical machines provide a stride length range from 10 – 22 inches. You might find some models with longer or shorter strides. However, the spectrum between the 16 inches and 22 inches should be able to comfortably accommodate most users.
You'll also want to consider various stride lengths depending on both your size as well as how you want to use the machine. For walkers, you can go with models with shorter stride length. However, if you like running, then a longer stride should be what you need. Also, shorter users (under 5'7"), in general, best fit with 18 – 20 inches of stride. Taller users, on the other hand, can benefit from 20 inches or more stride length.
3) Resistance Levels
Next to the stride length, then next thing you need to determine is the resistance. The stride length affects whether or not you can workout properly at a certain elliptical. The resistance, on the other hand, will determine how much room you can develop on the machine.
Buy an elliptical with too much resistance and you will struggle in progressing in your fitness routine. Meanwhile, elliptical without enough resistance level will prevent you from progressing and getting a more satisfying workout.
Different elliptical models use their systems in order to generate resistance. Under the 500 category, most units utilize a fan wheel design. These are sometimes referred to as the "air resistance" system. In this design, the user's movement powers the fan that blows against the drive wheel's blades. So, the faster your pedal, the more resistance you generate.
These types of ellipticals are affordable. Also, they work smoothly without the need for much maintenance. However, the "air resistance" system ellipticals tend to be really loud. Now, if you want something quieter, there are some ellipticals with magnetic resistance.
These ellipticals utilize a set of magnets. These magnets generate a silent and smooth resistance as you pedal. This system is what you will usually find on the commercial and premium machines. Other than being more expensive, they also require serious maintenance. Thus, they are not as common in the under 500 category market.
4) Inclines
Incline is a not-so-common feature on ellipticals under 500. But, if you did find one, it can be a great tool for the advanced runners, making their workout more challenging.
The incline on ellipticals creates an effect that mimics climbing a stair. It shortens your stride while forcing you to exert more energy in order to cover the same distance.
If you find a machine offering incline in the under 500 mark, then it is most likely the fixed type. Adjustable incline levels allow you to control it from the center console. Meanwhile, a fixed incline can't be adjusted.
5) Control Module
This is the heart of any elliptical. It is a medium where you can select and adjust the incline and resistance.In addition, this is where you can see your workout data displayed.
These include the essentials such as time and speed as well as other items like heart rate that can help you adjust your machine in order to better suit your needs. A poorly designed control module may ruin even a nicely designed elliptical.
Thus, look for an elliptical trainer with a clutter-free and intuitive console. For the ellipticals under $500, they come fully-equipped with LCD screen— basic and get the job done. They may not be the brightest and prettiest. Yet, they are simple and effective enough for most users. Meanwhile, ellipticals with a more than 500 price tag offer a touchscreen and/or colored display.
6) Other Considerations
Like most home cardio machines, the ellipticals are bulky and big. Folding ellipticals are uncommon at this price range. However, they should have transportation wheels. This allows you to easily and quickly transport the bulky machines from one room to another.
Another feature that manufacturers include are Bluetooth connectivity. This allows you to connect your elliptical data to various workout apps. Some ellipticals even have speakers to play motivational music.
Lastly, look at the machine's pedals. This is one of the biggest concerns for most users. If pedals don't fit your feet, then it can be difficult or impossible to use it for a fulfilling workout. Fortunately, there are models that offer adjustable pedals. This way, you can modify them to fit your feet better in size.
Frequently Asked Questions
Q: Is an elliptical machine good for the knees?
A: Ellipticals, when compared to other cardio workout machines, are the best options in protecting your knees. Working out on ellipticals means that your feet move along pedals on a fixed track. This helps reduce some of the pressure that your joint normally experienced. Thus, ellipticals help remove this repetitive impact between your knees and a running surface on the road or on treadmills.
But, it does more than just reducing joint impact. Ellipticals are known to strengthen the muscles surrounding the joints in your ankles, knees, and hips. By strengthening these muscles, you also protect your joints against damage in the future. Also, ellipticals are usually used in rehab centers for a lower-body injury.
Q: How do ellipticals compare to treadmills?
A: Although treadmills ad ellipticals are both great machines to get your heart pumping, they do not function the same way.
As mentioned before, ellipticalis easier on the joints than the treadmill. Treadmills are high-impact cardio workout machines requiring you to push off the belt with every stride. Meanwhile, ellipticals utilize pedals on a fixed track in order to reduce the stress on your hips, knees, and ankles.
Such difference makes the ellipticals much easier on your joint of your lower body than the treadmills. So, if you're recovering from a hip, ankle or knee injury or only want to reduce the load and impact in your legs, then ellipticals are the best option. Still, unlike treadmills, ellipticals do not mimic a natural stride. This reduces the number of calories you burn and you are not working out your leg muscles more effectively.
In summary, elliptical machines are great for people who need low-impact cardio for their lower body and are suitable for people with joint issues. Treadmills, on the other hand, are for more intense workouts suitable for competing athletes.
Q: How long should I use an elliptical?
A: The time you use your elliptical will vary depending on your workout goals. Still, there are several key statistics that you need to keep in mind. Most people step onto the elliptical in order to burn calories and remove those unwanted fat and weight. However, people of different sizes will burn calories at different rates when using the elliptical. If you're particularly muscular or tall, you will burn the same number of calories as a thinner or shorter person in a faster timeframe.
You may burn at least 250 – 550 calories in about 30 minutes on an elliptical, depending on your body composition and size. In most cases, a 30-minute to an hour of elliptical workout should be enough to burn a good amount of calories. However, if you are training for a race, then it might be a greater idea to train based on the mile run instead of time. With this, you can measure your stamina and pace more accurately, developing your endurance.
Conclusion
The best elliptical machines under $500 allow you to build cardio strength while making it easy on your joints. All 5 of the elliptical machines mentioned above are great and effective machines that should keep your heart pumping at an affordable budget. We'll be glad if you find the right elliptical for you from our list, however, it is also great to be inspired and find other models that accommodate your needs.