Most people who use the gym have seen rowing machines. For those who don't go to the gym it can be a confusing issue, particularly when you want to invest in one for your own home gym.
Basically, a rowing machine is exactly what it sounds like. It is a piece of equipment that imitates the action of rowing a boat in the water.
Rowing is an excellent way to get a full body workout as it involves using several major muscle groups. Rowing will help you to develop both upper and lower body.
For anyone wanting to lose weight, rowing is great as it tones and builds muscles. It also gets the heart pumping and the lungs working which means that you get a serious workout every time you use it.
What is great about rowing machines is that they are ideal for beginners as well as serious gym rats. If you row correctly you will soon see the benefits of the machine.
Another bonus of an indoor rowing machine is that they do not take up a huge amount of space, making them ideal for small home gyms. When you have finished using the rowing machine, they can be folded up and stored away.
Different types of rowing machines
There are four different types of rowing machines, namely
Hydraulic

Flywheel

Water rowers

Magnetic resistance rowers
Hydraulic rowing machines are the most popular although this is not to say that the other types are not worth looking at. Hydraulic rowers work by receiving tension from the amount of air or fluid which is compressed. This can be adjusted to increase or decrease resistance if needed.
Flywheel rowing machines feel very similar to rowing an actual boat. The resistance comes from spinning a flywheel with fans attached. The resistance comes from the wind which is created when pulling starts. For more resistance, you simply pull harder.
Water rowing machines are also a close simulation of the boat moving through the water. Here the flywheel creates resistance as the water moves past the tank. One advantage of this rower is that it is almost silent when it is used. Literally all you will hear is the water swishing around in the tank.
Magnetic resistance rowers make use of a magnetic brake system which gives them a very smooth movement and makes them silent when in use.
Top Rowing Machine Brands  
There are many different brands of rowing machine on the market with some specifically designed to work in only one way so you may find that if you prefer a water rowing machine, there are only a few manufacturers. Other manufacturers make several different types of rowing machine.
Some of the best manufacturers are:
Sunny Health and Fitness

MaxKare

Concept

Stamina

Fitness Reality

Kettler

WaterRower

Proform

NordicTrack
Generally, the water rowers are more silent than the other types and give a more authentic feel as if you are actually rowing your boat through the water. These machines are also more durable as there are less parts to wear out, less wear and tear on them.
All rowing machines are considered low impact so are suitable for people who have issues with any impact exercises.
 Most brands or rower will have a display feature where you can see the number of calories you have burned, as well as the time you have been rowing.
Many brands now have a feature where you can save the data from your one session and compare it to the next session.
Top 10 Rowing Machines & Reviews
1. Concept2 Model D Indoor Rowing Machine with PM5
This indoor rowing machine works all the major muscle groups so you can expect to tone up legs and arms as well as receive a good core workout. The movement is smooth, and the calorie counter will show you exactly how many calories you are burning.
You can track your progress using all the data as you row. You can then save the data to compare to your next session. There is a heart rate belt which connects wirelessly for extra monitoring.
The seat height is 14" and the footrests are adjustable. The handle is ergonomically designed so hands stay comfortable the entire session.
For storage when not in use the rower separates into two pieces and has caster wheels to roll it away with ease.
The rower is easy to assemble and comes with just 8 screws to get it all set up and ready.
The machine will fit into an area of 9 x 4 feet and can hold up to 500 pounds in weight.

2. MaxKare Water Rowing Machine Water Rower with Water Resistance & Large LCD Monitor for Home Use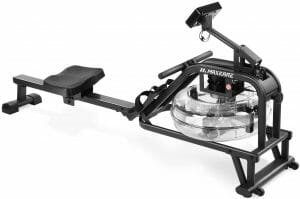 You will find that this rowing machine feels very like rowing on water. It has been designed to feel realistic to make the session more challenging.
The ergonomic design makes it easy to use the machine for longer periods of time and the sturdy frame means that you feel comfortable through the entire workout.
The rower can handle weight of up to 264 pounds and the large LCD monitor means you can easily read your fitness data. Data shown includes SPM (strokes per minute), time and calorie count. There is a feature where you can work out against the machine to make things a little more interesting.
When you are finished using the machine it can be folded up using a pulley system. Easy to fold and store in an upright position.

3. Sunny Health & Fitness SF-RW5515 Magnetic Rowing Machine Rower w/LCD Monitor
You will notice right away that the LCD digital monitor is large and clear to display time, count, total count and calories. The scan feature allows you to track your goals during the workout.
This machine is great for people with longer legs as the slide rail is 48" in length. It can handle an inner leg length of up to 44" with comfort.
The resistance is easily adjusted with a simple twist to give up to 8 levels of resistance. This can be adjusted during the workout, without having to stop the action.
The pedals are made of non-slip material and the handlebars are made of foam for extra comfort and less callouses while working out.
The rower can be tilted upwards when not in use and conveniently stored away.

4. Fitness Reality 1000 Plus Bluetooth Magnetic Rower Rowing Machine with Extended Optional Full Body Exercises and Free App
This is the only rower available right now which has an additional exercise capacity. You can work the total body with low impact moves for forearms, biceps, triceps, shoulders, thighs and legs.
The slide rail can be adjusted to 39"and the rower comes with Bluetooth Smart Fitness feature. You can therefore track your workout and set your own goals every time. 
The LCD display shows time, distance and calories burned. The extra wide handlebars make for a comfortable experience at long lengths of time.
The dual transmission magnetic resistance offers 14 different levels for an easy or more challenging workout.
The seat is cushioned for extra comfort and there is a weight capacity of 250 pounds. The rower folds away for storage.

5. Goplus Water Rowing Machine, with Heart Rate Sensor, Indoor Rower with Adjustable Resistance Water Wheel and LCD Monitor, Full Body Exercise for Home Use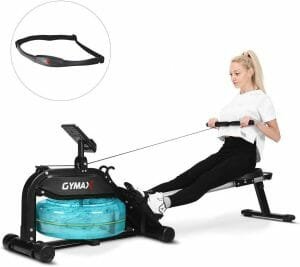 With this machine you can raise or lower the resistance by changing the amount of water in the tank. This is easily done and can give you an easy to more challenging workout.
The LCD monitor is large and clear for you to follow count per minute, time, count, calories and distance. 
The machine comes with a water-resistant heart rate monitor belt to read heart rate during the workout. Additionally, the machine will connect to your cell phone where you can download the app for checking data.
The slide rail is constructed of heavy-duty aluminium alloy and can support weight of up to 220 pounds. Because it is aluminium there will be no rust issues.
The handrail is comfortable and textured while the foot pads have adjustable straps for security. The machine comes with a hand pump to refill the tank.
The rower is silent when in use and can be easily rolled away for storage.

6. WaterRower Natural Rowing Machine w/ S4 Monitor & Hi Rise Attachment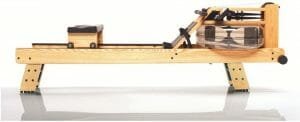 This machine is practically maintenance free. It is designed to target all major muscle groups and has excellent adjustable resistance levels so is suitable for both beginners and advanced athletes.
The rower is constructed of kiln dried wood which makes it strong and durable. The honey oak finish is pleasant to look at.
The flywheel action gives you an experience which mimics the action of rowing in water every time and the smooth action make it ideal for anyone who has joint issues.

7. XTERRA Fitness ERG200 Folding Magnetic Resistance Rower
This rower comes with dual extruded aluminium rails which are mounted on a steel frame. This ensures a smooth rowing action every time.
The LCD display is large and clear as well as being adjustable. The display features time elapsed, stroke count, total count, calories and a scan.
There are 8 levels of resistance which can be worked by a resistance knob mounted right in front of the user. This is a magnetic resistance system which means that it operates silently and smoothly every time.
When not in use, the rower can simply be folded up and stored away.

8. MaxKare Water Rowing Machine Water Rower with Water Resistance & Large LCD Monitor for Home Use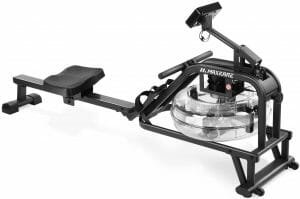 Here's another water resistance rower which makes your workout like being on the water. You'll have a challenging workout every time you use it.
The design is ergonomically constructed which makes it easy to hold the bar for longer periods of time. The machine can handle weights of up to 264 pounds.
The LCD display is large and clear and can track data including SPM, time, distance and calories burned. There is a 'man against machine' feature to make workouts more interesting.
For easy folding and storing the machine uses a pulley system. It stores upright and safely out of the way when not in use.

9. Goplus Water Rowing Machine, with Heart Rate Sensor, Indoor Rower with Adjustable Resistance Water Wheel and LCD Monitor, Full Body Exercise for Home Use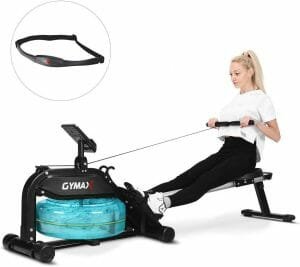 The amount of resistance is adjusted by the amount of water you place in the tank. The tank can easily be filled or emptied depending on what level you want.
The LCD monitor is large and clear, showing your progress and displaying features such as time, count per minute, count, calories and distance.
Included with the rower is the chest belt to show the heart rate as you exercise. The machine can connect with your cell phone and download your data.
The slide rail is made from aluminium alloy and can support up to 220 pounds. The machine is quiet and sturdy and does not rust.
There is a non-slip handle and a hand pump to fill the tank. The machine is easy to move and store away when not in use.

10. Murtisol Full Range Rowing Machine Folding Rower Mimic Real Rowing with 12 Levels Hydraulic Resistance,10 Levels Leg & 3 Levels Incline Adjustment,3.5 inches LCD Display,30 min to Assemble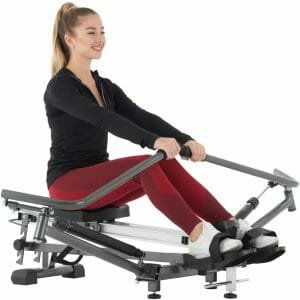 This rowing machine comes with 12 levels of resistance and can be increased or decreased with a simple twist. The machine has been designed for challenging workouts as well as easy ones so is suitable for all levels of user.
The machine comes with a slope adjustment for extra-hard workouts. The higher the slope, the harder the workout will be.
This rower will work all the major muscle groups and is perfect for blood circulation and toning muscles.
The LCD display monitor is 3.5" and shows distance, time count, calories, count and total count. You can customise your workout to suit your own fitness level.
The pedals are anti-slip and the seat cushion ergonomically designed. The handlebars are foam and comfortable for long time usage.
When you are finished using the machine it can be folded up and rolled away for easy storage.

Buyer's Guide For Rowing Machines
So now we come to some points to look for when choosing your indoor rowing machine. There are several important points to think about, although at the end of the day, choosing a rowing machine is a personal affair. 
Space
This – for a home gym – is probably one of the first things to think about. Unless you have a huge amount of space, you will need to consider this well. Remember that you will need to get on and off the machine without banging into other equipment or walls and doors so make sure you leave enough space around the rower.
Taller people will need to allow for a longer slide rail and extra room to climb on and off. Typically, a rowing machine is longer than most other pieces of gym equipment so if you are designing your own gym, then add extra length for the rails.
Resistance
All four of the types of rower offer resistance and all have unique benefits. All types will offer several levels of resistance. Air resistance machines are most used in gyms as they give a smooth rowing stroke. Again, this depends on what you personally enjoy using.  
Sound
Magnetic rowers are often the quietest of all other types of rower. This does also depend on the maintenance of the machine. A well-maintained machine will operate smoothly and quietly. If silence is an issue – because of neighbours next door, then you will find that magnetic rowers are very quiet.
Workout goals
Before buying a rowing machine you should evaluate your own fitness goal. Some rowers are suitable to specific workouts while others give a general workout. Most rowing machines will help you lose weight and tone muscles although a hydraulic rower will offer more choice of levels for you. Some rowers offer pre-set programmes to follow while other need to be manually input.
Usage
The machine you buy should also be suitable for anyone else who will be using it. If you are going to have several other people sharing your gym, then you may wat to think about a heavy-duty machine which can handle constant use and different weight limits.
Additionally, if you are taller than most or weigh over 240 pounds you will want to invest in a rowing machine that can support your height and weight. A machine which is too short will not let you achieve your fitness goals and will be a waste of money.
If more than one person is going to regularly use the machine it needs to be more study and robust than if it is just used by one person. There are several machines which are made to be heavy-duty and will not break under lots of use.
LCD display
Some people will prefer a display with large figures which are easy to read. Some machines offer more features than others so remember that the more features the machine offers, the more expensive it will be.
Some display screens are easy to read, while others may bother your eyes, so be sure to check out the colours of the display before buying a machine.
Comfort
If you plan to use the rower for long periods of time, then you will want to be as comfortable as possible. Make sure that handlebars are of foam to prevent callouses and that the seat is well-padded. Taller people will need a longer slide rail so make sure that it is adjustable to the maximum length you need.
The seat height is also a point to consider particularly if you have mobility issues. A very ow seat may be uncomfortable to get on to and you will not use the machine as much as if it is easy.
Storage
If you need to store the machine after use, then it needs to be easy to fold up and wheel away. It should not take up a great amount of space when folded. This should be easily done by one person instead of needing a second person to put the machine away. Having a machine which moves on wheels will make it much easier to put away and then open when you want to use it.
If you can leave the rower set up and in place, you should still be able to comfortably walk around it without tripping over it.
Price
Hydraulic rowers are normally at the bottom of the price scale so you may want to start your search with them.
Naturally there are machines at both ends of the price range and you may want to focus your search on the middle range instead of the 'bargain basement.' Remember that you will get what you pay for.
Although it is not necessary to pay top dollar for your rowing machine you should avoid very cheap machines as they may not last as long as you want.
Conclusion 
As with anything that you buy, gym equipment is a very personal choice. What works for one person may not suit another. It is important, then that you find the rowing machine that suits you and your specific needs.
Work out what you want to use the machine for, and well as the space you have available, whether you need to store it and how much you are prepared to pay for it. This will give you a very good idea of where to start your search.
It is not a good idea to simply buy a machine which is being offered cheap as it may not suit your requirements. Take your time and buy the best you can afford, the machine that does what you want it to do and will fit in with your lifestyle. This way you will not be disappointed and will have many years of quality rowing.