Out of every piece of workout equipment you can find in your regular gym, you will be hard-pressed to find a more versatile tool than the barbells. Barbells are great workout tools for any fitness level and can be used for just about any form of lifting. If you have your own home gym, then you are probably interested in looking for the best barbell for home gym and taking your barbell training to the next level at the comforts of your own home.
However, buying a barbell is not that easy. With tons of barbells on the market today, choosing the right one for your lifting needs can be quite daunting. Not to worry though, we already did the hard part and come up with this comprehensive barbell buying guide as well as listed 5 of our most recommended barbells for your home gym workouts. Read Here: 5 Best Weight Benches for Small Spaces
How To Choose The Best Barbell For Home Gym?
In order to pick a barbell that you will love and use for years, it is crucial that you have a general knowledge of a barbell's anatomy. Knowing the basic barbell construction can help you match the bars that you're looking at with both your budget and type of lifting.
1) Types
There are several types of barbells on the market today. And for the beginner home gym lifter, it can be quite daunting when seeing all options. In respect to the major type of barbells, there are 3 relevant bars for the strength athletes and recreational lifters. These include:
Standard Barbell: These are all-purpose bars and most suitable for recreational lifting.
Weightlifting Barbell: For weightlifting as well as functional fitness.
Power Barbells: For powerlifting and heavy lifts.
These 3 barbells will offer different construction features in order to match specific needs. Outside the 3 major types of barbells, specialty bars are also common in niche strength sports gyms. Here are some of them:
Squat Bars: Best for squatting, these bars are usually made without a whip and have center knurling for gripping the back.
Deadlift Bars: Suitable for deadlifts, these bars offer a lot of whips that have a smaller diameter and feature aggressive knurling.
Hex Bars: Shaped like a hexagon, these bars are a useful niche implement for variation and teaching the hip hinging.
Women Bar: These are usually made with a weight of 35lbs or 15kg and are 25mm in diameter.
2) Grip Diameter
This is probably the most overlooked construction attribute of a barbell. When looking at the diameter of the barbell, you will typically see bars listed at 29mm, 28mm, or 25mm. Although it might seem like just a small difference, trust me, it's not!
The grip diameter of the barbell impacts its stiffness, also known as a whip. A smaller diameter means more whip, and you'll mostly see it on Olympic lifting bars as well as dedicated deadlifting bars. Meanwhile, a larger diameter bar also makes the barbell more rigid and better suited for doing powerlifting.
In addition, the diameter of the barbell can be catered to one's needs based on gender. The most common grip diameters for women are 25mm, while men's barbells tend to be around 28mm – 29mm. These are important to remember since you want to effectively use the barbell in training and competitive settings or simply knowing what could fit your hands can provide you the support you need when lifting.
Take note, that some barbells can vary more than the most common grip diameters above. However, we still recommend that you consider sticking to the most commonly used diameter. This should help in promoting a carryover from training to competition. Also, the barbell will feel like what gyms offer, so there won't be any awkward learning curve between a gym's bar and your personal barbell.
A quick tip, if you plan or do compete in powerlifting, weightlifting, or functional fitness, then you need to check out the preferred federation rules, so you can get the correct size barbell used in competitions.
3) Knurling
The barbell knurling is that rigid, sandpaper-like texture covering each side f the barbell, or sometimes in the middle. The knurling is another crucial thing to consider when looking for the best barbell for the home gym for 3 reasons: First, it promotes a better grip that can help improve your lifting by allowing it to remain still in your hands. Worn-down knurling is at risk of rolling out of your hands during movements such as deadlifts and rows.
Secondly, knurling is a useful tool for locating the proper positioning of the barbell. Each knurling side will have a ring or two which can be useful for accurately finding the body and hand positioning when trying to be centered on the barbell.
Third, it is supportive as well as strength-sport specific. For instance, Olympic bars tend to have a smooth center knurling in order to avoid scratching the neck during cleans, while deadlift bars will have more rigid knurling in order to improve and promote grip.
Maintenance tip: If you frequently use chalk when working out, then don't forget to bush down the knurling afterward in order to ensure the longevity of the barbell. Chalk and dirt can cause the knurling to lose its rigidness if it gets permanently lodged into the grooves.
4) Sleeves
These are the 2 inches diameter portion of the barbell found on either end. It is where you load your weight plates. How these sleeves are mounted on the bar plays a crucial role in which bar is the right one for your type of lifting.
All great bars will have sleeves that spin, which is important since the spin helps the barbell rotate through the space as you lift. Also, the spin will keep the weights from spinning and rotating the bar in your hands, thus it is both a safety and functional feature.
How the sleeves attach to the bar determines the spin of the sleeves. There are some bars that use brushing of various materials in order to allow the spinning of sleeves. Meanwhile, those with much higher spin will need needle bearings.
The Olympic-type lifting bars benefit from a lot of spin since the loaded bar is moved aggressively through space, it is beneficial for the sleeves to easily spin. Take note that spinning weight can impart inertia which would be dangerous to you.
Powerlifting barbells, on the other hand, will have less spin. Because, if the plates rotate too easily, the barbell can feel unstable on lifts such as overhead press or bench press.
Another factor that is much more important when lifting the heavier weight is how easily the sleeves spin. The average home gym owner might never actually notice the difference between a bar with bearings or bushing.
So, let your type of lifting as well as the amount of weight you can move be your guide when choosing the sleeve. The more weight you're moving, then the more the sleeve will matter to you.
5) Whip
The whip entails how much the bar can flex and give without losing its shape. For the beginner and recreational lifter, this aspect is not a huge concern. However, athletes will have to get deeper into this. Most manufacturers will list how much whip their bars have. Most likely, these bars will have a particular purpose such as squatting, deadlifting, weightlifting, and so on.
Here are the general recommendations when considering a bar with a whip.
Recreational/Beginner Lifter: A standard whip would be enough and great for every movement.
Powerlifter: Check out the federation rules. Deadlift-specific barbells will have lots of whips that are suitable for pulling, however, can be problematic in some movements. Power bars are also stiffer and are used in federations.
Weightlifter: Bars with whips are useful for training since this will closely resemble what is used in competitions.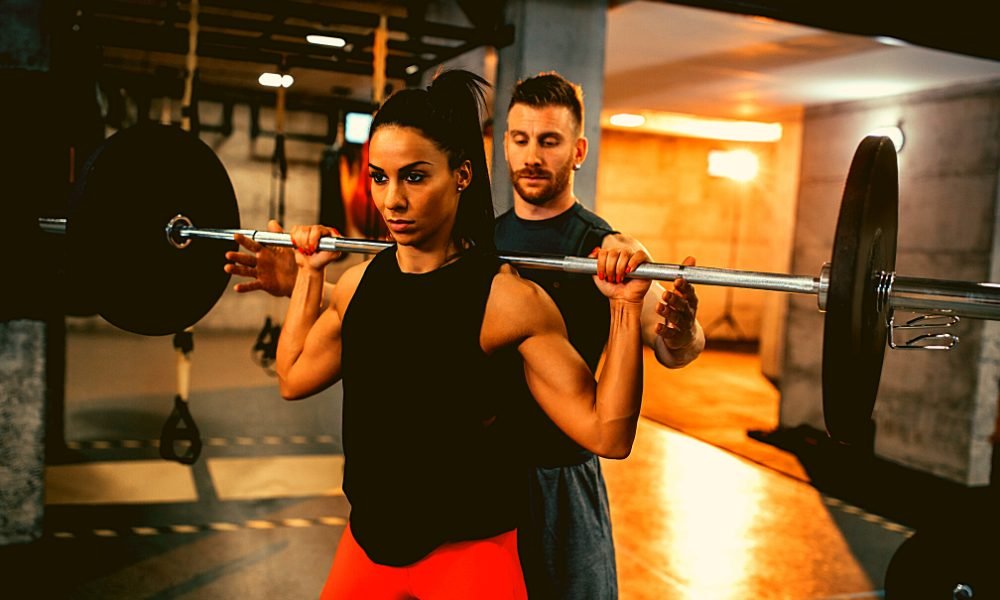 6) Barbell Strength
Yield strength, tensile strength, and test on a barbell are all great suggestions for a bar's durability, longevity, and can help in highlighting the likelihood of premature fracturing and breaking. Most barbell manufacturers will list all or some of these attributes, and we highly recommend that you ditch the companies that are not willing to share these details.
This is probably the most important and widely used aspect to highlight the strength and durability of a barbell. This attribute shows how much your barbell can be loaded before it fractures or breaks. Thus, the higher the tensile strength, the better barbell it is. Here's general tensile strength guideline:
150,000: Suitable for beginners, however, it might be worth spending a bit more to ensure longevity.
150,000 – 180,000: Suitable for most athletes
180,000+: Well-constructed and durable barbells that should last for a long time.
This one defines how much weight can be loaded on the barbell before it deforms. If you ever lifted a barbell that's shaped like a noodle, then that's exactly what a failed yield strength is. High tensile strength often correlates with high yield strength.
This one entails the documentation of how much weight the manufacturer has used to physically test their barbell. There are some companies that list the test of their barbells, while some don't. If the company does not list their barbell's test, then just look at the tensile strength since these two are almost related. In addition, you also need to pay attention to what materials the manufacturers use to assess the bar's durability and strength. Chrome and steel are the most common materials used in well-constructed barbells.
7) Bar Finishes
Fact: We want out barbell to look cool!
Some lifters will like the gritty classic look of a black barbell while others love the shine of hard chrome. Still, some people will love a more colorful bar. Regardless of your preference, different bar finishes correspond with the price and the level of durability. So, here's a list of the most common finishes in relative price order from high to low.
A coating finish pioneered for firearms, the cerakote is the most durable of all bar coatings. It can take a beating and should never rust or corrode. It also has a desirable grip to it, making it perfect for coating barbells. Other than its durability, Cerakote is available in as many colors and hues as you can think of. Want a bright orange bar? Cerakote has it. Want pink? Cerakote! If the price is not a limiting factor, then you should always go for this option.
It is very hard to construct a great barbell out of stainless steel, thus it's the expensive price tag. These finishes are highly rust and corrosion resistant in all, but the saltiest and most humid atmospheres. Take note, that there are various grades of stainless steel.
So, stay away from the cheap stainless bar since they can rust quickly and a total waste of money. If corrosion resistance is your primary concern, then stainless bars are the best choice. You will be happy you spend a few dollars more, especially when your barbell looks brand new even after years of abuse.
Hard Chrome is somewhat in the middle option— a durable coating finish that should last you a long time. Although it is not as corrosion resistant as steel bars, with regular care and cleaning, it should look great for years. It won't crack and peel over time with most barbells using this finish on the sleeves for durability reasons.
Shiny and bright, this coating is reasonably priced and should maintain its luster overtime with proper maintenance and care. It will eventually wear out faster than the above finishes, however, it should still give you years of abuse before it does.
Same as the bright zinc but sporting a black look, then black zinc is the way to go. Zinc is a durable coating that should last you for years.
Want a step down in price for a black bar? Black oxide is your budget black bar. It looks cool for sure, however, its cheaper price tag means that it will wear over time and requires regular maintenance in order to keep its nice look.
Not that desirable, but it looks neat. This is the cheapest finish of all that looks nice for a while, only to crack and chip easily. Once the finish wears out, the bare steel will corrode quickly. Best to stay away from these bars finish if you can.
8) Warranty Overview
The best barbell for the home gym will always have some kind of risk-free buying warranty. Each manufacturer will vary in respect to what they're offering, and warranty can be the deciding factor to consider when investing. Most manufacturers will cover their barbell for a year or more in terms of design issues and defeats.
This is usually based on the original ownership, so if you buy a second-hand barbell, then the warranty terms will, oftentimes, be void. In addition, all warranties won't cover negligence for barbell maintenance and care.
The Top 5 Best Barbell For Home Gym Reviews
1) CAP Barbell The Beast Olympic Bar
Taking the top spot of our list is this beast from CAP Barbell. With a reasonable price option, the Beast is an entry-level bar manufactured from Japanese cold rolled steel with 15 inches of sleeve length and has a tensile strength rating of up to 110,000 PSI, making it suitable for moderately heavy home workouts.
This bar features a medium depth diamond knurling for a more secure and stable grip when heavy lifting. Without center knurls, this bar is suitable for weightlifters perfecting their deadlifts, squats, and bench presses. Meanwhile, its sleeves are designed with snap clips and are built to accommodate any 2 inches Olympic plates.
Furthermore, the sleeves feature bushings to swivel and reduce pressure on your forearms and wrists. The shaft is 51.5 inches long and should fit on Olympic benches as well as cages and racks. In terms of durability, the bar is constructed from premium steel with black oxide finish and polished steel sleeves. You can also choose between coats of blue, red, pink, purple, or UV acrylic clear coating with the metallic flake.

2) Sunny Health & Fitness Chrome Barbell Bar
This 60-inch barbell bar from Sunny Health & Fitness is a solid and compact option for all gyms and homes. It is manufactured from chromed steel bar with threaded ends. Only weighing 12 pounds, this bar gives you the option to go as light or as heavy depending on your reps.
It can accommodate weight plates with 1-inch center holes and can hold up to 250 pounds of weight. Weight plates are then secured with the star-locked collars in order to prevent them from sliding off when working out.  Its knurling allows for a secure and firm grip of the bar.
This is more of a beginner bar from the strength standpoint, these suitable for the basic set up of a home gym. Although you will not break any strength records with this bar, you can use it for any workouts that call for a straight bar.

3) Body-Solid Olympic Straight Bar
This bar from Body-Solid is a reasonably priced choice for Olympic bars. The bar features a triple-plate chrome finish to protect it against chipping, rusting, peeling, and scarring.
It weighs 44 pounds and comes with a 2 inches diameter for Olympic plates. It also has a 15.5 inches collar length, so you can pile up those plates for heavier lifting. The bar can handle up to 600 pounds of weight, making it a great choice for the average lifters.
There's also the knurled grip, running along the length of the bar for a secure, strong grip. Plus, there's also the lifetime warranty that backs this premium bar. With this bar, you can easily do squat, bench press, or just about any workout to complete your fitness regime in your own garage or home gym.

4) US Weight Barbell Weight Set
If you're looking for a complete workout barbell kit, then this is the worthy choice. Not only will you get a barbell, but you also get weights and dumbbells with it. This means that you can easily do two-handed and one-handed weightlifting and moves.
The barbell itself is 55 inches and weighing 4 pounds. It features a textured non-slip grip area for solid and secure grabs. Meanwhile, the dumbbells come with 6 locking spring clips to set up all 3 bars.
With this set, you get a total of 100 pounds of weight ranging from 20 pounds to 5 pounds. Each coated weight is easy on your floor and is rust-resistant. Proudly made in the US, this product comes with a limited 90-day manufacturer's warranty.

5) TITAN Olympic Barbells
Suitable for Olympic weightlifting, this bar is designed to accommodate up to 700 pounds of weight, so you can perform various strength training workouts from squats to bench presses and anything in between. Constructed from durable and cold-rolled steels, this bar promises you superior durability and rust-resistance. It also features a diamond-knurling designed for a secure and sturdy grip.
Meanwhile, its convenient grooves help you hold the bar in place while lifting. It measures 86 inches in length with 16 inches of knurling on either end with 8 inches of knurling in the center. Also, the weighted sleeve has a diameter of 2 inches as well as a grip area diameter of 30mm. Meanwhile, the length between the sleeves is 52 inches.

Conclusion
It goes without saying that the best barbell for home gym workouts is the bar that is best suited to the style of lifting that you plan to do. Beyond choosing a bar designed for the lifting style you do; the best bar is what connects you to the weights. Thus, you need to want a bar that you enjoy using and what feels good in your hands.