XTERRA Treadmill has designed as low-price cardio gear that makes it the best option that one can have. Buying this will definitely value your money as their treadmill are solid, and once you purchase them, you will know it is completely worth it.  
One can either have XTERRA Treadmill TR150 or TR260; it does not matter which one you are getting, make sure it is suitable for your needs. In this review, a person will find everything they need to know, making their decision easy.
(Image Credit: XTERRA Fitness Store / Amazon.com)
The XTERRA Fitness TR150 Treadmill is the excellent machine that best suits your budget. If you are budget conscious, then it is the one machine you can choose with a speed ranging from 0.5 to 10 miles per hour, 12 reset programs, and three manual incline settings.  
The treadmill is made with an alloy steel frame for durability and features an easy pull knob release and wheel transport. You can fold or unfold the deck for your convenience and also store it easily when not in use. It will keep the joints safe as it has soft cushioned deck technology for better absorption. It is an impressive machine that will be available at a phenomenal price, and you can improve things.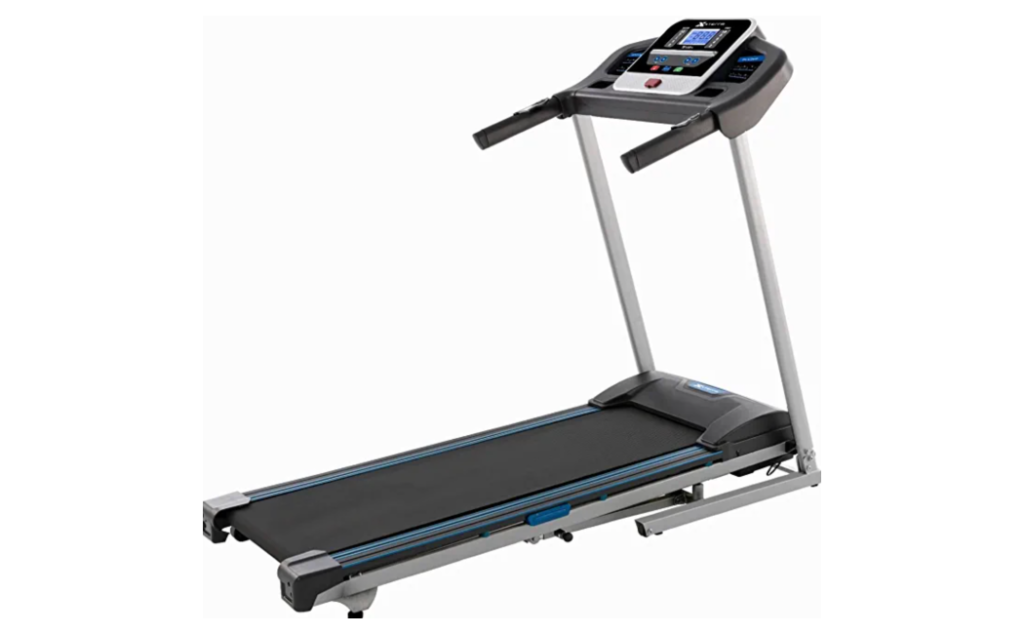 (Image Credit: XTERRA Fitness Store / Amazon.com)
The XTERRA folding Treadmill TR260 is a smart treadmill specially made for athletes for their ability so you can get the most out of it. It is the best way to train people and has a built-in feature that will make things more fun and accessible for everyone.
It has a powerful XTERRA 2.25 HP motor with a speed that ranges from 0-10mph and a level 10 electronic incline that will provide you with an effective workout routine. It has a large 5.2″ LCD, Bluetooth connectivity (FTMS), and 12 integrated programs that will keep the training engaging and fun.  
Specification

 

TR 150
TR260
Speed Range

0-10mph

0-10mph

Incline Range

 

Three electronic level

Ten electronic level

Assembled Dimensions

63.4"L x 28.75"W x 51.4"H

64.6"L x 29.3"W x 51.7"H

Weight Limit

250 lb

250 lb

Assembled Weight

 

109.3LB

 

111.3LB

 

Folded Dimensions

28.5"L x 28.75"W x 61"H

32.3"L x 29.3"W x 60.6"H
XTERRA offers the best quality fitness equipment that comes with high specifications that are straightforward and easy-to-use consoles. It also has a touchscreen display with buttons; you can just choose to control and adjust the options you want. 
When it comes to performance and comfort, these are the best option to consider purchasing, which has several functionalities. When you choose TR150, it is suitable to walk or light jog, whereas you can get TR260 if you want to run or do a heavy jog.  
Performance- The performance of the XTERRA Treadmill is smooth and comes with quiet torque 2.25 JP motor powers the treadmill at a speed of 0-10MPH. In TR150, there are three levels of manual incline, and in TR260, it has ten levels of electronic incline, which will help you control the workout intensity.
It does not matter whether you purchase TR 150 or TR260; you will have an impressive experience. This treadmill has a durable heavy gauge steel frame that offers smooth performance for burning calories while working out. 
Technology– If you think of purchasing the TR150, it has an easy-to-read display with a simple and intuitive interface that will give you the crucial stats you need, such as time, distance, speed, and calories center and front. It makes your workout so engaging and effective. The control buttons are on the console for easy and direct updates.  
You can take your interactive running experience to the next level, which means XTERRA Treadmill TR 260 comes with 12 preset programs and Bluetooth connectivity (FTMS). It even allows the users to connect with the 3rd party application, which will keep track of their progress and even get access to the interactive training activities.
Accessibility– XTERRA Fitness TR150 folding treadmill is durable and also comes with has spacious 16″ x 50″ belt. It is rated for users with a weight of 250 lb with built-in transport wheels and also comes with the easy-pull knob that you can use for folding and unfolding, which will allow you to fit in any space. 
When you will take TR260, then also you will not face any problems because it also has the same belt and can carry 250lb of weight. It has built-in transport as you can fold it completely and fit anywhere you want to.    
Comfort- Now, it is time for comfort, which is one of the most crucial things you want. Regardless of what you are purchasing, it can be TR150 or TR260; both come with cushioned deck technology that will give you maximum absorption and keep you comfortable and joint-safe.  
When you purchase this, then that will make your workout so comfortable. Plus, it also has a bookrack and other accessory holders to keep your things safe. You will also find the remote control so you can control it easily. 
XTERRA Treadmill TR150 Pros

XTERRA Treadmill TR260 Pros

Fold or Unfold easily
Ten levels of electronic incline
Built-in transport wheel, which makes it portable
Gives your feedback about time, speed, distance, calories, pulse, and other things.
Lightweight and can be placed anywhere
Fold or unfold easily

 

Easy-to-read display
XTRASoft cushioning of deck
Suitable for beginners to speed walkers
Connect with Bluetooth easily and also to a third-party application

 
XTERRA Treadmill TR150 Cons

XTERRA Treadmill TR260 Cons

Only a 2.25 HP motor
People often face noise issue
Cannot fit the normal water bottle in holders
Sometimes people may receive an error code after one use only
Not suitable for heavy or experienced users.

 

Support 2.25 horsepower motor
Is It Easy to Fold and Move the XTERRA Treadmill of TR150 and TR260?
When you purchase either TR150 or TR260, it does not matter which one you choose; both are easy to fold and move. You can fold and unfold the treadmill quickly and do things with just one person. You can do that by pulling the knob and then pulling that running deck down; it is the work of just one person. To fold it, you will have to follow the same procedure.   
It will take about 30 seconds, and once the treadmill boasts the transport wheel, it will make the machine move easily. Once you fold the treadmill, you can tilt and roll the machine to the corner of a room to store it.  
Moreover, when you use the treadmill, you will know that it provides so much comfort. You can easily keep it in your apartment and even store it by folding it when it is not in use. People even purchase treadmill mats to keep them stable and prevent them from slipping.   
Final Thoughts
Overall, both XTERRA treadmills are fantastic and come with various features, making them the perfect choice for people. If you are looking for a budget-friendly option, TR150 is best, but if you are experienced and want the treadmill for running or heavy jobs, then  TR260 will be a better choice.
But you need to make sure you are not leaving anything behind. You need to consider every feature, and then only you should make a choice.  
FAQ
Who are the manufacturers of XTERRA Treadmills?
You can make the entire process so adventurous with XTERRA. The company is owned by Dyaco international and is the home of fitness equipment. It was founded in 1989, and from then, it started manufacturing commercial and home fitness products.  
Does XTERRA TR150 or TR260 have an incline?
Yes, both TR150 and TR260 have inclined. TR150 has up to 3 manual levels of incline, but on the other hand, TR260 has ten electronic levels of incline, which help improve the intensity of the workout. Moreover, it also comes with a heavy gauge steel frame, which offers a smooth performance that will provide you with a smooth performance, and you can burn calories while working out. 
Is it possible to run on XTERRA TR260 Treadmill?
Yes, a person can run on the XTERRA Fitness TR260 folding treadmill. It is a folding smart treadmill that is usually built to help athletes they can get the most out of their training. Plus, the treadmill of XTERRA is usually made from the runner, but that will be based on motor strength, technology, and deck size.  
What are the different features XTERRA Fitness offers?
Choosing XTERRA Fitness offers you several impressive features which you might not be able to find on any other treadmill. It comes with inclination, a better motor, technology, comfort, convenience, and many more things that make your life so much better.
Is it convenient to use XTERRA TR150 or TR260?
When you choose TR150 or TR260, it comes with an anti-shock system with a cushioning system and an XteraSoft system that reduces the foot strike. Moreover, it also has a cushioning system that helps reduce the noise level. You can use the treadmill even when watching TV or listening to music.