It's an open secret that walking is one of the best ways to exercise. And while going out for some fresh cool evening breeze is great, situations such as weather conditions may not be suitable for outdoor walking at times.
And that's one of the reasons behind the popularity of treadmill machines. You can safely walk any distance without ever leaving your home. And you don't have to worry about issues like the weather condition.
So, it's time you get the very best treadmill machine for walking you can possibly afford. We'll be talking about the best treadmill machines. And you'll definitely see one that meets your budget on our list.
Our list includes manual treadmills because they aren't too expensive, take small floor space and be folded for easy storage. And they don't use electricity.
Everpeutic has an impressive reputation when it comes to manufacturing treadmills. The Exerpeutic is easily among the best manual treadmills in the market and it is built to accommodate individuals of all weight. Thanks to a 45-inch tread area and a reinforced steel frame, this treadmill is capable of supporting people weighing up to 325 lbs.
Walking feels easy and natural with this treadmill machine. And the long handles keep you safe during use. The handles also do more than protecting you. They have built-in hand sensors that monitor your heart rate. There's an LCD display to show important metrics during use.
This treadmill is quiet, can be folded to save space and adjusted through different resistance levels. And we must mention the three adjustable levels of incline which makes your workout more fun and challenging.

The Stamina InMotion manual treadmill offers you amazing features at an attractive price. It's been in the market for a long time and it's among the best manual treadmills, especially for beginners. If you want an affordable and small treadmill in your house that doesn't take much space, then go for the Stamina InMotion Manual Treadmill.
With this treadmill, you have a workout companion and you can watch Netflix as you are walking. Talk about multitasking. And it's easy to assemble after purchase.
Dual-weighted flywheel means you get to walk/jog smoothly without any exerting any extra force on the belt. And you enjoy smooth and consistent movement.
Rubber gripped handlebars keep you safe and help avoid injuries. And you can easily switch between two incline positions.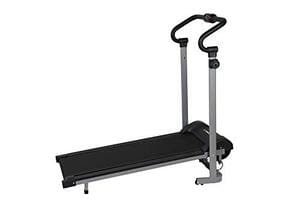 If you want to get started on a manual treadmill machine and looking for an affordable, quiet and space-saving model, then you should consider the Confidence Fitness Magnetic Manual Treadmill.
Two flywheels provide a smoother and quiet workout experience. And the resistance level can easily be adjusted with a knob. The only major downside is the fixed incline. And your workout may not be challenging enough if your fitness level vastly increases. And the handles of this treadmill is one of the most comfortable among manual treadmill machines.
LED display powered by AA batteries shows essential metrics such as speed, distance. And you can vary your workout intensity by adjusting the magnetic resistance through 8 different levels.

A Phoenix rises from the ashes. And using this treadmill machine will wear you out. But, but you will always return to it stronger than ever! The manufacturers of this treadmill intended to produce a lightweight and affordable machine that makes indoor walking appealing. And they succeeded in every aspect.
This manual treadmill machine is easy to use and requires little maintenance. It has a water bottle holder so you can stay hydrated during use. And a small stray keeps your phones, wallet, mp3 and other Valuable items safe.
The major downside is that it has a small running area and is not ideal for individuals over 6ft tall. And it also has a single button electronic display to show metrics during use.

The ProGear 190 is one of the best manual treadmills out there and provides you with everything you need and leaves out features you don't need.
It has two different incline positions which make this treadmill a steal! You will also notice the incredible smooth movement of the belt which makes walking on the machine easy.
The resistance level can be adjusted. And you can increase the resistance level as you get fitter. That will let you burn more calories and exercise different muscle groups.
Since you have to hold onto the handle during use, the handles are extra padded to make you more comfortable. A sleek folding design allows you to save valuable floor space.
And a very simplistic LCD monitor displays important metrics such as speed, distance, calories burned and the likes.

Conclusion
Safety, size, portability, price, and noise are the factors we considered when compiling this list. The fact that these manual machines do not require electricity helps you cut down on your bills. Also, it means you don't have to put the machines in a room with electricity.