If I told you that you could shed those stubborn fats and strengthen the body while you're just standing for a few minutes, would you even believe me?
Are you kidding me right now?
Yeah, yeah, I know!
How can you even improve your fitness and health by just standing there? Lots of people sweat buckets just to shed those stubborn belly fats and see a toned body. And here I am, telling you that you can also do that by just standing around. You might think I'm some kind of a scam. But hey, I did some research and yes, there is one piece of workout machine that can help you lose extra weight, shape up, and a whole lot more. Read Here: Best Recumbent Exercise Bike for Over 300 lbs: Top 5 Editor Choice
Meet the mighty whole body vibration machines!
Whole body what?
Whole Body Vibration Machines: What Exactly Are They?
The idea behind the whole body vibration machines goes back to the Soviet astronauts using vibration plates for space traveling. These vibrating platforms were quickly adopted into space programs across the world and eventually ended up in the fitness industry scene.
So, what does it do?
Whole body vibration machines are a great alternative to regular cardio workouts, although, not necessarily a permanent substitute. Rather than doing the contractions, you get from activities like cycling, running and weightlifting, a whole body vibration machine can stimulate such muscle contractions, offering you a sensation of working out while standing still and not having to exert yourself.
You can use these vibration machines to warm up before a workout or cool down after a workout. They are also useful for various moves including some Pilates poses and strength training.
Benefits of Whole Body Vibration Machines
So, they're just a bunch of machines that put you on vibration mode, how does it help with my fitness and health? According to Mayo Clinic, a whole body vibration machine transmit energy to the body, causing your muscles to frequently contract dozens of time every second. Unsurprisingly, it can only take as few as 15 minutes every day to experience the wonderful benefits of a whole body vibration machine.
When performed correctly, a whole body vibration machine can:
Help fat burning and weight loss
Reduce back pain
Reduce bone loss
Improved strength and balance
Boost muscle strength
As always, you need to remember that vibration machines can only improve your body. Don't expect it to do trim your waist or tone your body without being more conscious about your diet or ditching physical activities and exercises.
Choosing A Whole Body Vibration Machine
With its wonderful benefits, you might now want to get one for yourself to quicken your workout pace and gain better results. But, with so many models available today, choosing one can be a daunting task. Not to worry though, we put up this comprehensive buying guide, so you will have an informed decision on the right whole body vibration platform to buy.
1) Vibration Tech
The type of vibration is the biggest concern when looking for the best whole body vibration machines since it determines the entire vibrating experience. There are 5 types of vibration tech commonly used in whole body vibration machines, each having a different kind of plate motion.
Also called the Oscillation vibration machines, pivotal vibration has the highest amplitude of the 5 types. The platform in this type moves in a seesaw-like motion— one side of the vibration plate moves downwards, while the opposing side moves upwards and vice versa. This kind of vibration is like the stimulation that the body receives from running or walking.
And because of its greater amplitude, it allows for greater muscle stimulation. In addition, since they move in the same manners as your body in motion, they offer the most powerful sensations. They have the strongest response from the circulatory system, thus, they are highly beneficial for blood flow improvement.
Triplanars get their name from the fact that it gives off vibration across 3 planes. The machine will move back and forth as well as up and down, using different motors to allow for higher frequency vibrations of up to 3,000 RPM. Since triplanar machines pulsate on 3 different planes, they offer the most intense high frequency. Most individuals will feel the burn in just a short amount of time. They are best for bone density improvement, muscle toning, and weight loss.
This type of machine moves strictly in a down-and-up motion. They are slightly easier to stand on even at high frequencies, however, they can still create the slight buzzing sensation in your head.
These platforms are most suitable for circulation improvement and muscle relaxation. However, since they vibrate too slowly, they are not that effective for strength training and weight loss. Plus, they can also cause a humming sensation in your sinus/head cavities, which can be quite unpleasant.
This type uses both linear and oscillation vibration in order to offer the best of both worlds in terms of functionality and comfort. The dual vibration platforms can be set to work in several modes, so you can work on either oscillation or linear platforms or work both.
This kind of movement involves a vibration platform that is placed atop of several powerful speakers, offering an up and down motion. They are regarded as the most therapeutic and gentlest vibration machine. However, they're also the most expensive of the 5 types.
2) Vibration Speeds
Another important thing to consider when buying the best whole body vibration machines is the speed. The velocity of the vibration plate is linked to the type of movement— with each of the 5 vibration motions having different speed capacities. When talking about the acceleration range, the sonic type machines have the largest variation spectrum. The lowest frequency can be 3 Hz while the highest can go up to 50 Hz.
Platforms with the highest speed settings tend to be found in the dual vibration machines. With the lowest are found in the linear models having a maximum speed of up to 15 Hz. The pivotal vibration platforms have a frequency that ranges up to 40Hz while the triplanars has a velocity ranging from 30 – 50 Hz.
You want to base the velocity needs on the kind of machine you're looking at as well as your goals. If you're new to whole body vibration machines, then you can choose a machine with a larger spectrum, so you can have more settings to get used to the machine. However, if you're using the machine to supplement your athletic training, then you can get a machine operating in the 20 – 40 Hz range.
3) Display Panels
Like treadmills or ellipticals, some models of whole body vibration machines also feature display panels. Some can have a single LED window with several buttons for changing between fitness programs and speeds, while others can have more LED windows showing programs and available speeds, BMI calculations, fat sensors, programs and so much more.
4) Platform Gripping
This is another defining characteristic of vibration machines. Every machine has its own vibration platforms with various ribbing patterns. These treads provide comfort and give the user more grip on the platform. It allows the user to carry out their workout routine without losing their balance and falling off.
Like vehicle tires, the best platform grips are those feature intricate ribbed treads since they offer the most control when the machine is in use. When choosing a machine, remember to examine the ribbing pattern of the plate with the more horizontal, vertical, or intricate designs proving to be long-lasting and most beneficial.
5) Platform Size
The size of the vibration plate is another thing you need to consider. In terms of the size alone, a bigger platform shall provide you with a wider area for therapy and training, however, it will need more space for use and storage.
Mini-platforms can be a great compromise for smaller spaces like lofts and studios where storage is a premium. Such units can be tucked under a desk or bed when not in use. Meanwhile, large machines with extra features will provide therapeutic benefits, but will need more room and will likely be visible when not in use.
6) Portability
Speaking of size, it also influences the ability to move the machine from one place to another. There are 2 main types of whole body vibration machines in terms of structure:
The smaller, frameless streamline model, and
The bigger framed design featuring support beams
The framed whole body vibration machines can vary in width, depending on the size of the vibration platform that it supports. One factor to think about this model is whether they feature wheels or not. Models without wheels will feature rubber knobs for the sturdiness and stability of the machine. However, wheels allow for easy placement and moving in various locations. The frameless models, on the other hand, are small enough to move and carry around. In fact, some models are small enough to be placed on shelves or to fit a drawer.
7) Price
Each characteristic listed above contribute to the most important thing for any buyer— the price. The cost of whole body vibration machines is dependent on the features that it offers including the vibration type, platform size, comfort levels, portability, speeds, and user interface.
The least expensive models are the most portable ones, usually with the pivotal or linear vibration tech. Meanwhile, sonic or sound models tend to be the most expensive type which also contains LED panels with more programmable options. So, it is important that you choose the features you want first, compare them among various vibration models, then doing a cross-analysis of the machines' prices.
The Top 5 Best Whole Body Vibration Machines 2020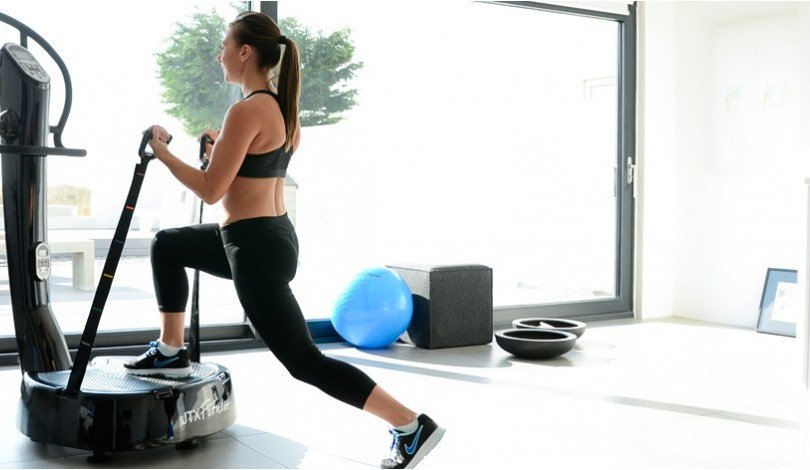 1) Confidence Fitness Slim Whole Body Vibration Machine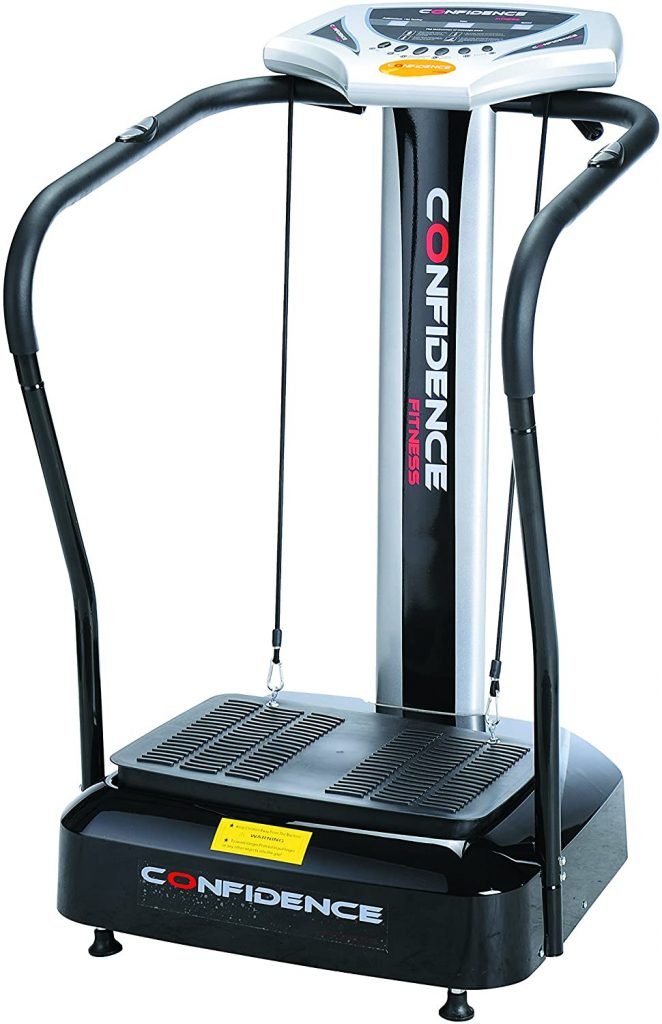 First on our list is the best-selling Confidence Fitness Power Plus Vibration Plate Trainer. This machine offers a low impact workout with fast results, you only need 10 minutes of workout in this effective machine. You can sit, stand, or lie while doing weight lifting exercises to amplify the effects and benefits. The machine even includes yoga straps to work on your arms and upper body.
IT features a user-friendly display console with easy to navigate the menu. There are also 3 built-in programs, a heart rate monitor as well as speed controls. The machine features an oscillating vibration and has a broad range of speed settings from 1 – 50 and a frequency range of 50 – 60 Hz, so it can offer something to suit all ability levels.
The machine itself has a small footprint, making it suitable for those with a small home gym. It only weighs 62 pounds, but it can accommodate a maximum weight of 300 pounds. Plus, it even comes with wheels for portability and easy maneuverability. Lastly, the manufacturer included an instruction manual as well as example exercises to get you started.

2) LifePro Waver Vibration Plate Machine
Boasting a 4.7-star rating with over 2,000 reviews on Amazon alone, the LifePro Waver is a compact whole body vibration machine for smaller home gyms. This fast, low-impact, and effective machine features vibrating oscillation movements that activate muscle fibers through your body. The machine features 99 adjustable speeds settings, so you can go from gentle recovery to a powerful workout session. For your
convenience, you can simply adjust the settings as you work out with the handy remote. Not only that, but this whole body vibration machine also features an anti-slip rubber on top as well as a stabilizing suction on the bottom for a steady and safe workout.
It features wheel and handles, making it super easy to store away when not in use. The machine also comes with a video library offering you ideas and workout instructions from professional coaches as well as an online professional trainer eBook and manual guides for as long as you own the waver machine. Lastly, the manufacturer includes a 100 percent Lifetime Satisfaction Guarantee for a risk-free buying.

3) Hurtle Fitness Vibration Platform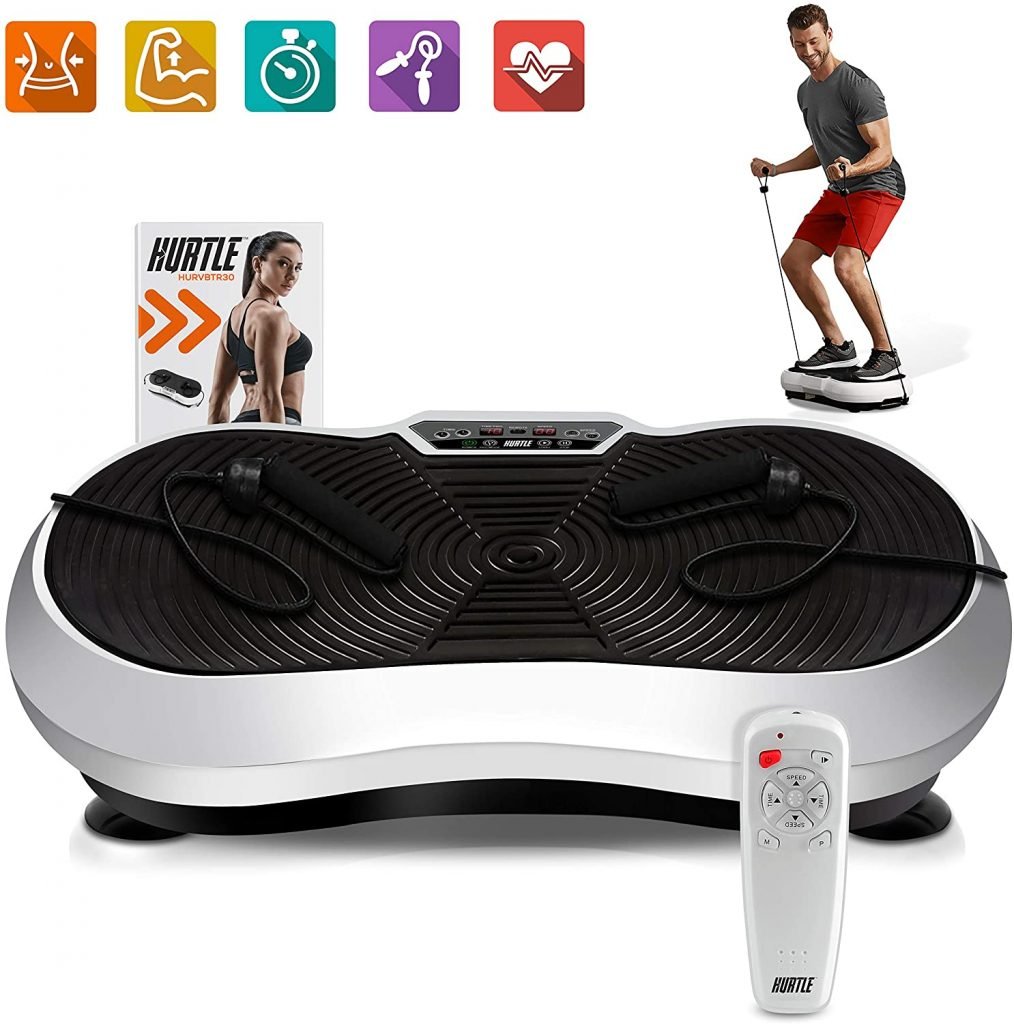 Improve your flexibility and fitness with the Hurtle Vibration Platform. This whole body vibration machine features a revolutionary design for effortless fitness. Like the previous machines, the Hurtle vibration platform also features a dynamic oscillating motion tech, offering whole body vibration for strength training and full-body fitness.
This machine targets your entire body with its high-powered vibration motor that provides over 2,3000 revolutions per minute. It has 20 levels adjustable speed with a maximum session time setting of 10 minutes so no to over train yourself. At 8 pounds, this machine can hold up to 265 pounds of weight without a problem.
This vibration platform features a user-friendly digital touch button controls. Meanwhile, its rubber, anti-slip surface pad ensures a safe and stable training on the platform. The machine also comes with a detachable handheld resistance bands for upper body and arm exercises.

4) Bluefin Fitness Vibration Platform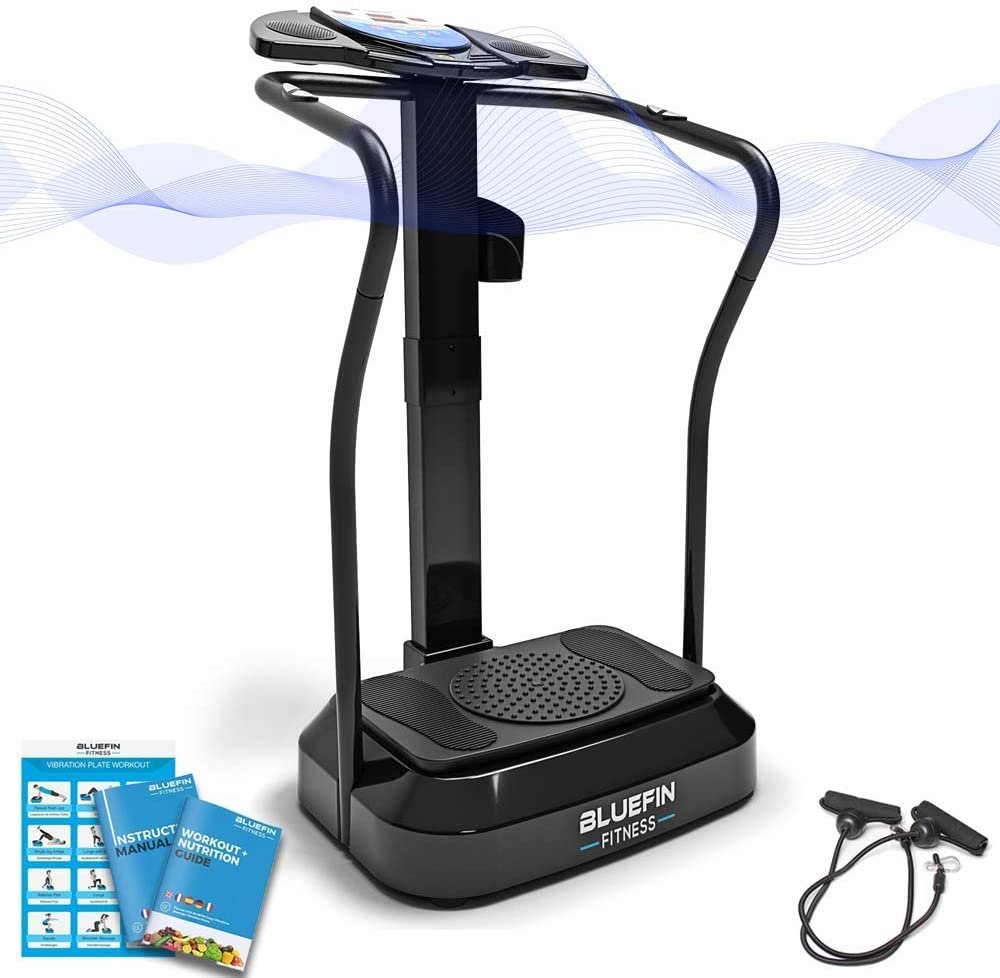 The Bluefin Fitness Pro Vibration platform features a silent drive motor power, designed to target those stubborn fats while also increasing muscle mass. It features the cutting edge vibration technology with up to 180 intensity levels, making it suitable for both elite athletes and beginners alike.
To get you started on your workout goals, this machine even comes with 10 automatic programs ranging in the type of vibration and intensity to provide you with the perfect workout. This whole body vibration machine features 2 integrated sensors on its handrail to monitor your BMI as well as calculating the calorie you burn as you exercise.
This model features integrated speakers that you can connect with any device in a matter of seconds with the included aux cable, so you can listen to your favorite beat as you train your body. You can enhance your workout with the included adjustable resistance cords which you can securely attach to the steel base of the vibration platform. Then, there's also the Workout and Nutrition Guide that should give you the best out of your workout programs.

5) Axis-Plate Whole Body Vibration Machine
Lastly, we have the whole body vibration machine from Axis-Plate. This machine promises premium quality with its sturdy steel construction that can support up to 265 pounds of weight as well as the time-tested motor. Its quality vibration plate delivers up to 500 watts of power for a low-impact yet effective training for all fitness levels.
Get a customizable whole body stimulation vibration with its 99-speed settings as well as the manual mode option and the 3 built-in workout programs. Its handles are fitted with a BMI sensor for progress monitoring and even include removable resistance bands to engage your upper body.
This machine is fully equipped with a wide and non-slip base plate, non-skid rubber feet and a US-standard 120v grounded power cord for complete safety and stability as you work out. Advanced and amateur users will enjoy this platform thanks to its easy-to-read control panel. There's also the front-mounted wheels that allow for easy portability and transportation.

Frequently Asked Questions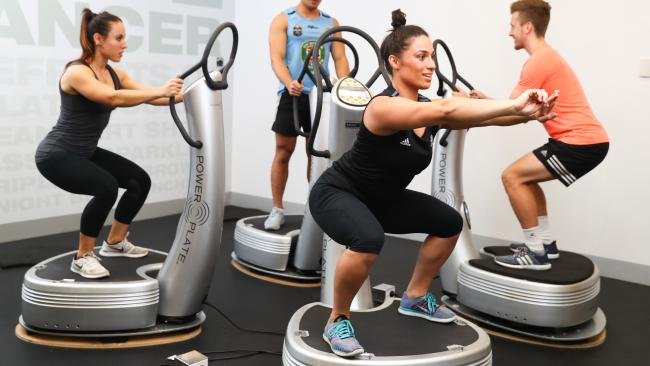 Q: Are whole body vibration machines good for any fitness level?
A: Yes, these machines will work well for both beginners and advanced users. However, make sure that you pick a machine that's compatible with your level.
Q: Can they work with any weight class?
A: Yes. Most machines can hold up to 300 pounds of weight or more, so that they can be used by individuals of all different sizes and weights.
Q: What are the uses of whole body vibration machines?
A: They have a variety of uses including reducing pain, weight loss, decreasing cellulite, reducing stress, and lymphatic drainage. In addition, they can also be used as therapy machines for various medical conditions. It is particularly beneficial as a physical activity for the elderly since they stimulate the muscle fibers without strenuous exertion.
Q: Are whole body vibration machines noisy?
A: This will depend on the degree of power and frequency of the machine. In general, whole body vibration machines with lower power ratings are much quieter than those with higher frequency ratings. Take note, that all of them transmit vibration to the floor, so it is worth considering where you put the machine. Solid concrete floor is the most recommended, however, if you will put it on a wooden floor, then it is recommended that you place a carpet or mat underneath in order to reduce vibrations and noise.