Recumbent exercise bikes have been here for decades, representing an accessible alternative to gyms and a hassle-free way of shedding those stubborn extra pounds from the comforts of your own home. However, if you are over 300 lbs you can't just pick the standard, flimsy-looking recumbent exercise bike. No, you will need that one type of recumbent exercise bike that is suitable for overweight individuals
You need one that can withstand your weight. And finding one can be quite confusing with lots of models on the market today. Fortunately for you, we already did the hard part and compiled a list of the best recumbent exercise bike for over 300 lbs. Read Here: 5 Best Upright Exercise Bike for Short Persons: The Ultimate Guide
BEST RECUMBENT EXERCISE BIKE FOR OVER 300 LBS
SUNNY HEALTH & FITNESS MAGNETIC RECUMBENT EXERCISE BIKE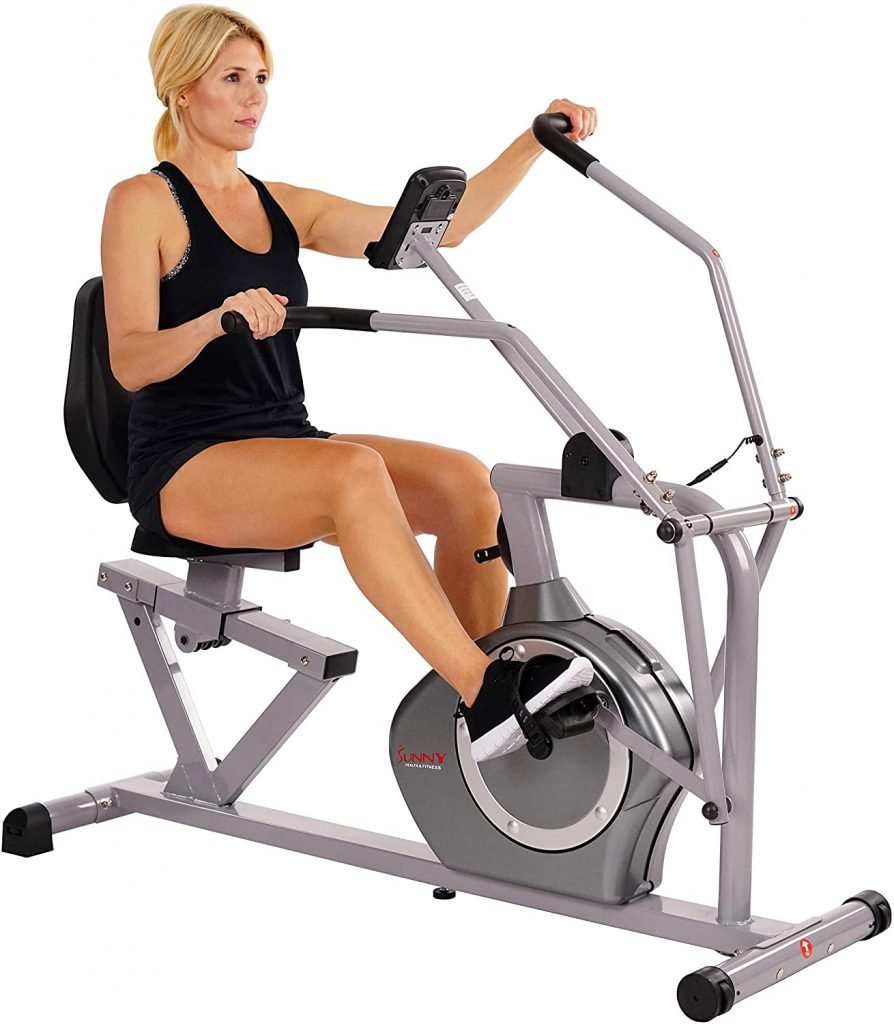 Taking the top of the list is this magnetic recumbent bike from Sunny Health & Fitness. This model incorporates arm movements as you pedal, providing you with a complete body workout. It features a step-through design, making it easy to get on and off the bike.
For adjustability, the bike features a seat rail system that makes it easy to adjust the seat positions and movements to accommodate your height and prevent strains. With the pull and push motion of the handlebars, you get as much intensity as you want. Then there's also the digital monitor that allows you to keep an eye on your workout progress.
Additionally, there's also a hand sensor for convenient heart rate tracking. In terms of the resistance, this recumbent bike features 8 options to vary your workout. IT also uses magnetic resistance, making the bike a low-maintenance machine.
EXERPEUTIC GOLD 525XLR RECUMBENT BIKE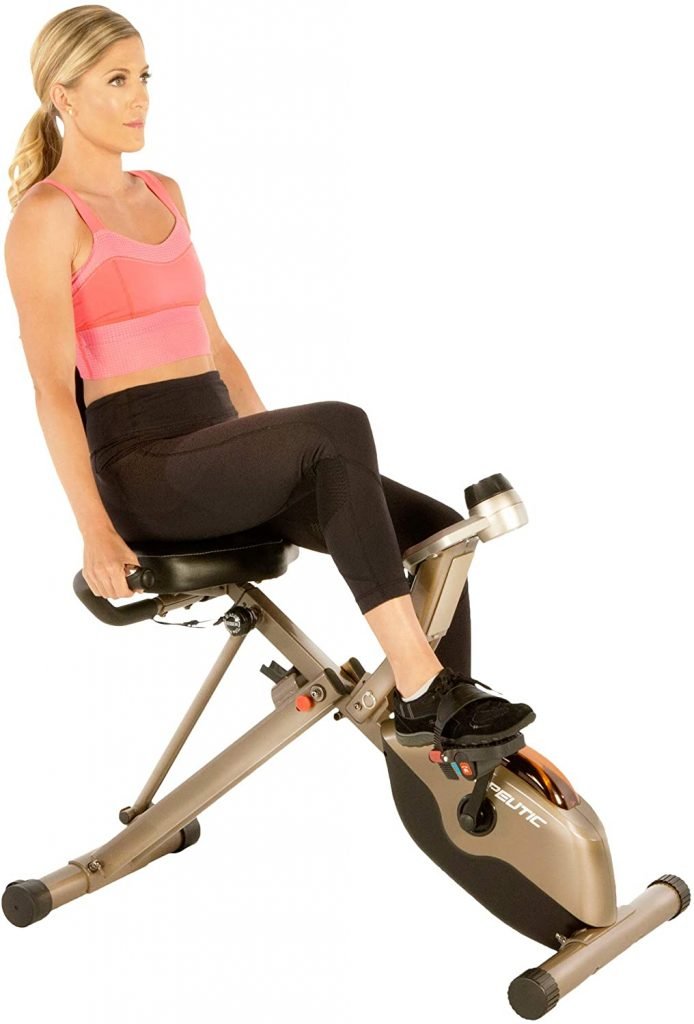 Looking for the best recumbent exercise bike for over 300lbs is not easy and they tend to be expensive. However, the Exerpeutic Gold 525XLR is one of the budget-friendly options for overweight individuals.
For one, it can accommodate users of up to 400 pounds of weight. There's also 27 percent more steel on the frame, promising superb performance and durability. It is also super comfortable to use with a seat featuring extensive padding and wider back support. It has a magnetic type resistance, offering up to 8 levels of resistance which should be enough for a budget bike. IT has a bright screen display that shows scan, speed, calories burned, odometer, time, and distance.
Its pedals are also large to accommodate obese individuals and even have safety straps. Meanwhile, its semi-recumbent design helps in easy climbing and getting off this machine. You will also love that it is compact and foldable to half its size for storage.
For the ultimate versatility, check out this hybrid trainer from ProForm. The machine is a part elliptical and part recumbent exercise bike, allowing you to choose from a total toning elliptical program or a cardio recumbent bike.
The machine features 14 workout apps with 14 digital resistance levels that can take you from beginner to advanced. There's also the EKG heart monitor that helps you track your heart rate. The machine features the Target Pacer tech, an indicator light that tells you to slow down or speed up to maximize your weight loss goals.
Suitable for both short and tall people, this hybrid trainer features 15 inches of elliptical strides. You can adjust the pedals to accommodate a bike or elliptical position. In addition, the console adjusts to your workout, so whether you are standing or sitting, you can easily monitor your progress with the large LCD screen.
HCI FITNESS PHYSIOSTEP RECUMBENT BIKE
Recumbent bikes with 500 pounds of capacity are not easy to find. However, HCI Fitness created this just that— a commercial-grade recumbent bike with a 500-pound capacity. This recumbent bike takes comfort into consideration and features a much larger seat that the standard bikes, allowing you to work out for longer.
Its walkthrough design makes it easier for people, especially those lacking the mobility, to ride and get off the bike. It can also accommodate a broad range of people thanks to the number of adjustable options it has. You can adjust the seat, arm, and back so you can get the most comfortable position that suits both your height and weight.
Meanwhile, the large 9 inches color-coded display makes it easy for you to read information about your workout session. You can even export your workout summary to a USB in order to monitor and track your goals. There are also multi-grip handles that allows you to choose a hand position that strengthens various muscle groups.
3G CARDIO ELITE RECUMBENT BIKE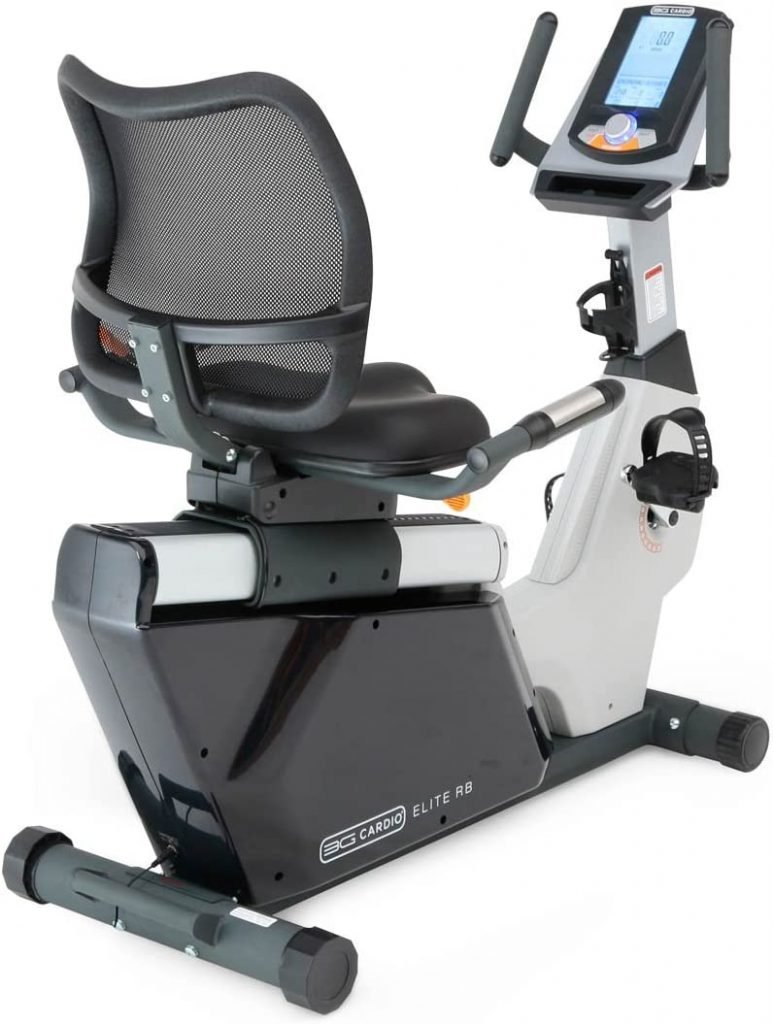 Lastly, we have a light commercial recumbent bike but with really strong construction. The Elite Recumbent Bike from 3G Cardio is constructed from heavy-duty steel and is strong enough to accommodate users of up to 350 pounds. Meanwhile, its parts are finished with corrosion-resistant powder and even comes with extra PVC covers in some parts.
For those who don't have a large home gym, this recumbent bike offers a compact footprint measuring 27 inches in width and 49 inches in length. Its flywheel is positioned at the rear, so step-through can be lacking, however, it is rather easy to climb in and get off the bike.
The seat has a 4-way adjustable design. First is through the adjustment rail, then the 5 seat positioning. It can be adjusted to accommodate users between 6'4" and 5' while the seat features a contoured and ergonomic surface so you stay comfortable as you work out. The bike features a contact sensor and wireless strap for monitoring heart rate and even comes with 12 built0in workout programs and 16 levels of magnetic resistance.
WHAT ARE THE BENEFITS OF A RECUMBENT EXERCISE BIKE For over 300 lbs?

You might be wondering: Do I really need the best recumbent exercise bike for over 300lbs.?
WEIGHT LOSS
For overweight individuals, this is the primary benefit of the best recumbent exercise bike for over 300lb. You see, cycling is one of the most effective forms of exercise for losing weight. The number of calories that you burn while using a recumbent bike will depend on your gender, age, the time spent on the bike, and so on.
However, the average numbers are around 500 calories when you cycle for 30 minutes at about 15 mph. Not only that, once you've finished your workout, but the body also continues to work, burning more calories to repair your muscles.
TONE AND STRENGTHEN
Cycling can also strengthen and tone your leg muscles. The major muscles that are trained on a recumbent exercise bike are the hamstrings, quadriceps, calves, as well as glutes and hip flexors.
HEART HEALTH
As you probably know, cycling is a simple yet effective form of cardio workout. Cardio training on a recumbent exercise bike can help you deal better with daily demands or prepare you for marathons. A healthy cardio workout can increase the supply of oxygen to the blood and supplies energy to the body. Thus, it can also help in reducing your risk of stroke and heart disease, as well as lowering your blood pressure, which are common in obese individuals.
LOW IMPACT EXERCISE
Recumbent exercise bikes are low impact in nature, making them a great option if you wish to lessen any risk of strain or injury. The low-impact action combined with the smooth motion makes it easy on your joint and muscles.
And as long as the recumbent bike is properly set up to your body, the pressure is taken off of your ankles and knees, making it a popular alternative to higher impact workouts such as running and suitable for the seniors or those suffering from joint problems.
IMPROVING YOUR SPORT
For those into cycling sports, a recumbent bike allows for specific training that is focused on the discipline of road cycling. Its controlled environment can help in improving as well as tracking your cycling fitness and improving your techniques. A recumbent exercise bike can let you work out the elements you need to improve on, regardless of the weather.
COST-EFFECTIVE AND CONVENIENT
Most recumbent exercise bikes are compact and do not take up too much space. Also, they allow you to make the most out of your time— some allow you to listen to music, read a book or watch TV as you work out. Furthermore, they are cheaper than paying for monthly gym fees with all of them having fantastic warranties, guaranteeing that you get years of exercise out of them.
KEY FEATURES TO LOOK FOR ON THE BEST RECUMBENT EXERCISE BIKE
So, now that you are convinced of the great benefits of having the best recumbent exercise bike for over 300lbs, here are some of the key features that you need to look for when buying one.
RESISTANCE
In recumbent bikes, the resistance, also known as tension, mechanism is usually in the form of an eddy brake or magnetic.
MAGNETIC BRAKES
These are the simpler form of resistance mechanisms in recumbent bikes. In general, they consist of a simple brake pad consisting of a set of magnets, moving farther or closer from the flywheel of the recumbent bike, to create resistance or tension.
In this type, the brake pad is attached to the cable which is then connected to the tension knob. This tension knob can be turned in order to adjust the resistance you want. Meanwhile, the brake pad never comes in contact with the bike's flywheel. Recumbent bikes with magnetic brake do not need any power source in order for the resistance levels to be changed.
EDDY BRAKE SYSTEM
A recumbent exercise bike with an eddy brake system is assisted by electric current and has the same principle as magnetic brakes. However, it will be using a servo motor, an electromagnet, as well as a more advanced bike console.
Its brake pad is usually fixed with the tension produced by changing the pull of the magnet. This is done by choosing the resistance on the bike's built-in computer console, sending data to the servo motor, and changing the magnet's pull onto the bike's flywheel.
As its terms suggest an electromagnetic brake will need an electric current. Thus recumbent exercise bikes with eddy brake systems usually come with an adapter and require to be plugged into an electrical outlet in order for the brake system to become fully operational.
DRIVING MECHANISM
All recumbent exercise bikes feature a flywheel, although smaller in diameter than the pulley, but tend to be heavier. In general, this flywheel is connected to the pulley via a transmission belt. Most recumbent exercise bike models are belt-driven, making pedaling quiet and smooth. They also don't require too much maintenance. In addition, for most recumbent exercise bikes with magnetic or eddy brakes, it is possible to pedal backward, adding variety to your workouts.
ADJUSTABILITY
The best recumbent exercise bike for over 300lbs should have adjustable resistance. However, the number of resistance levels will differ from one model to another. Some recumbent bikes can offer only 5 resistance levels, while the most advanced recumbent bikes can provide you with up to 40 levels of resistance.
Other than the resistance levels, the best recumbent exercise bike for over 300lbs should also have a seat that can be adjusted. With an adjustable seat, you can get the right leg room for pedaling. Some recumbent exercise bike even offers adjustability on the seat angle.
While the front handlebars are usually fixed, some handles for the seat are mostly adjustable, moving forward and backward along with the sear. There are some recumbent exercise bikes that also have tilting handlebars, to best suit your position.
COMFORT
There are several elements you need to look for in terms of reviewing the comfort of a recumbent exercise bike. First of all, you need to look at the shape of the frame. In general, a recumbent bike's drive system is located at the front. Meanwhile, the seat is not far from the ground (typically 18 – 22 inches), to facilitate a comfortable workout posture as well as easy mounting and dismounting.
Some recumbent bikes will have hard plastics for the seat and then cushioned with various materials. Some will feature ergonomic fabric with a vented texture providing healthy back support as well as acting as a cooling system during a long exercise session. Meanwhile, the handlebars of the recumbent exercise bike also contribute to the overall comfort of the machine. Some handlebars feature pulse sensors while some feature an ergonomic design that fits any hands perfectly.
CONVENIENT ACCESSORIES
Some recumbent exercise bikes will also feature some extra accessories for your convenience. For instance, some models will feature built-in fans that can help provide air resistance as well as cool you off as you work out. Meanwhile, other bikes will have a built-in acoustic sound system that allows you to play your music of choice, so you can listen as you shed pounds.
Some also include a built-in water bottle holder, so you don't have to stop your workout to fetch a glass of water or your favorite energy drink. Additional features can also include a remote control holder for changing channels as you watch TV or even a magazine stand so you can read as you cycle for hours.
WEIGHT / TRANSPORTATION
In terms of recumbent exercise bikes, the heavier it is, the better. The overall weight of the bike enhances its stability, with a heavy flywheel that improves the smoothness of pedaling. However, moving such a heavy workout machine can be problematic. Thus, before you purchase, make sure to have everything planned and consider where you are going to put it and whether you will need to relocate it every now and then.
STORAGE SPACE
It is important that you know that most recumbent exercise bikes for over 300lbs can be quite bulky. Even the ones with a rather small footprint can still occupy a lot of space. Thus, before you even purchase a recumbent bike, make sure that you will have a place to keep it. Also, these exercise bikes are made for indoor use and storage. Thus, you will need to keep it in a dry space without severe temperature variations.
EXCESSIVE NOISE
Although this is not an issue for everyone, based on the resistance system of the bike, some models can be quieter than others. Recumbent exercise bikes with fans tend to be noisy since they feature air resistance. The harder you pedal, the stronger the air and louder the sound it creates. This can be quite problematic is you wish to watch TV or listen to your favorite music as you work out.
ENCLOSED MECHANICS
Now, if you're living in a household with small children, then you need to pay attention to the way the recumbent exercise bike has been built. Statistics revealed that hundreds to thousands of kids are injured yearly because of exercise equipment. In order to prevent that, take a look at the recumbent bike's mechanics such as the flywheel and the chain, and ensure that they are covered, so that kids cannot get their fingers, legs, or other body parts stuck in them.
BUDGET
A recumbent exercise bike is a hefty investment. Thus, you need to consider your budget. You can find recumbent exercise bikes as cheap as a few hundred bucks or models going up to the $5,000. Expensive bikes may boast high-tech features and other accessories that you do not really need, while some are just overpriced since you can find other affordable bikes offering the same features. Thus, you need to take a look at the price-quality ratio and consider your needs and the amount that you are willing to spend.
FREQUENTLY ASKED QUESTIONS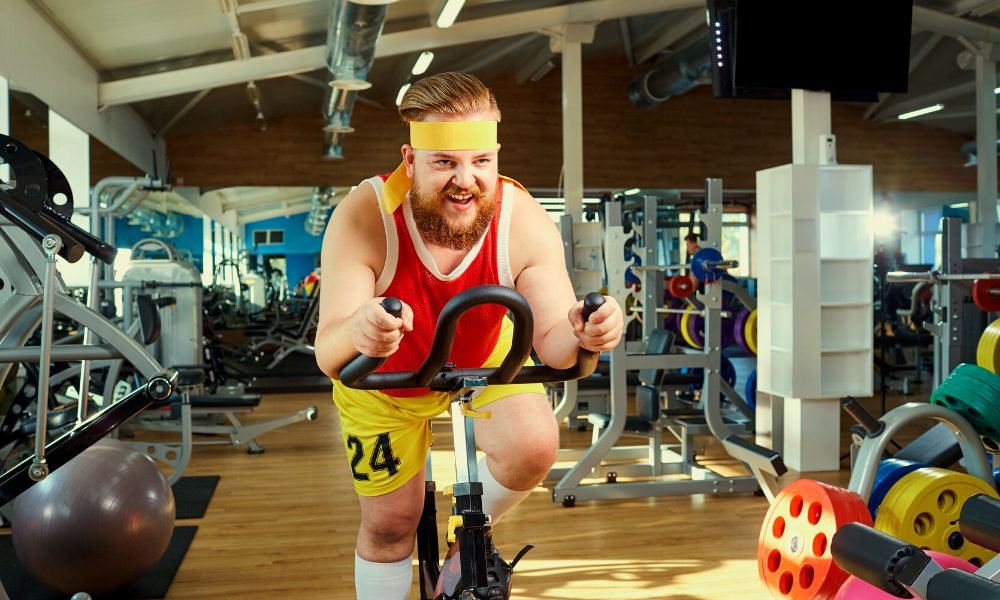 Q: Is a recumbent bike effective for countering obesity? Why?
A: Yes.
The biggest problem of overweight and obese people is that their bodies can't withstand its own weight. Thus, preventing them to follow an effective workout routine. However, the recumbent exercise bike for over 300lbs can provide an effective solution to this very problem.
Rather than subjecting the body to pressure which can damage your joints, you can just simply sit on the recumbent bike and cycle. It places minimum stress on your body as well as training the largest muscles in your body which is the leg muscles. In addition, a steady recumbent bike workout session is a great form of cardio workout and can help you burn calories like crazy. Plus, the low-impact nature of recumbent bikes allows you to have longer workout sessions.
Q: What the difference between a recumbent bike and an upright bike?
A: Recumbent bikes are the improved version of the upright bikes. Both machines target the same muscle group as well as offering similar workout patterns. Recumbent bikes, however, are able to do so more effectively, thanks to their improved design.
Recumbent bikes are designed (angled seat with armrest and backrest) to hold its user in the reclining position when working out. Maintaining a reclined position help remove the stress and pressure from your back while also reducing the impact on your joints.
Meanwhile, upright bikes are like traditional bikes, though effective, they can't be used for a longer period of time due to the awkward seating position.
Q: How many calories can I burn with a recumbent bike?
A: This will depend on your weight and pace. The more muscles and connective tissues you have, the more calories you can burn. This also impacts the number of calories that you can burn when cycling on a recumbent bike.
For instance, if you weigh around 130 pounds riding at 5.5 miles an hour, you can easily shed at least 3 calories a minute. Or if you're a 200-pound gal riding at 5.5 miles an hour, you can shed around 5.3 calories a minute. The more your weight is, the more you will burn to ride the same speed as a leaner individual.