Treadmill is a fitness device used for running, walking and climbing without having to move from place to place. Treadmills have been in existence for decades now but they have gained immense popularity in current times because of the increase in fitness conscience among people.
With the rising number of gyms and fitness chains, treadmills have now become readily available to everybody. Persons of all shapes and sizes can use a treadmill for fitness purposes.
Light or average weighing people do not have to think much before choosing a treadmill because all devices match their purpose.
But when it comes to heavy weight people, treadmills must be chosen carefully. There are many factors that must be considered before choosing the best treadmill for heavy person.
The platform of a treadmill is a wide conveyor belt which moves constantly. The belt moves in the opposite direction to which the user is walking or running. Read Here: Top Five Best Treadmills For Seniors – Reviews & Buyers Guide
The speed and slope of the treadmill can be adjusted manually depending on the need of the person.
Electricity driven treadmills use electric power to drive the belt while in a manual treadmill the runners have to push the belt with their feet. Manual treadmills are less expensive as compared to their electrical counterparts.
| Treadmill For Heavy Person | Brand | Expert Ratings | Check Price |
| --- | --- | --- | --- |
| | NordicTrack T 6.5S | | Check Price |
| | Exerpeutic TF1000 | | Check Price |
| | Sunny Health & Fitness T7643 | | Check Price |
| | ProForm 905 CST | | Check Price |
| | Nautilus T618 | | Check Price |
BEST TREADMILL FOR HEAVY PERSON REVIEWS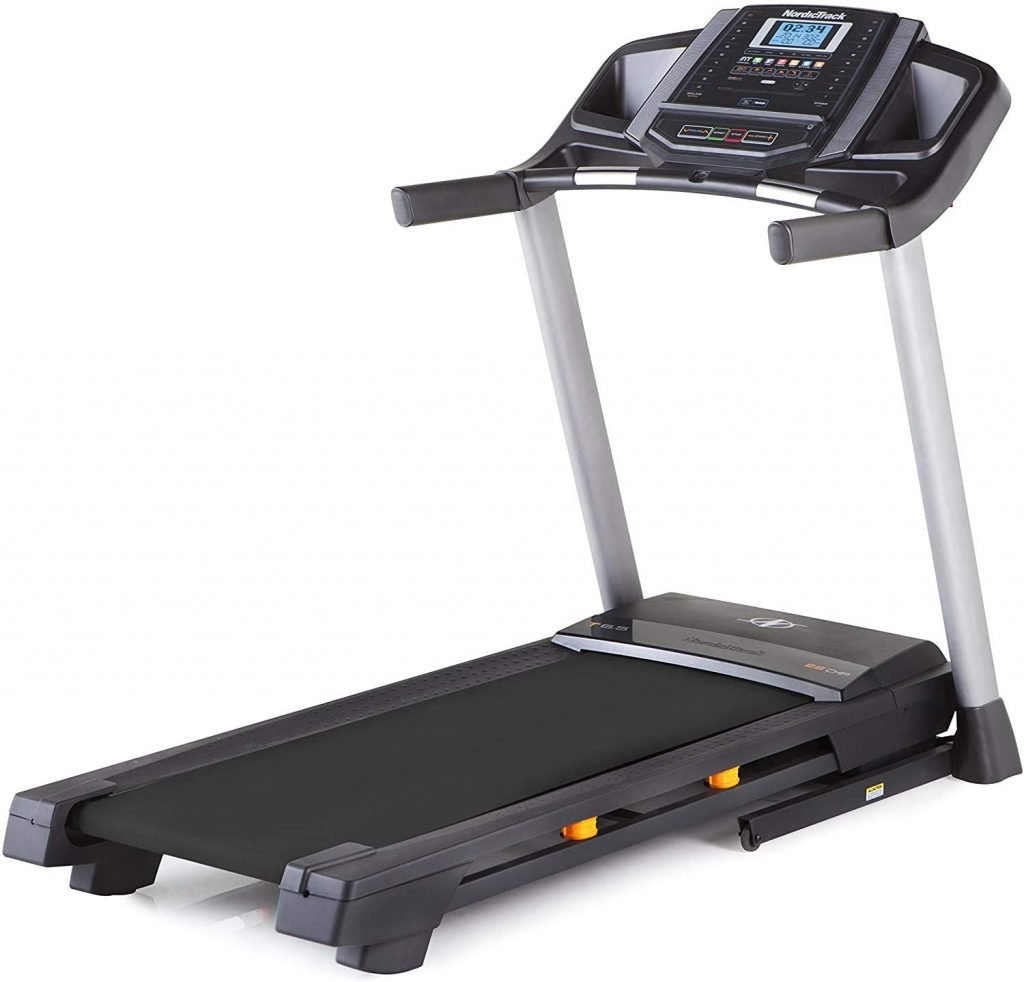 Maximum speed: 10MPH
Belt size: 20″ x 55″
Weight capacity: 300 lb
This is an entry-level product that is perfect for home use. This popular model uses 2.6 CHP motor which supports both jogging and walking. The device has a Dual CardioGrip Heart rate monitor, 1.9″ roller, and one-touch control. The treadmill allows an adjustable inclination of up to 10%.
For providing extra comfort, this treadmill offers FlexSelect Cushioning which is useful in reducing the pressure on joints while a person is running. This treadmill is compatible with iFit so you can have a huge library of workout videos and Google map training routes. However, buying the iFit is not mandatory.
There are 20 in-built workout programs in the console ranging across specific, speed, calorie burning and intensity programs.
Maximum speed: 4MPH
Belt size: 20″ x 40″
Weight capacity: 400 lb
This treadmill does not move faster than 4MPH so it can handle a lot of weight up to 400 pounds. In terms of handling weight, this can be considered the best treadmill for heavy person.
The device runs on 1.5HP and has a reinforced frame to accommodate heavy weight people. It has a relatively wide belt to provide extra space and avoid missteps.
One of the key features of this treadmill is the 18″ handrails for safety and the heart-rate readers installed in the hand-rails. It can be easily folded and shifted from one place to another.
SUNNY HEALTH & FITNESS T7643
Maximum speed: 6MPH
Belt size: 19.5″ x 43.3″
Weight capacity: 350 lb
This treadmill is mainly designed for walking but can also be used for light jogging as the maximum speed is 6MPH. The device is easy to use and has simple control because there are no unnecessary buttons.
The deck is wide and the buttons are extra large which makes it easier to control them during the workout. It is designed specifically for fat burning and stamina building.
The treadmill has a console with an integrated tablet holder and also includes a shock absorption system.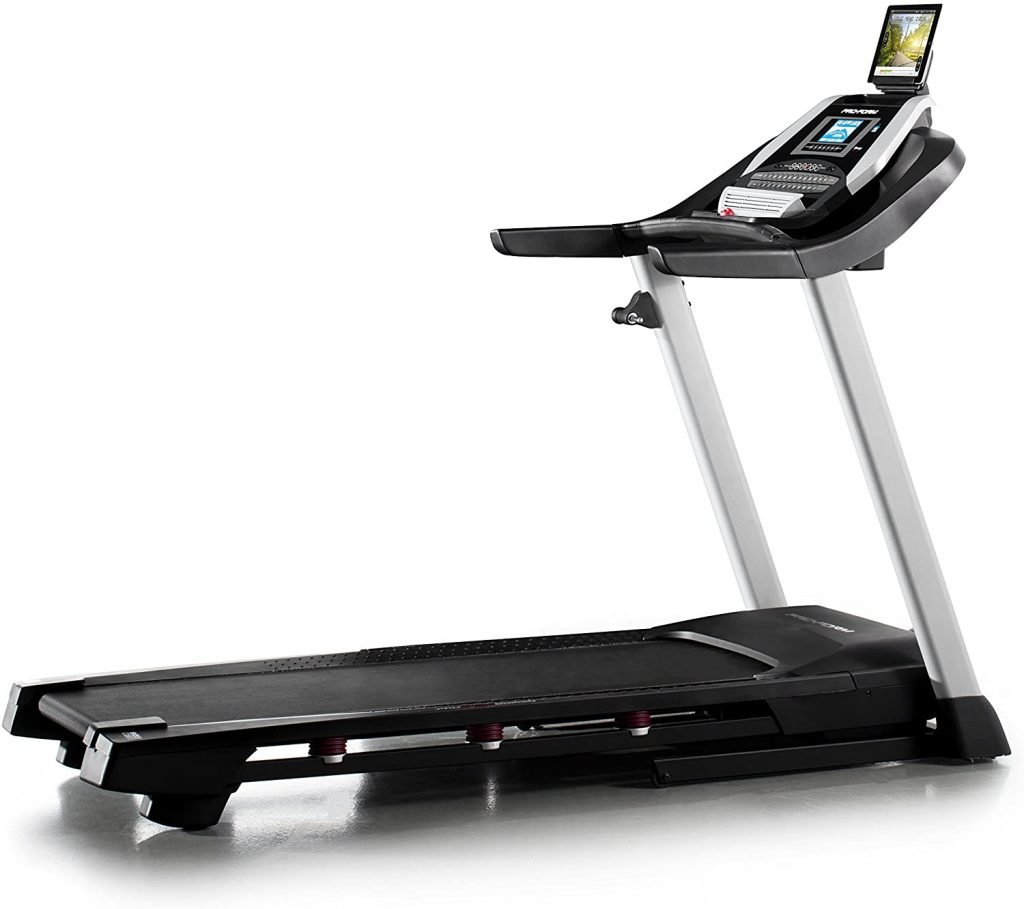 Maximum speed: 12MPH
Belt size: 20″ x 60″
Weight capacity: 350 lb
This treadmill is specifically designed for running and with a 3 CHP motor it is good for intense workouts. It has a spacious running surface and comes with a lot of hi-tech features.
ProForm claims to test the belt meticulously to ensure that it can hold the user weight. This device has 30 in-built workout programs and 12% incline.
The most appealing feature of this machine is the steel frame and sturdy construction. This means that the machine will remain stable even if a heavy person uses it.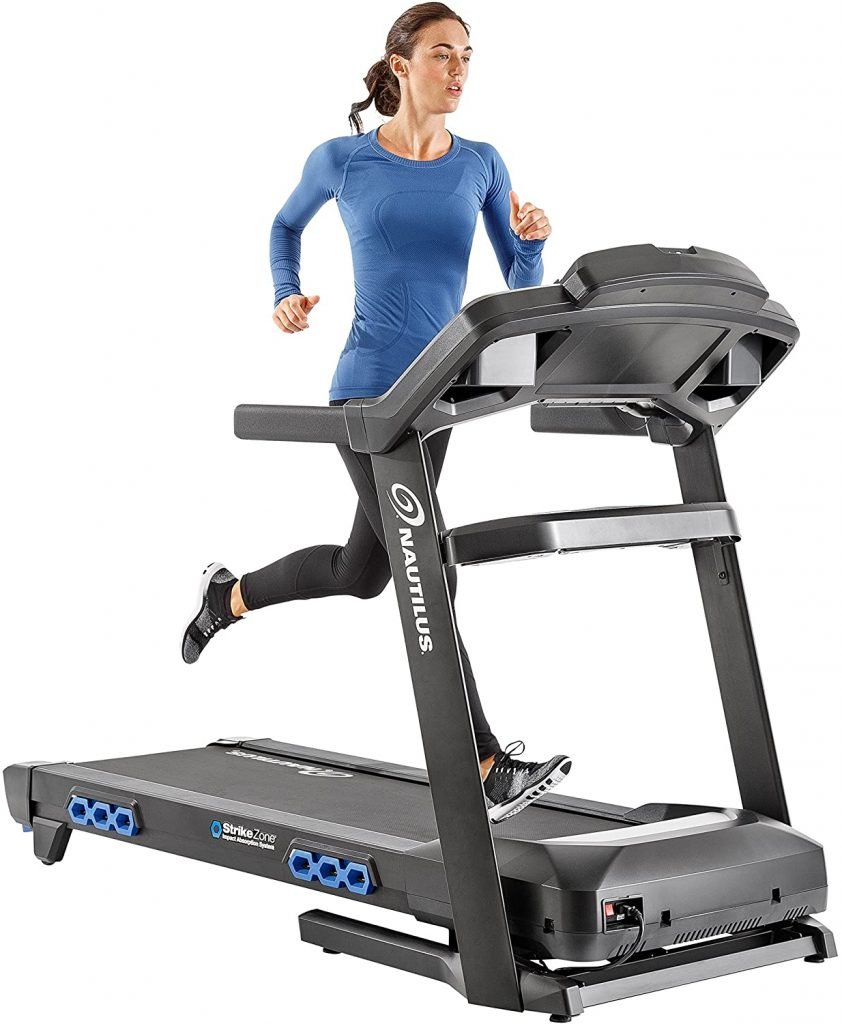 Maximum speed: 12MPH
Belt size: 20″ x 60″
Weight capacity: 350 lb
This treadmill is affordable for home runners and is best suited for high-intensity workouts. This is a high-quality device with a 3.5 CHP motor and advanced cushioning.
The treadmill can handle a lot of pressure and stay quiet. Additionally, it has Bluetooth connectivity which provides a good training experience as the user can connect to any smart devices.
The Bluetooth is integrated with RunSocial which can help you to run across any virtual location around the world. The treadmill also has an integrated speaker and cooling fans.
Other notable features include heart-rate monitoring and safety mode. This treadmill is among the best treadmill for a heavy person because of its wide range of features.
TREADMILLS FOR HEAVY PERSON: BENEFITS
There are countless health benefits for people who regularly exercise. Running and jogging are excellent for health in general and it is even better on a treadmill. Some of the health benefits of treadmills are listed below.
Regular exercise improves blood circulation in the body. Physical activity helps to secrete endorphins which lower depression.
It helps to lower blood pressure by strengthening the heart. Migraines can be reduced to a great extent.
Working out on treadmills is a good way to get over anxiety and stress. The pain in the head and back caused due to stress will go away if you exercise every day.
For people having Type 2 diabetes, a combination of diet and regular exercise on a treadmill helps in keeping the insulin level in control. If a person with mild diabetes exercises regularly, the blood glucose level is reduced to an extent that the need for medications may be completely eliminated.
Treadmill tests are done on patients who have issues like high cholesterol but do not display any symptoms of heart problems. In such cases, they are made to use the treadmill to put their bodies under stress and the patient's vitals are closely monitored to see if there are any signs of heart disease.
Exercising on the treadmill regulate hormones to ensure a healthy sleep cycle. This in turn keeps the blood sugar levels stable.
Regular exercise keeps the body in good shape and reduces the chances of heart diseases.
Treadmills with calorie trackers can give you an idea of how many calories you have burnt and how much more work you need to do to meet your fitness goals. But you must be careful to choose the best treadmill for heavy person.



WHY DO YOU NEED TREADMILLS?
Using a treadmill has a lot of advantages.
Easy to Use
Treadmills are very easy to use compared to other exercise equipment. It is much safer to jog on a treadmill than jogging through trails or sidewalks.
The risk of tripping over uneven ground reduces. Also, you do not need to bother about the weather outside or worry about wearing the right gear for a run if you have access to a treadmill.
Treadmills reduce impact
If you run on pavement or other hard surfaces, your knees and joints have a lot of impacts especially if you are running fast. Stepping on rocks in wrong ways too many times can cause back pain and may lead to other injuries.
This can be a cause of concern for older people. Treadmills provide a relatively softer and smoother surface to walk or run. Most treadmills come with shock absorption technologies so your knee will take less impact.
For heavy weight people, knee problems are very common so they need the best treadmill for heavy person.
Easy to store and convenient
Most of the models are foldable and can be carried around the house easily. If you cannot give a permanent space to the equipment, you can fold and keep it in storage and take it out as an when needed.
If you own a treadmill it is very convenient because you do not have to go anywhere to run. It is especially safer for women to run at home because many times they face harassment while going to run alone.
Treadmills are under your control
All the features of a treadmill can be directly controlled by the users like speed, incline, warm up, cool down and energy spend. Many treadmills come with in-built workout programs but users can design custom programs too.
Multiple users can use the same machine and adjust it according to their fitness levels. Some treadmills have heart rate monitors and step counters so that your progress can be tracked.
Lose weight faster
If you run at 10 km/h for just 20 minutes, you will burn 229 calories. If the workout session can be combined with a healthy diet, weight loss is no big deal. In fact, cardiovascular workouts can improve heart health. You can use the machine's incline or increase your workout intensity if you
want to lose weight faster. You can burn 100 calories for every mile you run. While most treadmills are suitable for average weight people and can aid their weight loss process, people with more weight must find the best treadmill for heavy person so that they can meet their fitness goals.
Heath and motivation
Running stimulates your brain to function better by releasing endorphins. This chemical compound can help to reduce anxiety and make you feel happy. Once you start to move towards your fitness goals, you will be motivated to work harder.
Muscle building and improved joint flexibility
Running on a treadmill helps to build up leg muscles. Depending on the duration you run, your leg muscles get stronger with time and you start increasing your core strength too.
For older people, being able to move smoothly and staying upright is very important. Walking or jogging on a treadmill enhances joint flexibility.



KEY TO CHOOSING THE RIGHT TREADMILLS
Investing in a treadmill is a good option if you don't have the time to go for a walk or jog outside. But before you buy one, you should consider the following factors.
Budget – Fix your budget. Decide if you want a basic functional device or you want to pay for extras like heart-rate monitors or in-built workout programs.
Space – How much space do you have to keep the treadmill? If there is space crunch go for foldable treadmills
Warranty – Purchase a treadmill which gives at least 5 years of warranty on the motor and 2 years of warranty on the parts. Also, make sure that the warranty covers 1 year of service.
Belt size and speed – Ensure that the belt is long and wide enough for running. If you are planning to walk you can buy a treadmill that goes up to 6MPH but if you are planning to run, you should buy a treadmill that goes up to 10MPH. If you are heavy, decide if you want to run or walk and then buy the best treadmill for heavy person.
Incline and cushioning – buy a treadmill with flexible incline at least up to 10%. Check if the running belt has shock absorbers to reduce the impact. The treadmill should not shake during usage because wrong jerks often lead to muscle pain.
Semi or auto lubrication – every machine needs to be lubricated for smooth operations. If you are not an expert, go for an auto lubrication machine.
Finding the best treadmill for heavy person within budget is a big chore. You must know what to look for before you buy it. The price of a treadmill varies over a huge range depending on brands.
It must be kept in mind that a good treadmill is never cheap. But if you spend some time researching and buy, you can get them at a significantly lesser cost during sales and discounts. If you are buying a home treadmill, do not hesitate to spend a few extra bucks if you are planning to exercise regularly.
While there is no fixed budget for buying a treadmill, it is recommended that you go through a list of products with comparable features and prices to finally narrow down to the one you are going to buy.
FREQUENTLY ASKED QUESTIONS
While looking for treadmills you might have many questions. Here are some of the answers to frequently asked questions!!
Can treadmill help to reduce belly fat?
Running on a treadmill is very effective for burning fat. If you have chosen the best treadmill for heavy person, you can be assured that regular exercise will result in reducing belly fat and overall weight loss.
It is recommended that you go for either 75 minutes of high-intensity workout or 150 minutes of moderate-intensity workout every week. Running on a treadmill will help you attain your weight loss goals.
What kind of incline is most suitable?
If you want to build strength and power, you can run slowly on a steeper incline. If you want to build stamina and endurance, opt for no incline faster running workouts.
What is CHP?
CHP stands for Continuous Horse Power which is a term used for treadmills. The mechanical power of the motor is tested using a dynamometer in the laboratory. This rating is not equivalent to the actual horsepower required for treadmill usage.
How much time should you spend on a treadmill?
The amount of time you want to spend on a treadmill completely depends on your fitness goals. If you are heavy and planning to go for a routine weight loss, you should first choose the best treadmill for heavy person.
Depending on your goal you can start exercising every day. A good starting point is 20 minutes of walking or running which may slowly be increased.
Which is the best workout on a treadmill?
If your treadmill has iFit or built-in workout programs, that would guide you through your workout schedule. Treadmills work best for losing weight and toning leg muscles.
Is treadmill running easier than running outdoors?
Yes. Running on a treadmill is comparatively much less stressful for your legs than running outdoors because the treadmill absorbs the impact sparing your knees and joints.
What kind of shoes are needed to run on treadmills?
Users of a treadmill can wear a light pair of shoes without heavy cushioning because surface a treadmill is softer than outdoors.
How much power should my treadmill have?
This will depend on the purpose for which you are going to use the treadmill. If you are planning to use it only for walking go for 2 CHP. Use 2.5 CHP for jogging and 3CHP for running.
In a generation where people are busy with the fast-moving lifestyle, health is often ignored. Nowadays, people hardly get time to go out for a walk or run every day. 
Treadmills are a boon of the digital era and continue to be one of the largest selling fitness equipment. If you are a person watching your weight, you should select the best treadmill for heavy person.
Having a treadmill at home makes it much more feasible to exercise regularly without having to put the additional effort into going out. Treadmills combined with a healthy diet are one of the most common ways used for weight loss.