Treadmills are a great way to build cardiovascular fitness for everyone. Choosing the right machine is dependent on a number of factors including age and your fitness goals.
Getting old is an inevitable thing but keeping your body fit and functional can keep you going for a longer span. You might not feel like moving around at that age but some movement would keep you up and alive and your joints healthy.
The body naturally slows down as we get older, however, that slow movement is to be kept intact and working out a little with that slow movement is extremely essential.
The best exercise for an elder person is walking or perhaps jogging. But due to numerous factors such as not wanting to leave the house, feeling hot or cold outside, or not feeling comfortable going out, the best thing you can do is purchase a treadmill for yourself. Read Here: Top 10 Best Treadmills Under $1000
With a variety in everything available in the market, you can also get a treadmill which is fit for your age and is tandem with your requirements. Buying a treadmill for your house, you can work out easily, as per your convenience and keep yourself fit and active.
Doing even the very basic exercises can give great returns to seniors, so walking or jogging on that treadmill would be a great choice to make. Now choosing the right treadmill for you would become an easy task after going through this article which would list some of the best treadmills for seniors with each of theirs pros and cons to help you pick the right one for yourself.
Advantages of Buying a Treadmill for Seniors
Before we go ahead to look into the treadmills available in the market, it would be better to explore the reasons for buying the treadmill and the various advantages it holds for you.  Some of the advantages of buying a treadmill for seniors are:
1) Helps keep you active
The main reason you should buy a treadmill for yourself is that it will help you remain active. Once you are through with your retirement, things eventually start slowing down in your life. You are left with numerous hours where you don't even move your body anymore.
At such a time what is important is to keep your body active so that you do not feel lethargic as well as there are no pains in your joints. Doing some exercise with that treadmill would not tire you much and keep you active throughout the day.
2) Cardio workout
Doing cardio workout for as long as your body allows is a sure benefit. With one among the best treadmills for seniors, you would be able to do cardio exercises with the comfort of your home and at your own pace.
You might not feel inclined towards going to a gym at this age or you might not appreciate the gym environment very much, but this way you can exercise well at your home only. You would be entitled to all the cardio respiratory health benefits from the comfort of your home.
3) No barriers
Since having a treadmill at home does not ask you to move out of your house, the barriers get a good putdown here. You would no more depend on the weather conditions outside to go out for a walk or jog.
It is a fact well known that the body gets more sensitive as we grow old and likewise, you might feel too cold or extremely hot even in the weather which is not extreme. Having the opportunity to work out at home indoors all these barriers would rest behind.
4) A plus for the ageing joints
One thing which takes a toll on every aging person is that never-ending pain in the joints. The right treadmill would provide a lower impact on the body by walking as well as running. The good quality cushioning present would provide relief to your aging joints especially the knees, hips, and ankles with the proper cushioning.
5) Lesser impact on the joints
Walking and jogging might make your joints hurt badly. Technology comes to your aid at these times, with the incline feature in the treadmill you can modify the kind of work out you want.
There is a chance for you to increase or decrease the inclination making you go harder or even lighter but with a lesser impact on the joints.
7) Variable speed
As an older person, your body might not function as well as it used to some 20 years back. Using the treadmill you can choose the speed you feel comfortable with. You can slow things down as and when you please after which the speed remains constant. This also is a plus when you compare it with going to the gym.
At the gym, you might not find the right equipment which is sync with your body and the kind of workout you would like to do. But having the best treadmills for seniors you would have the best equipment with yourself.
7) Progress in check
Using a treadmill you can track your progress really easily. You would know exactly how many calories you have burnt and the time for which you have walked or jogged in totality.
Being able to track your progress you would be able to know where are you actually heading and with the results visible it will do a big deal in motivating you.
8) Side activity
Getting accustomed to using the treadmill would only take a day or two or perhaps even a few hours. Once you get comfortable with jogging and walking without the support of the handles, it would become more and more fun for you since you would now be able to watch television alongside or listen to music. All this would make it easier to work out for you keeping you distracted and make it all the more fun.
9) Motivation
With the treadmill right in front of your eyes, while you are moving around in the house, it would surely motivate you to get on it and do some basic exercise. You would no more feel lazy about having to go out to the gym or the park.
All these benefits make the treadmill a sure companion for you to get fitter and more active. It would definitely be the right form of exercise you need at this age.
Moving on, having decided to buy a treadmill you must now learn some of the basic factors to look for while buying a treadmill.
Top Five Best Treadmill For Seniors
1) Sole F63 Treadmill
This treadmill is among the best with its cushion flex whisper deck and well-cushioned belt; it will provide you with extreme comfort even while running.
Features
The running area of this treadmill is cushioned and is smooth as well as quiet. As per their claim, using their treadmill would reduce the impact on the joints by 40%.
The machine is heavy duty and can take a weight of up to 325 lbs. It comes with a power inclination up to 12 % and with its HP motor of 3.0 it provides good speed. In addition to all this, the model has a tablet holder, Bluetooth speakers, and a USB port to give you enough entertainment options.
There is a lifetime warranty, stop switch and a good display screen with different features. As a cherry on the cake, the machine is also foldable.

2) Horizon Fitness T 101-5 Treadmill
This treadmill has a proprietary cushioning system and ensures a comfortable walk.
Features
The 3 zone variable response cushioning ensures a good and a comfortable walk. The speed offered by this treadmill is decent and there is also a USB port, Bluetooth connectivity, speakers and drive holder.
The screen is equipped with a one-touch speed button and incline facility.

3) Sunny Health and Fitness T7643 Treadmill
This jogger is a good choice for walking however the top speed would ensure a good jogging level also.
Features
The treadmill has a weight capacity of 350 lbs and comes with a good wide panel for clarity. The belt has good enough dimensions to ensure a good and comfortable walk. It also has transport wheels, a light frame as well as good shock absorption capacity.

4) Sunny Health and Fitness SF-T7718
This treadmill would be the perfect shot if you are looking for a lightweight easy to fold equipment.
Features
The treadmill comes with a large and readable display screen and a wide comfortable belt. The treadmill is lightweight and easily foldable with an ability to hold weight up to 250 lbs. 9 separate selectable programs are also there.

5) Exerpeutic TF2000 Recovery Fitness Walking Treadmill
This treadmill finds a good space in the best treadmills for seniors. It is fit for seniors who are looking for complete safety with complete rods or are recovering from something related to health.
Features
The foam padding on the railing provides a good and stable grip. The display screen is good and readable along with well-equipped safety features. 4 Adjustable stabilizers are also present for perfectly leveling of the deck.

Factors to Look for While Buying Best Treadmills for Seniors
You must be cautious while buying a treadmill so that it suits your needs well. Here are some of the factors you should definitely consider before buying the best treadmills for seniors.
Cushioning: The belt of the treadmill as well as the thing it revolves around should be cushiony enough to reduce the impact on the joints by 40% at least.
Safety: Your body can surely not take any injuries on your fresh move to become healthier. For this, you must ensure that the treadmill has handles which are solid, comfortable as well as long enough. Along with this, make sure that there is a safety measure in the treadmill be it an emergency stop button or a clip option which stops the treadmill the moment you get too far away from it.
Weight: Your body might not be so well in shape and hence you must consider taking a treadmill with good weight capability. Try getting an average weight of over 225.
Size of the belt: With the kind of workout you are planning you would not need the belt to have a very big length. However, the width of the belt should be good enough.
Big screen: With age, your vision also gets compromised. It might not be very comfortable to jog with your reading glasses on so you must make sure that the treadmill you are buying has a good enough readable screen.
Customer support: Anything we buy gets out of shape and needs repairs. You must have a look at the customer support provided by the company on the selected product along with the terms and conditions.
Heart rate monitor: Running at that age should be well worked out with your doctor. You must make sure that your heart rate is constantly good and hence to monitor it make sure that the treadmill has an accurate heart rate monitor.
Incline feature: As already discussed above, the incline feature helps you to work out hard while maintaining lower impacts on your joints. When confused, go with treadmills that have an automatic or manual incline feature.
Durability and value for money: You would not be willing to rush to the store or the customer care support constantly with issues in the treadmill. To avoid these inconveniences, make sure that the treadmill you are buying is of good quality and durable. In addition to this, treadmills do not come cheap and hence you must make sure that you are spending amount correctly and getting the best in it.
Foldable feature: Since the treadmills take ample space in your house, it would be better to take a foldable treadmill. There are treadmills which can be folded automatically with power on; however, this feature is dependent on your choice and space availability.
These are the basic features you should consider while you are on your way to buying one among the best treadmills for seniors.
To make the task further easy for you we now have listed some of the best treadmills for seniors available in the market along with their features, pros, and cons to help you pick the right one easily.
Conclusion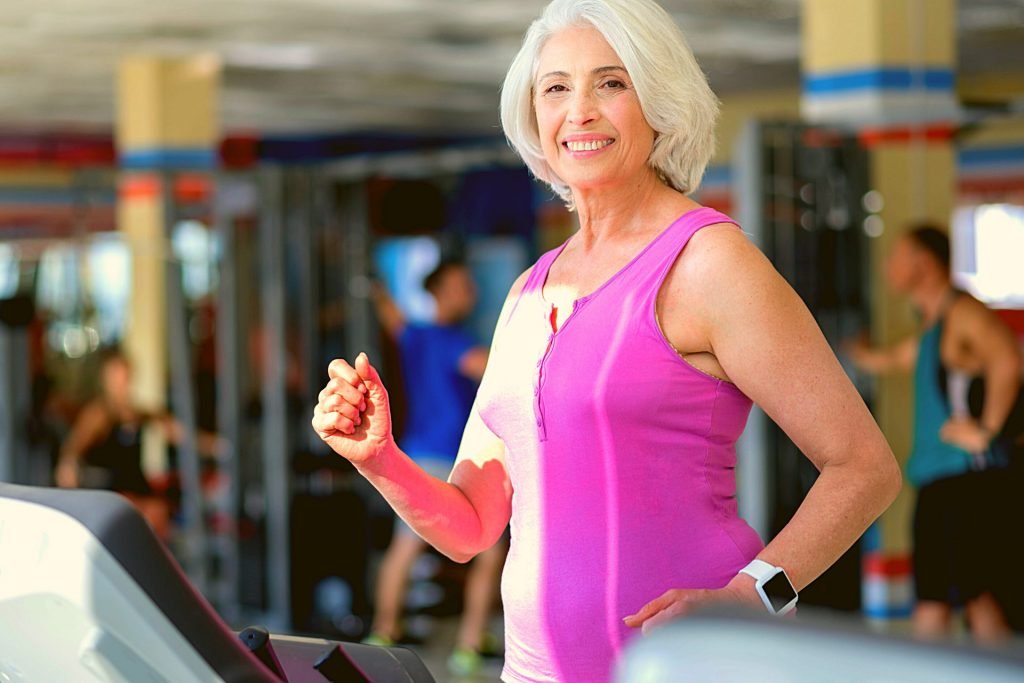 Having viewed the best treadmills for seniors, you would now be able to choose the perfect treadmill for yourself easily enough. You can now be on your way to be fit, healthier, and in high spirits by working out on that treadmill for some time in the day.
This would surely be a wonderful experience for you, once you start on this, it will become a part of your everyday schedule. You would eventually become more and more comfortable running on that treadmill and start to love it.
Frequently Asked Questions
Are treadmills safe for seniors?
Yes, treadmills are absolutely safe for seniors if you are buying the right treadmill. Most of the best treadmills for seniors come with controlled speed and an incline feature to ensure reduced joint pain.
Along with that, you must look for a treadmill that has a safety feature, either an emergency stop or a clip that is attached to the treadmill which shuts down the treadmill the moment you go too far away from it.
Which are the best treadmills for seniors?
No treadmill can be qualified as the best treadmills for seniors. You must look for a treadmill which is in accordance with your needs.
It depends on what all features you want in your treadmill, whether you want one which can be folded, you want one with a heart rate monitor, if you want extra attachments, and lastly on your weight and speed requirements.
Is treadmill good for seniors?
Yes, treadmill is good for seniors since it keeps your body active. Treadmills come with a cushioned belt which reduces the pain in the joints along with which the incline feature permits the user to lessen the strain on the joints.
Using a treadmill would help you do basic cardio exercises, maintain your health, and stay away from diseases that are attracted at old age.
Would exercising on the treadmill lead to pain in the joints?
The answer to that question is sure no. Treadmills come with a cushioned belt which rather reduces the pain in your knee, hip, and ankle joint. In addition to this, with the inclination feature of treadmills, you can even do a rigorous workout in a more comfortable manner and with lesser strain.
As compared to the normal workout, using the treadmill at this age would be a safer and a more full-proof option right in the comfort of your home.