One of the best ways to do cardio at home is by getting the water rowing machine. It is similar to rowing in real water as it provides you with a full-body workout targeting more than 80% of your body muscle, such as the core, back, arms, or legs. Once you start using this, then this will become your best exercise.
While looking for a suitable Rowing machine, you may come across Sunny Rowing Machine. When you use this while working out, things can be pretty challenging and engaging. It is the top-quality product that one can consider having which will impact the cardio exercise. Elevate your workout routine and make it more efficient with Sunny Rowing MachineRowing Machine.
It does come in two different styles- Smart and Classic. Both of them have different features and uses. You can get either of them and experience the best features.     
Sunny Rowing Machine Smart vs. Classic Specification 
Specifications
Smart
Classic

 

Product Dimensions

22″D x 80″W x 34″H

22″D x 80″W x 34″H

Maximum weight

300 Pound

300 Pound

Frame Material

Alloy Steel

Alloy Steel

Item weight

91.9 Pounds

91.9 Pounds

Tension Level

Progressive

Progressive

 

Digital Monitor

Calendar, Clock, Distance, HRC/Pulse (Optional), Calories, SPM, Strokes, Time, Time/500M, Total Strokes, Temperature

Time, Time/500M, Distance, SPM, Strokes, Total Strokes, Clock, HRC/Pulse, Calendar, Calories, Temperature

 

Foldable

No

Yes
Most of the specifications these smart and classic machine shares are the same. It does offer you high water performance and makes things efficient. You can check different things on this platform, such as time, distance, and everything. 
It is compatible with the ANT+ heart rate technology, so you can measure an accurate pulse that will be transmitted to the advanced digital monitor. The water resistance will give you a steady ad smooth experience that comes with every stroke. Plus, it is designed to keep track of all the essential workout metrics.
Unique selling points of Sunny Rowing Machine 
You can get a high-quality product that offers you quality workouts. You can use smart or classic-style rowing machines; it will make your workout much more engaging. 
Sunny Rowing Machine (Smart)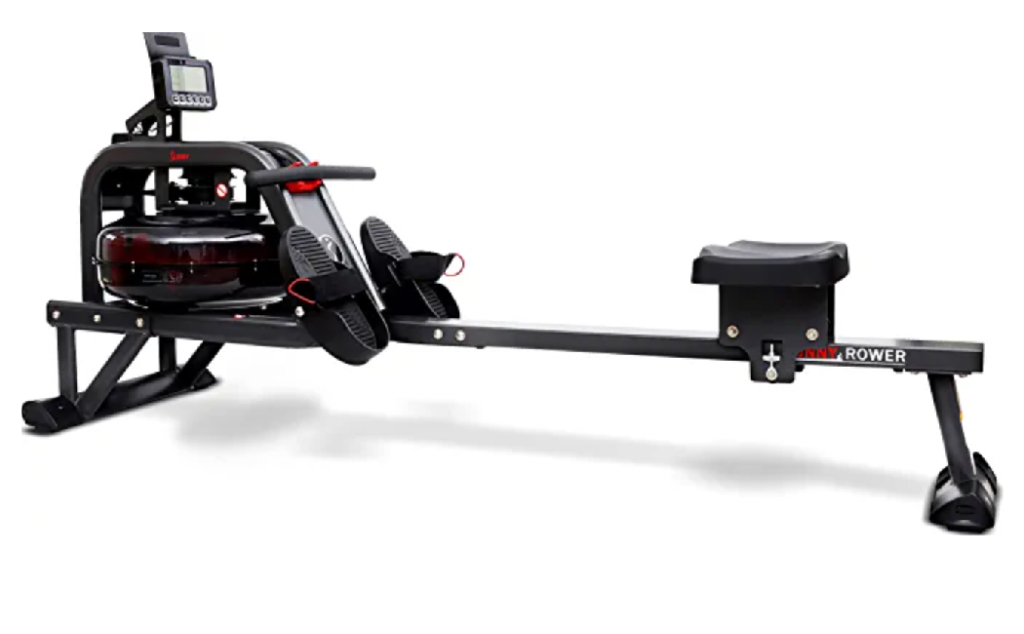 (Image Credit: Sunny Health & Fitness Store / Amazon.com)
Smart Fitness- When you row along with the Sunny health and fitness experts trainer on the Application. You can connect with the preferred mobile device that will connect with a select mobile device which will view the performance metric in real-time. It comes with colossal technology, and you can customize your workout plans based on that.
Water performance- When you row on the water, that will provide you with more comfort in your house. The water will create a steady and smooth experience for rowing that comes with every stroke. It comes with the instant resistance that will be available with the flywheel and have 16 fan blades.

 

Design– It is constructed with durable steel that offers solid performance and durability. It has 16 hydro blades that mimic the dynamic movement of the rowing competition. It has a non-slip HD Handlebar which will be sweat-resistant. It even comes with enough accommodate that will be different from hand width.

 

Portability- Amazing thing about the machine is its portability. It has a transportation wheel with easy relocation for the recumbent bike. You just need to tilt and roll from the room with effortless ease. It becomes easy for the person to take it anywhere or move elsewhere.
Easy Storage- It has a high density that comes with a non-marketing rubber wheel, making it perfect for storing. It is as easy for transportation as keeping it wherever you want when it is not in use. It is advised to the person to place that upright against the wall to store because that will be the right position to do it.
Ergo-Efficient- The seat of the rowing machine is designed in a way that it will feel comfortable and functional for you. It has a high-profile seat design 17 inches above the round. It makes it easy for the person to get on and off the seat while straining or bending on their back.

 

 
Sunny Rowing Machine Advantages
Smart

Classic 

Easy vertical storage
Instant resistance will be available with the flywheel
Come with different modes, such as recovery and racing
16 blades of the fan
Support SunnyFitApp for both iOS and Android and even explore the 100+ workout videos
It is designed with comfortable and functional
Better water performance
Comes with R2 fitness technology with essential workout metrics
Lightweight but provide solid performance and durability

 

Have foldable properties
Sunny Rowing Machine Disadvantages
Smart 

Classic 

It can be dull and uninspiring
Make noise while working out
Does not fold

 

The seat is hard; it may require some cushioning

   
Overall, getting the Sunny Rowing Machine will be a better idea for people as it comes with a smart rowing experience. It is budget-friendly which means it does not cost you much. This can be your option if you are at home and looking for ways to work out.  
But make sure that there is proper space before purchasing one; otherwise, this machine will be of no use. You can either buy classic or smart, there will be little difference between both, but still, they are different from each other, so make sure you make the right decision while purchasing.    
(Image Credit: Sunny Health & Fitness Store / Amazon.com)
Is Sunny Rowing Machine Smart Worth for Home Use?
Sunny Rowing Machine Smart is an excellent fitness equipment for home use that can help you achieve your fitness goals while enjoying the convenience of working out at home. This machine is designed to provide a full-body workout by simulating the rowing motion of a boat on water. It is equipped with various features that make it a smart and efficient choice for those looking to improve their fitness levels.
The Sunny Rowing Machine Smart features a durable and sturdy frame that can withstand regular use. The adjustable resistance levels provide a challenging workout that can be customized to your fitness level. The machine also features a comfortable and ergonomic seat and handles, making it easy to use for extended periods without discomfort. The LCD monitor displays essential workout metrics such as time, distance, and calories burned, allowing you to track your progress and stay motivated.
One of the standout features of the Sunny Rowing Machine Smart is its Bluetooth connectivity, which allows you to connect it to your smartphone or tablet. This feature enables you to access the MyCloudFitness App, which provides access to a range of workout programs and tracks your progress over time. The app also features an online community of fitness enthusiasts, providing an excellent opportunity to connect with like-minded individuals and stay motivated.
Can you store the machine while water is still in it?
Yes, you can store the machine when water is still in it. There will be no complications that you have to face while doing so. You can store it against the wall for storage, which will not damage anything. It has a water-resistance property, so it will not cause any problems. 
Is it possible to change the resistance?
Yes, it is possible! You can add or remove the water from the machine to change the resistance. But that will be painful to do again and again. But if you use it the right way, like keeping the water at maximum level and row faster if you want more intense. 
What muscles does this Sunny rowing machine work?
The Sunny Rowing machine works on different muscles in your body, such as the leg, shoulder, arms, back, and core. You can say it is for your whole body as it is a fantastic exercise machine targeting your upper body.   
Is buying Sunny Rowing Machine worth it?
This can be your only option if you are looking for a rowing machine and do not have a big budget. It is easy for the person to assemble, and it does not even make noise when using it. So, yes, it is considered one of the best options that you can have. 
How to Use Sunny Rowing Machine?
If you are new and want to use a rowing machine, you should start strapping the footplates and adjusting the strap. After that, you need to have a rowing form that needs to be perfect, and then pull the handlebars through your breastplate and squeeze your shoulder blades. Once you do that, you can come to recover, which is also crucial.