A recumbent bike is an exercise bike that a rider uses in a laid-back position. They differ from a standard exercise bike that requires riders to be in an upright position. They are built with a seat that resembles a chair that allows someone to lean back comfortably. Recumbent bikes are great working-out equipment for seniors struggling with arthritic pain and back issues to stay active and healthy.
Likewise, recumbent bikes provide a lot of comfort to those who still enjoy using a bike but need to make an ergonomic change. They allow you to evenly distribute your weight and prevent pain. Today, we're going to focus specifically on the fitness needs of the elderly and look at 5 of the best recumbent bikes for seniors.
| Recumbent Bikes | Brand | Expert Rating | Check Price |
| --- | --- | --- | --- |
| | SUNNY HEALTH & FITNESS MAGNETIC RECUMBENT EXERCISE BIKE | | Check Price |
| | VANSWE RECUMBENT EXERCISE BIKE | | Check Price |
| | SCHWINN 270 RECUMBENT BIKE | | Check Price |
| | 900XL RECUMBENT EXERCISE BIKE | | Check Price |
| | MARCY RECUMBENT EXERCISE BIKE WITH RESISTANCE ME-709 | | Check Price |
Top 5 Best Recumbent Bikes for Seniors Reviews
 

Sunny Health & Fitness Magnetic Recumbent Exercise Bike
The Sunny Health & Fitness Magnetic Recumbent Exercise Bike is an affordable recumbent exercise bike seniors can use to achieve their fitness and weight loss goals. It looks sleek and compact and is a great inclusion to your home.
This bike is also very quiet when it's in use, compared to a lot of other recumbent bikes that can be noisy and distracting to other people in the home. Additionally, the built-in console lets you keep track of your progress, keeping you motivated while not being overly complicated. This bike also comes with 8 clear resistance levels, so you can enjoy a low-impact workout from the comfort of your own home and challenge yourself when you're ready to take on the next resistance level.
It doesn't come with BlueTooth connectivity or the ability to watch media. That being said, you can easily plant it in front of the tv and enjoy your favorite show while getting some exercise. One thing to note is that some customers have felt a little unstable or "wobbly" when on the bike, and it can be frustrating to move the bike around since it doesn't come with wheels. Read Here:
Best Sunny Rowing Machine Reviews: Smart Vs Classic
This bike is great for seniors looking for a comfortable, yet effective, home workout. If something happens to your bike there is a 1-year warranty available to you. This bike is particularly great for fitness beginners and seniors looking to make a healthy change in their lifestyle.
Vanswe Recumbent Exercise Bike
The Vanswe Recumbent Exercise Bike is one of the most durable recumbent bikes on the market. It can hold up to 380 pounds, so if you need the extra weight capacity this may be a great choice for you. It comes with 16 resistance settings, so if your goal is to drop a substantial amount of weight you progress from the easier settings to the more difficult ones, burning more and more calories as you move forward.
This recumbent bike is also affordable. So if you're interested in recumbent bikes but don't want to splurge right away, you can start with this one. The Vanswe also has magnetic tension control, allowing you to easily increase and decrease resistance settings.
The resistance settings knob is right in front of you, so it's easy to change settings quickly. This is another great bike choice for beginners and seniors looking to boost their cardiovascular activity without damaging their joints. That being said, some customers have noted that the screen is a little frustrating, as it shows you a lot of important stats (heart rate, calories burned, speed, etc) but you can only see one at a time.
SCHWINN 270 Recumbent Bike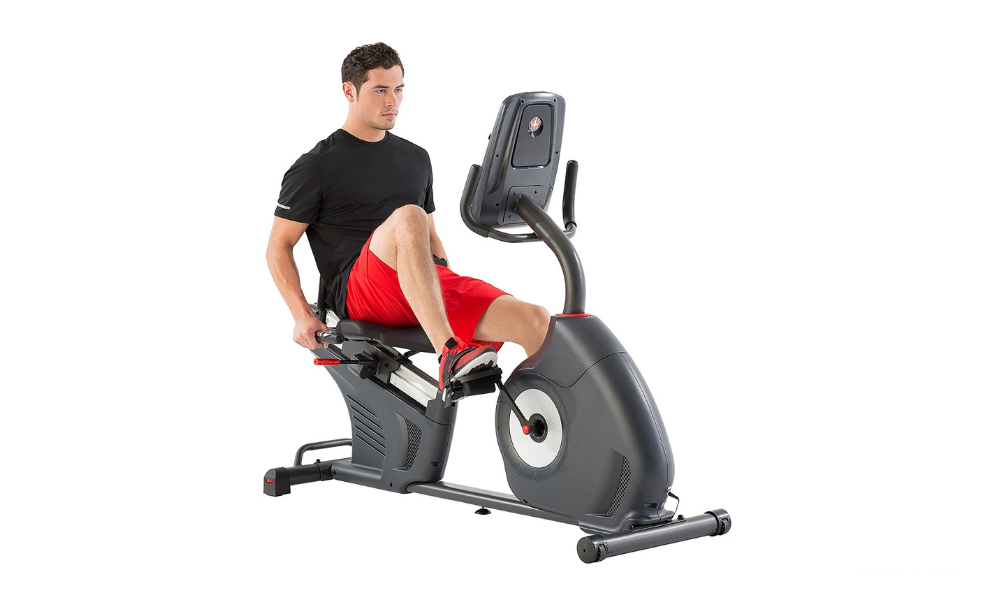 The Schwinn 270 Recumbent Bike is one of the fanciest, high-tech recumbent bike options on the market. It has several advanced settings that you might not find with other recumbent exercise bikes. It has 25 resistance settings, the most of any bike we'll be discussing today.
The Schwinn comes with built-in workout programs that take the planning stress out of exercising. It also has several technologically advanced settings including BlueTooth connectivity, letting you sync with your favorite fitness apps. The speakers and MP3 input port also take it a step beyond other recumbent exercise bikes.
The Schwinn is a great choice for experienced fitness gurus who may need to decrease the level of intensity with their cardiovascular routine, while still maintaining their health and fitness as a senior. As we've discussed, recumbent bikes provide a less intense cardiovascular workout than a treadmill or an upright bike, letting seniors feel more comfortable and reducing joint and muscle strain. The 25 resistance settings may be overwhelming for a beginner, so the Schwinn may be best for someone who has used other recumbent exercise bikes before.
The Schwinn is also one of the more sturdy and durable options, and since It is pricier than other bikes, it is less likely to be damaged. Pedalling on the Schwinn feels smooth, and it provides seamless transitions between resistance settings. Lastly, if you're all about convenience and bonus features, you'll enjoy the bottle holder, accessory tray and built-in fan for keeping cool.
900XL Recumbent Exercise Bike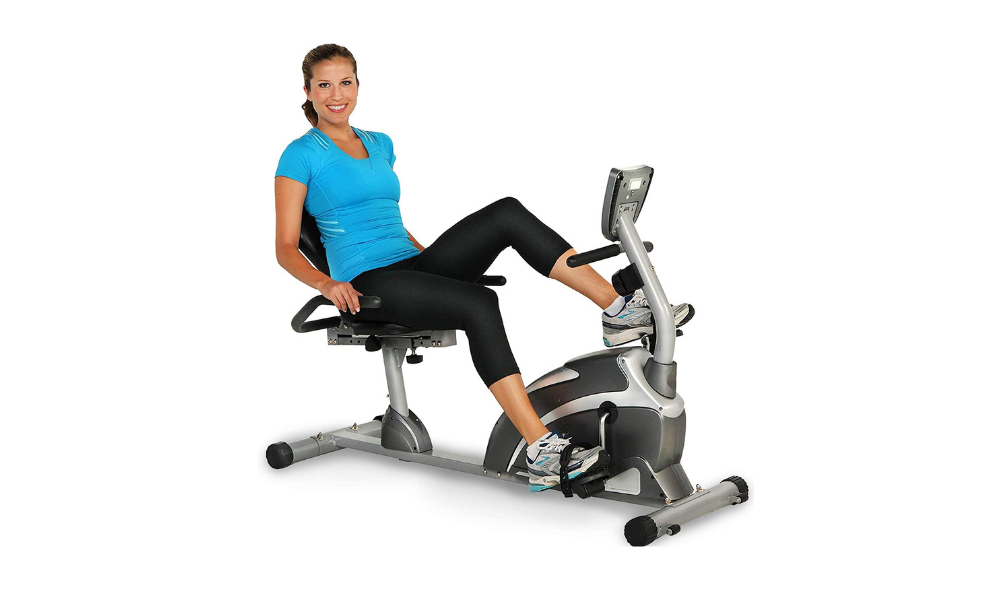 The 900XL Recumbent Exercise Bike is another good option for beginners who will appreciate a recumbent bike that's easy to set up. The center of gravity is especially comfortable on this bike and it also includes leg stabilizers. The leg stabilizers can help when you're trying a new, more intense resistance setting.
The LCD has all of the information you need to keep track of your progress. It shows your calories burned, your speed, your distance, and one of the most crucial factors, your heart rate. Without knowing your heart rate, it's tricky to know how much energy your body is exerting.
If you're a senior looking for convenience in a recumbent bike, this may be the choice for you. It comes with transport wheels that you can use to easily move the bike when deciding on what room to put it in. It also comes with straps for the pedals, so you don't have to worry about your foot slipping and losing your focus mid-workout.
This recumbent exercise bike is also one of the more affordable options. It has a median price of about $300 which could fluctuate depending on if it's on sale! Unfortunately, it doesn't come with any workout programs and it does only have 8 resistance speeds. However, depending on what you're looking for, these may not be drawbacks.
Marcy Recumbent Exercise Bike with Resistance ME-709
The Marcy Recumbent Exercise Bike is arguably the best choice if you want to spend as little as possible. We understand that exercise equipment is a big investment, so if you want to test the waters you may be better off starting with the least expensive recumbent bike.
While it's affordable, that doesn't mean the Marcy Recumbent bike doesn't come with everything you need for a worthwhile cardiovascular workout. It has 8 resistance settings that you can comfortably master, and counterbalanced pedals to help you stay on track. The LCD screen shows you your progress, such as calories burned, heart rate, distance, and speed.
This bike is also a lot less intimidating than some others. It's easy to put together and comes with clear instructions that anyone can handle. It's also a quiet bike, so when you're working out you won't be disruptive to anyone else around you. Overall, it's an excellent choice for seniors with mobility issues and arthritis. Like other recumbent exercise bikes, it's also good if you're still recovering from a minor injury. Since it is on the cheaper side, you do have to be careful of breaking any crucial parts of the bike.
Seniors Smart Recumbent Exercise Bike Buyer's Guide
What are your reasons for buying a recumbent bike?
Some of the best recumbent exercise bikes come with features that may make you choose one over the other. Also, recumbent bikes are designed to take the burden off of certain parts of your body. There is no strain on your upper body, for example, when you use a recumbent bike.
If you're looking for a piece of exercise equipment that will give you a good cardiovascular workout without causing upper body strain and poor posture, you should proceed and look into finding the perfect recumbent bike for you. Likewise, if you're a senior who has arthritis in your upper body, or is looking to lose weight by starting with an easier workout, a recumbent bike is a great investment.
What recumbent exercise bike features are a must-have for you?
Some recumbent exercise bikes are more technologically advanced than others. For example, the LCD screen that comes with the Vanswe recumbent exercise bike comes with a calorie tracker, heart monitor, and more. If you're looking for even more advancement, the Schwinn 270 Recumbent Bike comes with BlueTooth connectivity. Bear in mind, the Schwinn is an expensive option, costing up to $1000 for a new version of the bike.
Another factor to consider is your current weight and how much weight a recumbent bike can hold. Are you looking to lose a considerable amount of weight and currently weigh over 300 pounds? If this is the case, the Vanswe recumbent exercise bike would be the right choice for you.
This bike can hold up to 380 pounds, while many competitors can only hold up to 300 pounds. This is a considerable amount lower than 380, making it stand out from competitors. The Vanswe is also one of the more affordable bikes!
What is your budget?
Your budget may be a powerful factor when determining which recumbent exercise bike will work for you. If you're comfortable with spending a lot of money and would like the best overall bike with the most built-in features, you can opt for the Schwinn 270 which can be up to $1000 to buy brand new.
If you're okay with splurging on the best-of-the-best however, you can go ahead. The Schwinn 270 is the most high-tech option, letting you connect to BlueTooth and enjoy your favorite media without having to resort to a sedentary lifestyle. Who doesn't love enjoying media while still being healthy?
If your budget is a little tight, you don't have to worry. You can still find a great recumbent bike that will let you perform cardiovascular workouts from the comfort of your own home. The Marcy recumbent bike, the 900XL recumbent exercise bike, and Vanswe recumbent exercise bike all cost between $150 – $350.
How many resistance levels do you need and do you know what they're for?
Recumbent exercise bikes come with different resistance levels that range in difficulty and affect how many calories you can burn. Based on your preferred intensity, you can adjust them. You can start pedaling with an easier resistance level and work your way up by trying them all in order.
You may want one with a more straightforward amount of resistance levels, and the Sunny Health & Fitness recumbent bike and the Marcy recumbent bike have 8 resistance levels. If you would like more intricate resistance levels, the Schwinn 270 recumbent bike has 25!
Have you considered how much storage space you have?
So, you've probably decided at this point that you're going to buy a recumbent exercise bike for your home. You have also probably narrowed your decision to a few different options. One thing to keep in mind is how much storage space you have.
Recumbent exercise bikes are typically large and bulky. If you have an exercise area in your home, then you shouldn't have to worry and you can comfortably include your recumbent exercise bike in with the rest. If you need to store it away sometimes, however, you'll want to make sure you have a big enough closet.
Thankfully, some recumbent exercise bikes are foldable, making them a lot more compact and easier to store away than bikes you can't fold. If you are concerned about having enough space and will need to store your bike away sometimes, you might want to consider purchasing one you can fold.
Have you considered how heavy of a recumbent exercise bike you want?
As a general rule of thumb, a heavy piece of exercise equipment is generally considered to be of better quality than a flimsy, lighter piece of equipment. The recumbent exercise bike needs to be sturdy and durable, hold your weight, and function properly. If you're a senior who struggles to lift heavy objects but would like a high-quality recumbent exercise bike, you should ask for assistance when your bike is getting delivered or if you decide to purchase one at a store.
Some recumbent bikes are built with transport wheels that can help with moving them around your home. If you are reluctant to buy a bike that is a nuisance to move around, you may want to keep your eyes peeled for a bike with transport wheels.
Frequently Asked Questions
Is it more difficult to use a recumbent exercise bike compared to a standard exercise bike?
Recumbent bikes are generally easier to use. They have more comfortable seats and they do not work out the entire body which will keep you from getting too exhausted too quickly. In particular, they are easier for seniors with arthritis to use and are much better for your lumbar spine health.
How long should I exercise on my recumbent bike each time I use it?
You should strive to get at least a half-hour of cardio exercise per day on your bike. Feel free to switch it up a little, maybe by exercising every other day, but for 45 minutes to an hour.
Can I lose belly fat using a recumbent exercise bike?
Recumbent bikes allow you to get cardiovascular exercise, which will burn fat in different parts of your body. This includes your belly. As long as you are keeping track of calories and burning enough, you can lose belly fat. It may take some time, but you will get there!
Why are recumbent bikes good for seniors?
Recumbent exercise bikes are great for seniors who want to work out their thighs, calves, and glutes while reducing their risk of developing back pain. Seniors are more susceptible to arthritis, which affects our joints. A recumbent exercise bike allows for seniors to maintain physical exercise without putting more strain on certain joints.
Are there affordable options for buying a recumbent exercise bike?
Definitely! While some are more high-end and expensive, you can find decent recumbent exercise bikes that will get the job done without breaking the bank. The Marcy recumbent bike, for example, is only around $160 on Amazon.
What are some of the key differences between a recumbent exercise bike and a standard exercise bike?
The main difference between an upright bike and a recumbent bike is that a recumbent bike has a seat that reclines, reducing the likelihood of seniors developing or worsening back pain. An upright exercise bike resembles a standard bicycle that people use outside. Recumbent bikes can provide more stability for seniors who want to exercise, and an upright exercise bike can feel unstable since they have a higher center of gravity. Lastly, recumbent bikes have more comfortable seating.
A recumbent bike is also excellent for your posture. With upright exercise bikes, some people tend to hunch over without even realizing it! This can cause your posture to worsen over time. A recumbent bike is a better choice for spinal alignment and posture.
Read More:
Conclusion
We hope we've given you a thorough lowdown on recumbent exercise bikes. They're a great source of physical activity for seniors who want to maintain their health without overexerting themselves, causing muscle and joint strain, or causing arthritic flare-ups. Each bike comes with pros and cons, and while many of them are generally similar, there is likely the perfect bike waiting for you that has the right combination of features.