Running is a popular sport enjoyed by women, men, and kids around the world. However, for those with flat feet, it can be quite difficult to run comfortably for any distance. Thus, it is crucial to find the best running shoes for flat feet. Runners with flat feet will know the importance of having a good pair of shoes. It can make a difference between a fun and exciting run and a painful, always-stopping slog.
People with flat feet do not have natural arches. As a result, the entire sole of the foot comes into contact with the ground when moving. This causes great discomfort and pain while running. But, with the best running shoes for flat feet, you can now enjoy running without stopping to relax your aching flat feet. Read Here: Best Punching Bag for Apartment Home Gyms
But before we dive into the best running shoes for flat feet, let's learn all about flat foot first. 
Flat Foot: What Exactly Is It?
The foot arch is formed by the metatarsal and tarsal bones and further strengthened by tendons and ligaments. This allows the foot to support the weight of the body in an erect posture with the minimum weight.
The arch height determines the pronation and foot type. And in general, there are 2 types of flat feet. Some runners will have the anatomically flat feet while others will have what is called the "collapsed arches", which are also flat due to muscle weakness. And although these 2 kinds may look very similar, how you buy shoes for them varies widely.
For flat-footed runners with collapsed arches because of muscle weakness, you can just look for shoes with extra arch support until the foot gets stronger and able to support its own arch. Meanwhile, for the anatomically flat-footed runners, arch support just offers stress to the knee and can eventually cause knee problems.
What Causes Flat Feet?
Weak arches
Genetics
Rheumatoid arthritis
Injuries
Damage, rupturing or dysfunction to the posterior tibial tendon
Muscular or nervous system diseases such as muscular dystrophy, spina bifida, and cerebral palsy.
In addition, a tarsal coalition can also cause flat feet. This is a condition that causes the strange fusing of the bones of your foot which results in flat, stiff feet. Women are also more prone to developing flat feet during pregnancy, while some people can develop it if they are suffering from diabetes or obese.
Flat-footedness can also develop as people grow older. This is because the daily usage can cause the weakening of the tibial tendon, which supports the structure of your arches. Inflammation or damage to this tendon can cause your feet arches to flatten out.
So…
How To Determine Flat Feet?
There are 3 methods on how to determine your foot type and see if you have flat feet.
Standard Observations
While standing, it's possible to see if your inner foot arches or flattens. The simplest way to do so is to try and push your big toe back as far as you can. When an arch appears when doing this, then your foot is normal and flexible. Otherwise, you likely have flat feet. Take note, however, that this is not a tell-all method. So, in most cases, you need to do the next method.
Wet Foot Test
This simple method can offer you a better idea of what foot type you have. In general, it is a more accurate indicator. To perform this method, you will need to wet your feet. Then step onto a surface where you can clearly see your footprint. It is suggested that you do this on top of a cardboard shoebox since the contrast between the dry and wet surfaces is quite obvious.
If your full footprint doesn't appear, then your foot is normal and flexible. However, if it does, then it means that you are likely flat-footed. Why? Because the whole surface area of your sole will have pressed the water into the surface.
Professional Measurement
This will be the most accurate method that can determine flat-footedness. Podiatrists or even professionals in a shop that specializes in selling the best running shoes for flat feet will quickly and accurately measure your foot type and determine if you really suffer from flat-footedness. So, if you're a runner with flat feet, then these professionals will urge you to buy shoes that are specifically designed for flat feet.
So, the next question now is…
Why Buy The Best Running Shoes For Flat Feet?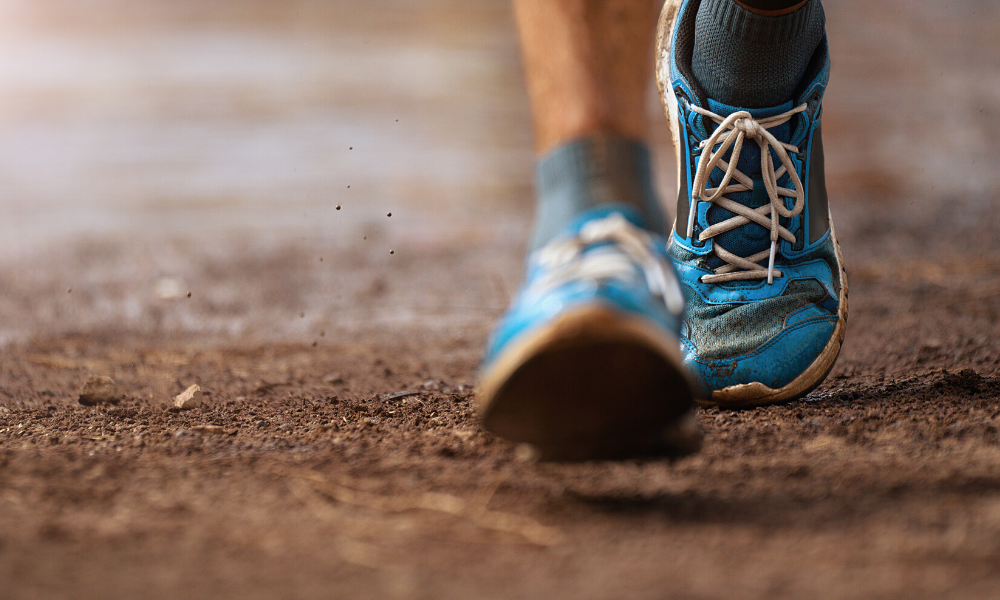 The foot arch is your body's natural shock absorption system. It is designed that when you put your body weight over the feet, the shock is absorbed effectively by this mechanism and reducing the impact and possible injuries that would hit otherwise hit your ankles, feet, hips, and knees.
Flat feet are the most visible sign of overpronation, which means that your arch collapses during ground impact. As a result, your ankle twists inward and the knees will have to overcompensate.
Some of the most common injuries from overpronation are:
Shin splints
Low back pain
Knee pain
Bunions
Hip pain
Achilles tendonitis
Plantar fasciitis
Flat feet are a particular concern for runners since the arch is supposed to support an average of 3 times the bodyweight when on a running spree.
Running Shoes Technologies For Flat-Footed Runners
Over the last 2 decades or so, all major running footwear manufacturers developed their very own technologies with the goal of helping runners with flat feet to run in safety and comfort. The main keywords include motion control, support, and stability.
Support is what every flat-footed runner needs. Meanwhile, stability is aimed at helping overpronation, while motion control is stability running shoes for the most severe overpronation cases. Stability shoes will often feature a medial post of dual-density foam tech. They inject harder compound of foam below the medial side of the foot arch and, for some, extends all the way to the heel.
5 Mistakes When Choosing The Best Running Shoes For Flat Feet
Although there's a lot of available running shoes that promise every flat-footed runner a comfortable running spree, there's no simple answer as to which shoes are the best for flat-footedness.
This will depend on the specific anatomy of your feet. As mentioned before, the two kinds of flat feet will differ in terms of the right footwear to choose from. With that said, there are some universal factors you need to avoid when choosing the best running shoes for flat feet.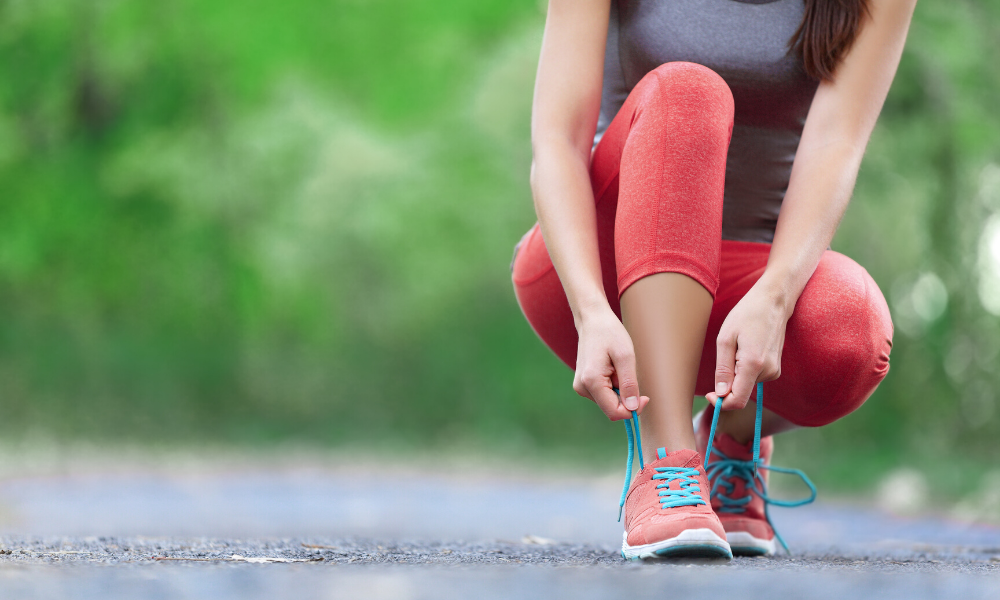 Low Arch Support
Runners with the anatomically flat feet will not always need the extra arch support to help with their runs. For those with collapsed arches, the extra arch support is beneficial since it helps strengthen the muscle in your feet and return to their natural shape.
Bad Contact
Most of the best running shoes for flat feet work by offering more arch support, although not always necessary. However, it is necessary to get a pair of shoes with midsoles that have complete contact with the foot.
Flat-footed runners often overpronate. So, if the midsole doesn't make full contact with all parts of the foot, then there's a risk of the shoe uppers bearing part of the foot's weight.
This issue is best solved by choosing a shoe with a straight last. Don't look running shoes with an hourglass mold that tapers near the foot arch. Flat-footed runners should focus on running shoes featuring more straight last.
Bad Toe/Heel Support
Flat-footed runners will often find themselves wearing the toes and heels of their shoes. This is because of the foot structure with the feet placing more force on the heels and toes to compensate for their lack of arches.
This is why it is important that you get a pair of running shoes with extra durability and support in those areas. This means that you need to look for bulkier, thicker, and even heavier running shoes than normal in order to keep your flat feet protected.
No Airflow
Like any other running footwear, breathability is a major factor. You do not want to go on a long run and end up with sweaty, smelly feet. Other than being uncomfortable, the lack of ventilation and moisture control in your running shoe can create issues with your feet. Choosing the right running shoes with proper ventilation can help reduce bacterial problems and preventing the deadly feet smell.
Not Flexible Enough
Although you are looking for a pair of running shoes with enough support, it does not mean that you should run on a pair of stiff boards strapped to your feet. You need a pair that offers you enough flexibility to allow the natural functioning of your feet. With flat feet, you will need to find the perfect balance between flexibility and support.
The Top 5 Best Running Shoes For Flat Feet
Now, it is time to present to you our top choice for the best running shoes for flat feet.
1) Mizuno Wave Inspire 14 Running Shoes
Mizuno is a reliable brand that many runners have come to love. And their Wave Inspire 14 running shoes are some of the best running shoes you will find out there. Not only do they look stylish, but they are also breathable, comfortable, and suitable for runners with fallen arches and flat feet.
These running shoes boast the new cloud Wave tech from Mizuno and combined with their traditional Wave fan-shaped support design that promises a responsive, stable, and well-cushioned ride. This double fan wave tech of the midsole and outer sole is meant to provide better weight distribution and also offers a good flex.
These running shoes are also super breathable featuring the engineered mesh. This should help promote good airflow and preventing sweaty, smelly feet. Some users claim that they are very lightweight and are particularly effective at correcting moderate to mild overpronation. The shoes may be a bit tight-fitting, rubbing against the tops of the feet, particularly for the high-seated arches. Meanwhile, the arch support is pretty good, plus you can take out the insoles if you want to modify the fitting.

2) ASICS Gel-Kayano 25 Running Shoes
The ASICS Kayano has been one of the most popular pairs of running shoes for quite some time now, and their newest model the Gel-Kayano 25 is one of the top favorites. These shoes are highly durable and constructed from premium materials that are comfortable and suitable for flat-footed runners.
These running shoes feature superior stability and support for those with flat feet. It features the Guidance Trusstic System, ensuring that your feet do not roll and you get only comfortable support without the pain even during long-distance running.
The Gel-Kayano 25 features enough cushioning and support and are designed to address any pronation issues that may be caused by flat feet. In terms of breathability, these shoes feature small holes on the inside that help promote airflow and ensuring that your feet stay dry and cool.
Promising longevity, these running shoes for flat feet features honeycomb grooves in its outsole for extreme durability. In addition, this outsole design also provides you with better traction and grip while running.

3) Saucony Echelon 5 Road Running Shoes
Another respected name in the world of running shoes, Saucony offers one of their best creation for flat-footed runners, the Echelon 5. These road training shoes are meant to reduce mild to moderate overpronation as well as providing solid, but not too high arch support suitable for flat-footed runners.
It features a straight molded last with a leveled insole making it suitable for the anatomically flat-footed runners who need full contact with the footbed. Although the fabric uppers may be a bit heavy and lack breathability, its interior liner can wick away moisture and sweat from the feet.
Not only that, but these running shoes also feature a wider construction which allows the addition of insertable orthotics. This can further help in preventing and reducing pain associated with flat feet. However, because they are wider, these shoes are not great for those with narrow feet. Also, some users claim that they are not great for bigger runners since the extra weight can damage the shoe structure.

4) Brooks Levitate 2 Running Shoes
Next of on our list is the Brooks Levitate 2. This running shoe is specifically designed for people with collapsed feet arches, offering superior arch support for correcting and strengthening your fallen arches.
Its thick rubber sole is highly durable and provides superior support near the toes and heels. Meanwhile, its upper mesh is breathable and light for sweat and moisture control.
The Levitate 2 running shoes also provide you with optimum cushioning for shock absorption. It also features a wide footbed suitable for flat feet. Unfortunately, most users complain that these are not that durable and can show signs of wearing, particularly if you're a frequent runner.

5) Nike Air Zoom Structure 20 Running Shoes
Nike is synonymous with top-tier and high-quality performance. And the Zoom Air Structure series is particularly designed for those runners with flat feet. The Air Zoom Structure 20, in particular, features a triple-density midsole, ensuring that the shoe makes contact with your foot at all points.
Meanwhile, the sturdy foam wedge in its heel also keeps your foot properly aligned. These running shoes also feature a unique pentagon tread design that makes it easier for you to transition from different surface types as well as making the shoes durable in the toes and heels.
Unfortunately, like most Nike shoes, the Air Zoom Structure series of shoes run a bit narrow, so they are not suitable for wide feet. And while these shoes are great at correcting overpronation, some reviewers said that they tend to overcorrect too much.

Quick Tips For The Flat-Footed Runners
First off, purchasing the best running shoes for flat feet is the best way to go. After that, when wearing and using your shoes, you need to remember to replace them before wearing out and its mid-sole breaks down.
This is because, you will not receive the same amount of stability and could result in overpronation, causing pain and injuries. It is recommended that you replace your running shoes every 300 – 500 miles.
In case you're still experiencing pain after wearing the right running shoes for flat feet, then you should consider custom orthotics. You will need to see a local podiatrist to assess your feet and set you up with custom inserts. Customized orthotics are designed specifically to your feet specifications and provide you the right stability you need.
Stretching is crucial to keep you strong and flexible. So, make sure that you warm-up and cool down before and after you run in order to keep injuries away. AS mentioned before, regular feet stretching and exercise can help reduce the pain caused by flat feet.
Collapsed arches that happen because of muscle weakness can be helped, however, they will need arch support until they get stronger. Here are some simple exercises and stretches that you can do at home to strengthen the muscles of your feet.
Heel Raises
On a standing position, lift your heels as high as you can. You can a wall or a chair for balance. Hold this position for at least 5 seconds then lower your heels back down. Do this for 2 – 3 sets of 15 – 20 raises.
Tennis Ball Rolls
Place a tennis ball under your left foot. Sitting straight up, roll the ball under your foot arch for 2 – 3 minutes. Repeat on your right foot.
Tower Curls
Sit with a towel under your left foot. Scrunch the towel up with your toes. Keep the mall of your foot on the floor. Repeat with your right foot. Do this for 2 – 3 sets of 15 – 20 towel curls.
Toe Yoga
Lift your big toe up while pressing your other toes down. Hold this position for five seconds. Alternately, lift your 4 toes up while holding your big toe down. Hold it for another 5 seconds.
Repeat on your other foot.
Meanwhile, for those with anatomically flat feet, knee stress is the main problem that can lead to knee problems in the future. This is because of the misalignment of the lower body which causes the thigh bones and shin to twist inwards. Although there is no cure for anatomical flat feet, regular exercise and stretching can help in preventing injuries.
Also, running on pavement all the time can make your feet hurt. So, consider switching up terrains every now and then and try running on something softer such as well-groomed terrains or grass. Tracks are also great since they offer a forgiving surface to run on.
If you are still in pain and your feet hurts after your runs, then it is important that you see a doctor. Lastly, rest days are crucial since they also help your body heal.