Boxing and punching are a great form of cardio workout that can help you build strength and endurance. And there are a lot of punching gears that you can get if you are serious into doing this workout activity,
The most prominent accessory used is the punching bag. However, for those living in high-rise buildings, finding the right punching bag can be quite difficult. Space is a luxury for those living in apartments and not so many people can have a dedicated space for setting up a punching bag. Read Here: 5 Best Weight Benches for Small Spaces
Not to worry though, this article will cover some of the best punching bags for apartment as well as acting as a guide in your punching bag buying journey.
But first…
Why Would You Use A Punching Bag?
Technique Development
If you like to think of yourself like Rocky Balboa, then you will need the technique to match. Practice makes perfect and with a punching bag at home, you can practice and develop your technique whenever you like it.
Explosive Power
If you wish to improve your punching power, then having a punching bag at home is needed. By repeatedly throwing the higher power shots, you are able to develop the muscles of the upper body.  
Although this won't happen overnight, the convenience of a punching bag at home allows you to train yourself whenever you feel like it and help in improving your overall power.
Excellent Cardio
Ever heard about cardio-boxing classes? It has exploded in popularity in recent years, thanks to its quick fat-shredding results. Boxing or punching can offer you intense cardiovascular exercise that can help you shed pounds by the pound and give you a better shape, provided that you pair it with a healthy diet.
Self-Defense
Having a punching bag is a brilliant way to practice your self-defense skills. And while the best way to learn is to pay for a coach, there is a plethora of information readily available, so you can easily grip the basics without even attending a class.
How To Choose The Best Punching Bag For Apartment
So, if you are finally convinced that you need a punching bag to add to your apartment home gym, then here's how you can find the right punching bag for you.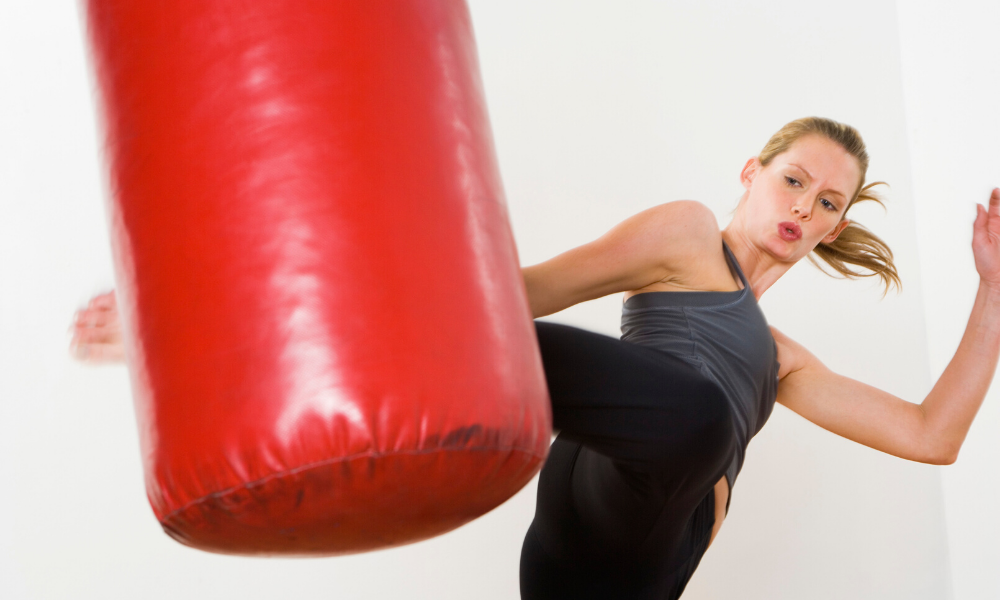 Punching
First off, you will need to decide which type of punching bag you want. In general, there are 3 types of punching bag to look for:
Hanging Heavy Bag
This is the traditional kind of punching bag and is probably the first thing to come to mind whenever talking about punching bags. You'll see them in commercial gyms and even boxing films.
Heavy bags are long, log-like bags that are most commonly hung from the ceiling. These bags can take a beating, providing you with an excellent cardio workout and allow you to develop techniques with explosive power. The only downside is that a heavy bag can be bulky. Plus, you will need t
to find a suitable place in your apartment and even drill the ceiling mount in order to hang the bag. Although you can also find specialized heavy bag stands out there, they can still stick out like a sore thumb in small spaces.
Freestanding Punching Bags
The other kind of heavy bag is the freestanding model. Unlike the hanging heavy bags, these are a bit shorter and features a wide base located at the bottom filled with water or sand. The bag itself is attached to the base, typically with a spring-loaded design.
This allows the bag to rock back and forth when hit. With that said, even with a spring-loaded design, these bags can still sometimes all down over if they are hit with enough force.
Still, freestanding punching bags are the most common type used for apartments and small homes, thanks to their small footprints and are rather easy to set up.
Doorway
Lastly, there are also bags that are a little less conventional. They are designed for apartment and home use, utilizing a door frame as their structure. They are not built with the same standard as a proper punching bag, however, they will definitely get the job done. Plus, they tend to be much easier to set up, cheaper, and portable.
Space and Size
The size of the bag is another important factor you need to consider since most apartments will often have a restricted amount of space. If you have got a limited room, then it is probably a better idea to find smaller bags that can be stored away when not in use. With that said, free-standing bags are the best options since they can be placed on their side and roll where it needs to be.
Filled or Unfilled?
Shopping for a punching bag, you will often come across unfilled and filled variations. It is more recommended to go with the filled ones since it saves you the hassle of filling the bag whenever you need to work out. Also, filling your own bag is somewhat a hit and miss process and more likely not to be as good as the already filled variations.
With that said, the unfilled punching bags tend to be cheaper and can be easier to store. Plus, if you have some fabric lying around your home, then it can massively reduce the costs.
Material and Durability
Because they are bags for punching, it is important that you find one made from durable material and features a solid build. In general, genuine leather bags tend to be the last longest. However, they can be more expensive and are becoming less and less common.
Price
Like any things you purchase, when it comes to punching bags, you also get what you pay for. Cheap bags from unknown brands are more likely to become misshapen or fall apart after a few powerful punches.
But, that does not also mean that the most expensive punching bags will offer you superior quality. Fortunately, you can find good quality punching bags from reputable and reliable brands at affordable prices.
Noise
If you are living in an apartment, then there is a good chance that you will have neighbors living below, above and to the side of you. Thus, you will need to find a quiet punching bag that is suitable for apartments so as not to fall out with anyone living around you.
Punching bags tend to be quite loud. Fortunately, there are some quiet punching bags out there like the ones from the list below.
Brand
When investing in a punching bag, it is often a wise move to go with trusted brands with lots of experience and caters to thousands of happy customers.
By going with respected brands, you will have the best chance of being happy with your purchase. So, what are some of the most reputable brands of punching bags out there?
Everlast
Everlast is somewhat synonymous with the boxing sport. This is because of the fact that they have perfected the craft of superior boxing and exercise equipment. They have got a broad range of punching bags to offer from the commercial hanging punching bags to the smaller bags suitable for apartments.
Ringside
Another well-known brand in the boxing world, Ringside provides a broad range of equipment catering for the whole boxing community. Their boxing equipment is a common thing in most gyms across the world due to their use of high-quality material and durable construction.
Century
The Century brand has a great range of punching bags designed for all skill levels and aspects of martial arts and boxing. Although their equipment tends to be on the more expensive side, their quality definitely makes up or the hefty price tags.
The Top 5 Best Punching Bag For Apartment
1) Century WaveMaster PowerlineFreestanding Punching Bags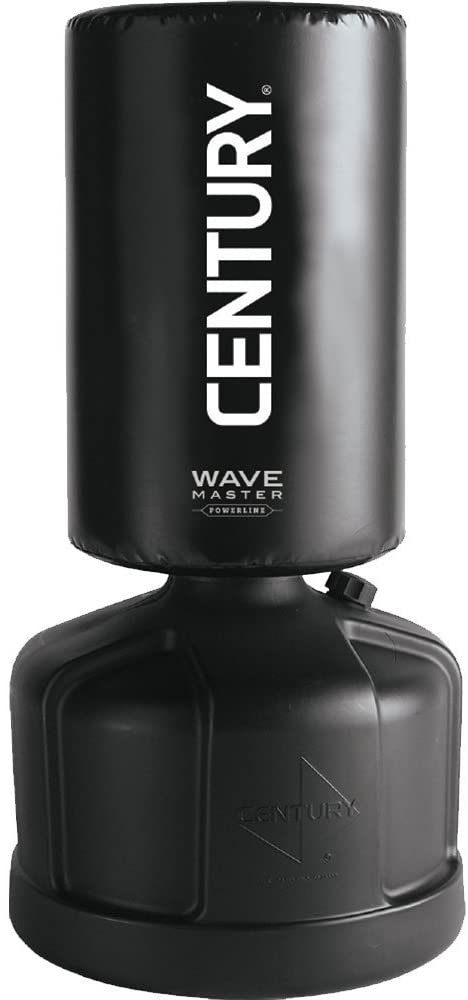 Century is an industry leader in MMA training gears and is well-known for its excellent punching bags. In particular, the WaveMaster series feature quality bags for MMA training.
The Powerline model, in particular, is a great choice for apartments thanks to its height and size adjustment capabilities. This punching bag measures 17 inches in diameter with a good surface area but still small enough to comfortably fit a small apartment.
Meanwhile, the height of the punching bag can be adjusted from 47 – 68 inches. By reducing the height of the bag, you can prevent it from swinging too much which can be beneficial if you have limited space.
In terms of performance, the Century WaveMaster Powerline can easily withstand any high-intensity training session with explosive, high-powered punches. The base of the punching bag can store up to 270 pounds of water or sand, to ensure its stability when using. 
Take note, however, that the higher you make the punching bag, the less stable it becomes. Increasing the bag's height means that the center of gravity becomes higher making it easier to knock it over. So, if you want to work on your power and strength, consider keeping it at its lowest height possible.

2) RDX Punching Bag Set
RDX is another well-known brand for boxing and MMA gear. Now, if you are looking for an all-solution punching bag for your small apartment, then this set should not be missed.
This kit finds its way on our list since it provides you with everything that you need to get started with your boxing activity. First off, it comes with the RDX punching bag that's made from non-tear and high-quality material with its Twin layered G-core exclusive tech for extra protection and durability. It features Maya hide leather that offers superior feel and strength. 
Meanwhile, its internals is filled with non-toxic and shock-absorbing textile for realistic feedback and feel when hitting the bag as well as keeping its perfectround shape. Also, the material features waterproofing too.
The punching bag is designed for small spaces and even comes in 2 variants—5 feet weighing 19 – 23 kg and 4 feet weighing 17 – 20 kg—so you can pick the right one based on the available space you have in your apartment. Then, it comes with a ceiling hook in 16-gauge powder-coated material providing a 360 degree swiveling. Also, the included steel chain with 4 suspended chains allows tethering to the punching bag. This tether
loop facility can be connected to floor hook or a floor anchor for a firm and secure hold of the bag as well as reducing excessive movement because of heavy punches and reducing the sway. The chains are also rust-proof that promises longevity.
Lastly, it even comes with a pair of quality hand-wraps and pro bag gloves that are specially engineered with shell-shock gel padding that uniformly dispenses pressure across the surface area. It is clear that RDX has paid special attention to material quality. You don't come across such highly loaded kits much often.

3) Everlast PowerCore Bag

Like the first punching bag, the Everlast PowerCore is suitable for those apartments where chains and hooks may be a concern. Its base uses a high-density plastic that can be filled with up to 370 pounds of sand or 250 pounds of water, for superior stability that will not move and slide even with hard punches.
But, what makes it really stable is the power transferring at the base of the punching bag's neck. Its sole purpose is to absorb the force of your punches and preventing it from toppling over. The neck also has a slight flexing to it that also contributes to the overall stability of the bag.
The punching bag can also be adjusted for height between 65 inches and 54 inches, so it should be convenient for both short or tall boxers. The punching bag itself features high-grade air-foam chambers that offer you a realistic punching feel. Meanwhile, tits rounded design offers you easy movement around the target while increasing leg, cardio, and hand-to-eye conditioning.

4) Everlast OmniStrike Heavy Bag
Another great punching bag from Everlast, the OmniStrike Heavy Bag is a favorite amongst boxers or Muay Thai and MMA enthusiasts thanks to its versatility. Unlike most heavy bags, this one features top handles and a widened base.
The handles are for mimicking the clinch position while the base acts as a cushioned for low kicks and knee strikes. This way, you would be able to also work your lower body and have an effective overall workout.
Although it is not for everyone, if you want a well-rounded workout from your apartment, then this is definitely a great choice. The punching bag itself uses Nevatear material which is designed to endure intense and endless hours of punishment. Also, it boasts a dense, outer foam shell that helps reduce the impact you feel from each strike
Then there's the double end anchor located at the bottom of the bag. With this, you can attach it to a weighted base that should keep the bag from swinging and making it ideal if you are training in a limited space.

5) Ringside Freestanding Punching Bag
This freestanding punching bag from renowned brand Ringside is another excellent bag suitable for all experience levels. With its compact size, this punching bag takes up a small space in your apartment but allows you to work on your high and low kicks and punches.
The punching bag boasts a spring-loaded design, allowing it to swing back and forth when struck. Its heavy base prevents it from toppling over even when you use excessive punch force. Meanwhile, the bag itself features a vinyl casing and layered with dense, shock-absorbing foam padding, making it comfortable to hit while reducing your chances of sustaining an injury.

Frequently Asked Questions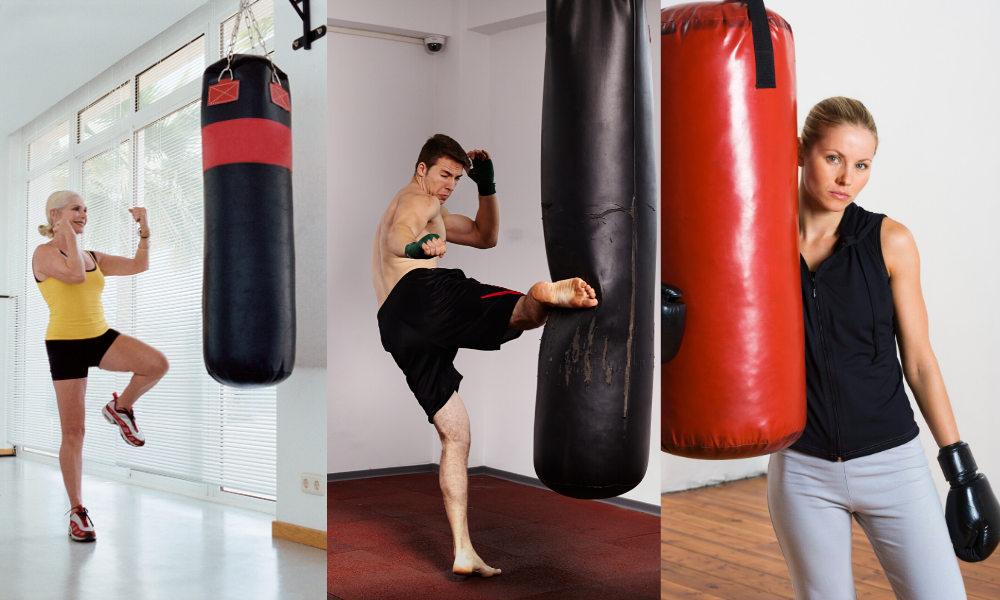 Q: Can I hang a punching bag in my apartment?
A: Technically speaking, yes you can. However, you also need to consider the cost. Will hanging a heavy bag cause you to lose your deposit, break your lease, or get you kicked out of the building? Will it make too much noise that will disturb your neighbors and cause them to file a complaint? You need to carefully consider these things first if you are thinking about hanging a heavy bag in your apartment.
Q: How much space do I need for a punching bag?
A: It will depend on the size of the punching bag you get. However, in general, you can outline a space in your apartment of either 9 x 9 feet for a full-size body bag or 8 x 8 feet for the shorter and more compact punching bag and is the minimum amount of space for a punching bag.
You will need to place the punching bag at the center of the outlined space for you to punch from all sides.
Q: How can I reduce noise from your glove when hitting the bag?
A: Get 2 old belts as well as a large beach towel. Wrap the towel around the bag and securing it with the belts—one at the bottom and one at the top. Although it is not the most beautiful solution, it can definitely muffle the noise from your punches.
Q: How can I reduce the noise from freestanding punching bags moving around?
A: There are 2 things you can do if your bag moves around and makes some noise.
First, you can try to fill the base heavier. If you filled it with water, empty the water out. Fill the base to the top with sand. Then add as much water as the sand can take. The base should be much heavier and won't be moving around as much.
Secondly, you can place a rubber gym mat under its base to prevent it from moving, sliding, and slipping around.
Q: How can I reduce vibrations from a hanging heavy punching bag?
A: The best way to reduce the vibration and noise from a hanging heavy bag is to replace its mount with a noise-dampening mount. These vibration and noise reducing mounts can cause the bag to swing more smoothly and even have dampening springs, straps, and other design features that could drastically reduce the noise from your heavy bag.
Conclusion
And there you have it! Thank you for taking the time to read this comprehensive article for the best punching bag for apartment. Now, you should have a general idea of which punching bag will be most suitable for your apartment space.
If possible, we suggest that you pick a punching bag from our above list since they are guaranteed to be offer you superb boxing and punching workout without taking up to much space in your already small-sized apartment. If you can't find the best punching bag for apartments from our list, then hopefully our comprehensive guide should be able to help point you to the right one