Weight benches, also called fitness benches, are one of the most affordable pieces of workout equipment that you can add to your home gym. They are a staple feature for any gym whether it is in a commercial club or home gyms, laying down the foundations for your weight training and allow you to train every angle of almost any muscle group.
Basically, it is a padded board with legs that allow you to lie or sit on so you can carry out a number of workouts such as curl, fly, bench press, shoulder press, and pullover among many others. Thus, a weight bench can more or less help offer you a full-body workout, strengthen your muscles, help lose weight and so much more.
But, what if you're just renting out a small apartment? Or perhaps you only have limited space in your home gym? Not to worry! While weight benches are already not as obtrusive and space-eating as power racks, you can also find smaller and more compact weight bench ideal for small spaces. Read Here: Best Gym Mirrors: Buying Tips and Expert Reviews
However, considering that there's a broad variety of weight benches in the market today, I made a list of the 5 best weight benches for small spaces that should help your buying journey a lot easier.
| Weight Benches For Small Spaces | Brand | Expert Ratings | Check Price |
| --- | --- | --- | --- |
| | Fitness Reality 1000 Super Max Weight Bench | | Check Price |
| | Marcy Flat Utility Weight Bench | | Check Price |
| | POWERBLOCK Travel Weight Bench | | Check Price |
| | Body Solid GFID225 Folding Weight Bench | | Check Price |
| | Bowflex SelectTech5.1s Adjustable Weight Bench | | Check Price |
THE TOP 5 BEST WEIGHT BENCHES FOR SMALL SPACES
FITNESS REALITY 1000 SUPER MAX WEIGHT BENCH
Coming on top of our list, the Fitness Reality 1000 Super Max Weight Bench is without a doubt an awesome collapsible and compact weight bench option worth considering. First off, this reliable weight bench comes with an easy to use lever for quick folding, transforming it into a little package suitable for storing in small spaces.
Not only that, it even comes with transport wheels for superior portability. Taking a look at its build, this weight bench features a strong powder coated tubular steel metal frame that promises to last for years to come. Unlike most compact weight benches, this weight bench from Fitness Reality can accommodate up to 800 pounds of weight, so you can rest assured that this bench can stand up to even the heaviest weight training session.
Not only that, but the weight bench has also been redesigned to offer much more comfortable padding that's 1.75 inches thick so that your stomach, chest, butt, or back will never hurt from laying on it. Also, it even comes with a detachable and adjustable leg hold down bar which can be changed into 3 different positions for superior support and stability.
Meanwhile, the bench seat itself has been upgraded with 2 inches wider backrest which can be adjusted for up to 12 positions ranging from an 80-degree incline or a minus 20-degree decline. Thus, you can expect to perform a broad variety of exercises including decline and incline presses, bench presses, dumbbell rows, decline sit-ups, and so much more. Lastly, this superb weight bench also features solid rubber feet that can help prevent it from slipping across the ground surface as you perform heavy weight lifting.
MARCY FLAT UTILITY WEIGHT BENCH For Small Spaces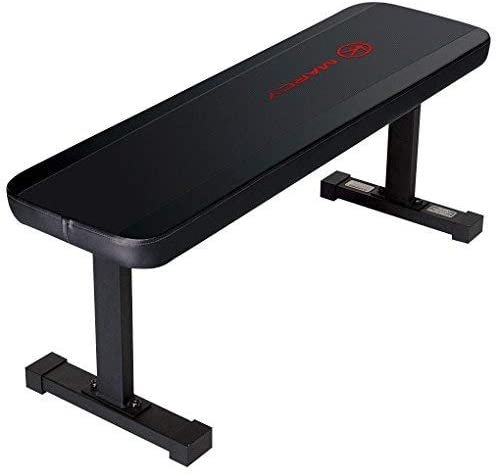 The best weight bench for small spaces and Amazon's #1 Bestseller in Standard Weight Training Bench, this flat utility weight bench from Marcy will offer you great quality without breaking the bank. The weight bench is super sturdy featuring heavy-duty and premium 14-gauge tubular steel frame which can accommodate up to 600 pounds of weight.
Not only that, but it is also even finished off with a durable powder coating that can resist corrosion scratching and general wear and tear. The frame is then furnished with premium,high-density foam and covered with boxed upholstery to ensure comfortable and steady support as you exercise. Take note, however, that this bench is not foldable. So, once you assembled the bench, it shall remain in its fully extended form until you decide to disassemble it again.
Still, this flat utility weight bench offers a compact size, measuring 41L x 14.5W x 17H inches that won't take up to much space unlike most adjustable weight benches out there. Plus, the durable steel frame and compact size promise maximum mobility as you workout. Lastly, this flat utility bench from Marcy is covered by the 2-year manufacturer's warranty for all its parts.
POWERBLOCK TRAVEL WEIGHT BENCH
Just like the Marcy Flat Utility Built, the POWERBLOCK Travel Weight Bench is a fantastic compact flat bench that is not overly fancy but comes with a collapsible design. This simplistic flat bench can accommodate every workout you need to perform. First off, it boasts a solid metal frame that's extremely durable and can accommodate up to 550 pounds of weight, making it suitable for most people starting in weight training.
Also, it is fully equipped with a well-padded top that's highly supportive, soft, and comfortable. This way, you don't have to worry about sore back, butt or stomach as you workout on this flat weight bench. Then there's the vinyl coating of the padding which is rather easy to clean after an extended, sweaty workout session.
Now, unlike the previous flat weight bench from Marcy, the POWERBLOCK weight bench is suitable for traveling, thanks to its collapsible design, so you can take it wherever you go. It features removable detainer pins that can be taken out to fold its legs down for a compact and space, saving storage. And that's not all, it even comes with a built-in handle and shoulder strap for easy carrying and transportation.
BODY SOLID GFID225 FOLDING WEIGHT BENCHS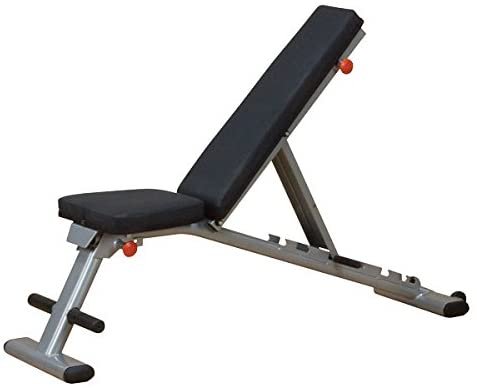 An extremely high-quality weight bench, the GFID225 Weight Bench from Body Solid is one of the most compact weight benches you can find out there. Just like the Fitness Reality Weight Bench, the GFID225 is a superb adjustable weight bench worth considering.
It may have less the number of position adjustments than the Fitness Reality Weight Bench, but with 7 adjusting options including flat, decline and incline, you still get to perform a wide variety of exercises on this bench. As a matter of fact, anything that can be done on the standard weight bench can actually be done on this one.
The weight bench also features comfy padding that should keep your front, back, knees, and butt completely pain-free as you perform a broad variety of workouts. Not only that, but the texture of the padding is also bit tacky which helps keep you from sliding around as you lift heavy weights while sitting or lying on the bench. Plus, it is rather easy to clean by just wiping it out.
In terms of durability and strength, this compact weight bench features a 2 x 3 inches steel oval tube frame which can hold up to 500 pounds without a problem. Furthermore, this weight bench also folds down into a small and compact package for easy storing, something that's convenient if you have a limited amount of space to work with or want to take it with you on the road. Plus, you'll also like its transportation wheels for greater mobility.
Also, take note that this weight bench will be shipped at your door, fully assembled so you do not have to spend your precious time in trying to put it all together. Just unbox and you're ready to go! Lastly, this weight bench is backed by an in-home lifetime warranty. From the frames to the pads and everything in between is covered for as long as you own the workout equipment.
BOWFLEX SELECTTECH5.1S ADJUSTABLE WEIGHT BENCH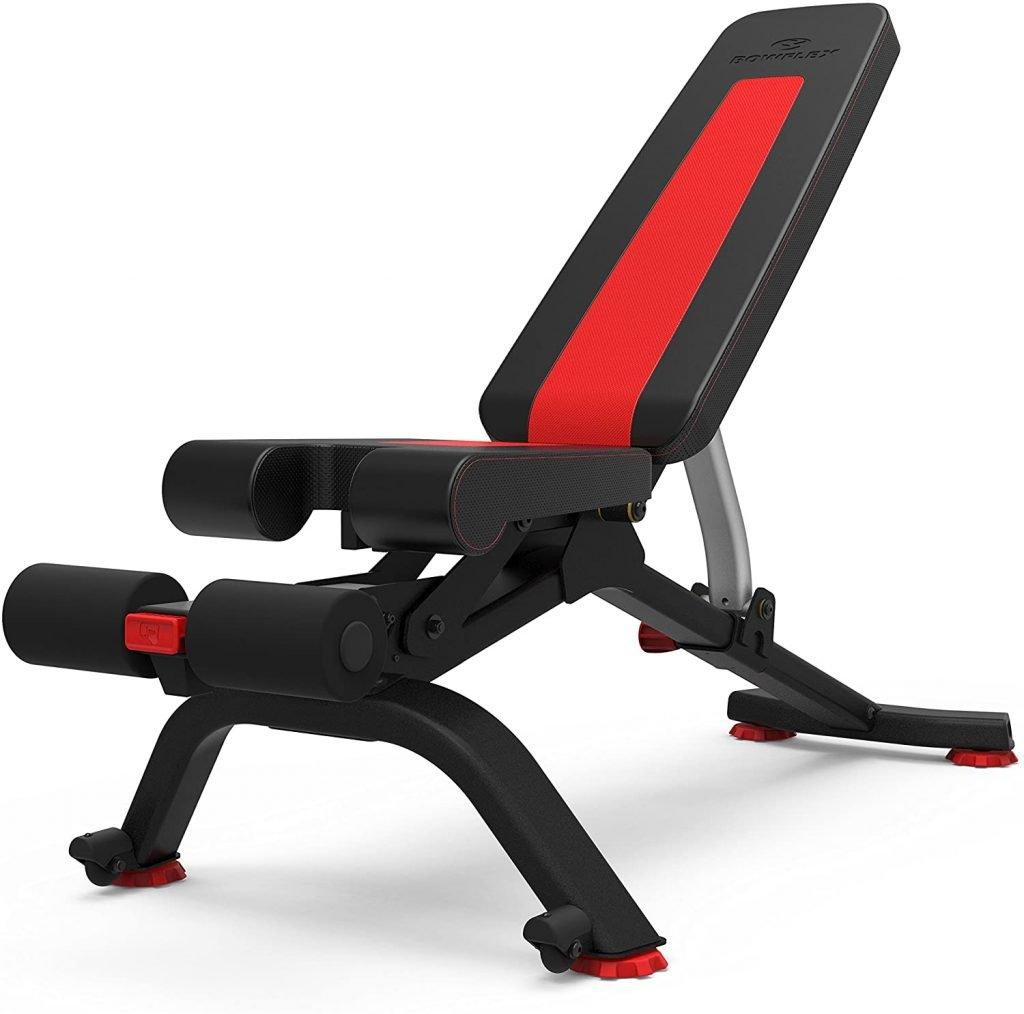 Last on our list is an excellent weight bench from the famous home gym equipment manufacturer brand, Bowflex. Most users love the Bowflex 5.2 and 3.1 models. However, they are not ideal for small spaces and easy storage. Thus, Bowflex offered a new model, the SelectTech 5.1s stable weight bench featuring a space-saving design.
With the easy button click, lift-and-go system, the 5.1s can be folded to at least 50 percent of its normal size when not in use, thus saving you some space. Meanwhile, the added transport wheels also make it easier for you to move the weight bench from one room to another or even taking it with you when traveling.
This weight bench features a heavy-duty, premium steel frame that can accommodate up to 600 pounds of weight. In terms of adjustability, this weight bench can be set into 6 positions from a 90-degree incline to a 17-degree decline with the easy selection knob. It even includes a detachable leg hold-down brace which allows you to perform decline workouts more comfortably and safely. And of course, there is also a flat-level position.
Take note, however, that in the flat position, there is a large gap between the backrest and the seat. This can be a problem for smaller people since space can put pressure on the back. Meanwhile, the bench itself is designed to help correct your form and posture, ensuring that you're in the right position during workouts.
Thanks to its high-density padding, you also don't have to experience pain in your back, butt, and stomach after extended workout sessions. Lastly, Bowflex stands by the quality of their product and offers a 1-year warranty on the upholstery and a whopping 30-year warranty on the bench frame.
WHAT TO LOOK FOR WHEN BUYING THE WEIGHT BENCHES?
The best weight benches for small spaces can end up being pretty expensive if you are not sure what to buy. Don't go out on a shopping spree without considering certain factors that should help you find the right bench for you.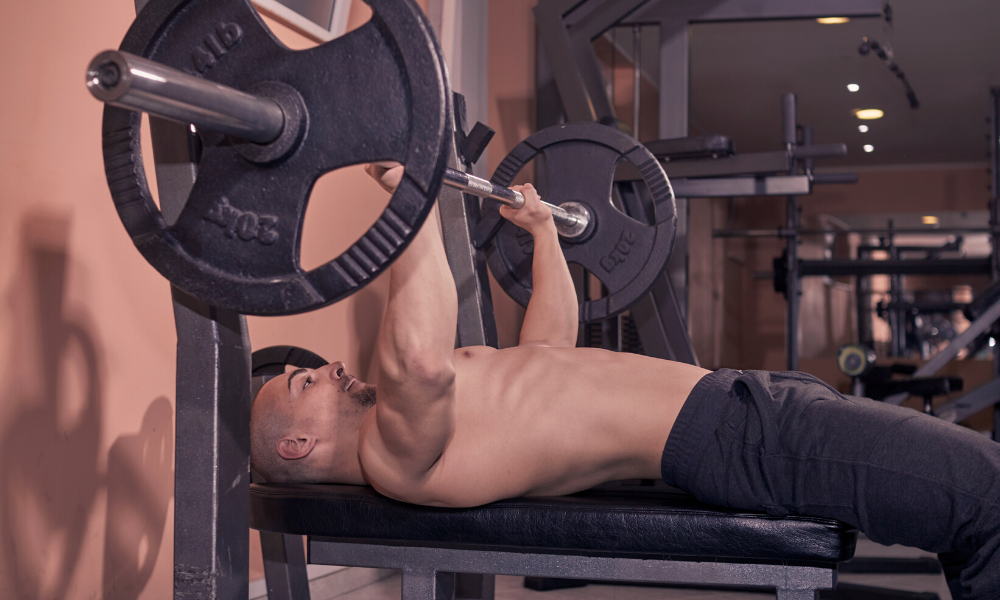 This is perhaps the most important aspect of any weight bench that you need to pay close attention to. It is a fact that weight benches in this category will never be as strong as the standard ones used in commercial gyms and fitness centers. And if you choose the compact, folding weight bench, then you should know that the folding function breaks the integrity of the equipment.
However, for most people working out at home, the frame strength of these weight benches should be enough to accommodate your needs. Plus, the space-saving and portability factor definitely makes up for it. In general, a good compact weight bench should be able to hold up to 500 pounds of weight— accommodating both your weight and the weight you are lifting.
Take note that every bench features a steel frame. The only difference is the thickness. For the most part, you should go for weight benches with a 14 gauge 2×3 steel tubing frame. Don't even think of going under these values. Also, in order to ensure longevity, make sure to see if the frame has a decent powder coat finish that helps prevent rusting and scratching.
This is another crucial factor you need to keep an eye on when buying the best weight benches for small spaces. Know that there are models where the position of the backrest can't be changed, which also means a lot cheaper product that the adjustable ones. With that said, models which can be adjusted to go from a flat position to a decline or incline is the ideal option.
Being able to adjust the position of the weight bench also increases the number of workouts that you can do on the bench. It is even better if you can find a model that comes with an adjustable leg holder. But how many adjustments will you need? Well, we know weight benches with up to 12 angle adjustment. For most people though, you won't need that much. I'd say 5 – 6 angle adjustments are enough.
One factor that influences the convenience of the weight bench and more or less dictates the effectiveness of your workout is the padding. Take note that the pads should be soft and thick enough not to hurt your back or butt, but also not so soft and thick that you sink into them and won't be great for your workouts.
Usually, the thickness of padding in the best benches for small spaces ranges from 2 to 3 inches which can provide you with a comfortable surface to sit or lie on. Also, the pads shouldn't be slippery, so that you stay in one place as you exercise. Plus, they should also be made of a material like leather or vinyl so that they are easier to clean.
For weight benches that feature leg hold-down bars, they should have foam rollers so that not to hurt your legs. Furthermore, you should also check the width and length of your backrest, especially if you are on the taller side. In general, width 11 – 12 inches and 45 inches long should be enough for most people. However, if you're taller than 6'3", then you will need to get a longer bench.
Compact weight benches mean that they don't take up to much space, whether being used or not. Most easy storage weight benches will come with latches, buttons, or pins to quickly fold the legs under the board for quick and convenient storing. Meanwhile, some models even feature transportation wheels, making relocation quicker and easier.
Some of the best weight benches for small spaces also come with useful extras that increase the function or convenience of the equipment. Take note, however, that extras can mean extra cost, while some may come as freebies. Things such as internal storage compartment, leg hold-down bars, a barbell holder, latch to attach resistance bands or resistance tubes, and weight plate holders are always a great welcome bonus.
FREQUENTLY ASKED QUESTIONS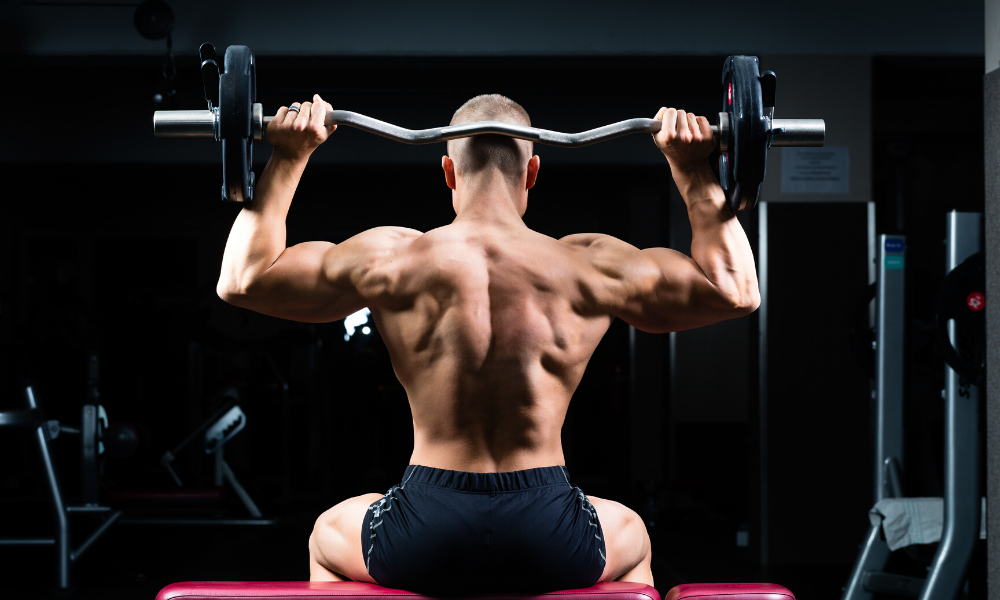 Q: Is a weight bench a must-have for my home gym?
A: If you are starting out with weight training, then yes, a weight bench is necessary. The best weight benches for small spaces can help you target specific areas of the body for strength training. These benches will offer you the necessary support for workouts such as chest presses or fly.
Q: Is there any alternative for a weight bench?
A: If you cannot get your hands on a weight bench just yet, then there are other suitable options that you can try. Depending on the exercise you are doing and the muscles you are targeting, you can use a stability ball, aerobics bench step, the floor, or your bed as an alternative. Although they might not be comfortable and as effective as a weight bench, they can still help you reach your weight training goals until you can get your own weight bench.
Q: What's an FID weight bench?
A: FID weight benches are more commonly known as the adjustable weight bench. They offer Flat, Incline, and Decline adjustments.
Q: What are the benefits of the best weight benches for small spaces?
A: Other than the fact that they take less space or offer easy storage, compact weight benches can help you get started on weight training. The weight bench is an indispensable piece of exercise equipment that provides the needed support for lifting heavyweights.
A weight bench can also help you practice difficult movement with ease while also helping improve core stability and strengthening your lower back muscles. Also, it helps you target different muscle groups that are difficult to carve.
Q: What are some key exercises that you can do on a weight bench?
A: Some of the most common workouts done in a weight bench are chest press, seated shoulder press, flys, curls, and leg extension.
As you can see, you don't have to neglect your weight and resistance training just because you live in an apartment or have a small-spaced home gym. With the help of the best weight benches for small spaces mentioned above, you can definitely achieve your fitness goals. So, what are you waiting for? Get stronger and have better-toned muscles with the best weight benches for small spaces!