Owning the best massage chair is like a free spa in the comfort of staying at home. In fact, the closest thing to getting a personal masseuse is a massage chair that helps you relax through life's strenuous schedule!
We understand that finding the perfect chair is a huge investment, not just financially, but also with regards to space at your home. Therefore, making the right choice is important. Luckily, we have done all the legwork for you.
Scroll through our guide to cut through all the confusion as we round up the greatest massage chairs and elaborate on everything you need to know about them! Read Here: Top Five Best Treadmills For Seniors
Benefits of Massage Chairs – How Do They Help?
You must be familiar with the fact that a nice massage is equivalent to immense relaxation. However, there is more to it than what meets the eye!
Regardless of our age and health, our hectic schedule wears us out with immense stress and fatigue. To combat this, getting the best massage chair at your home will offer the convenience and enjoyment of modern living.
1) Abets post-workout recovery
Releasing tension from the muscles is crucial to maintaining a steady fitness level. Whether you carry out intense physical activity, such as gymming, or a 9 to 5 job, mitigating damage in the body important.
Massage chairs provide you exactly that. They free the tension and soreness in your body parts, thereby treating the sensitive areas.
Also, with quicker recovery time, you can restart your daily activities while trailing back to your workout session sooner! This prompt satisfaction users receive from getting the best massage chair is its most notable point of interest.
2) Reduces stress and anxiety
Stress and anxiety are generously present in our lives. They might not just cause fleeting distress, but actual illness. Many clinical studies demonstrate that frequent massages effectively reduce stress and anxiety.
These are therapeutic and stimulate the "feel-good" hormones – dopamine and serotonin. Additionally, they decrease cortisol, which is the stress hormone.
The combination of both these processes overturns your volatile temperament and equalizes mood swings. This treatment is absolutely essential, considering today's fast-pacing lives.
Thus, getting free of stress from a massage costs far less than medication, accompanies no side effects, and is relaxing beyond measure.
3) Treats lower back pain
Back pain is the leading cause of disability, limiting many individuals from engaging themselves in everyday activities and work. People face backache with fluctuating degrees of severity, while those with a severe case have to live with it, mostly for life.
Using a massage chair regularly helps manage pain and improve mobility. In fact, in the longer run, it also accelerates the healing process of your back.
Moreover, treatments such as massages are frequently recommended by orthopedics as another dimension of the rehabilitation protocol for severe lower back pain.
4) Induces a deeper sleep
Most of us are familiar with insomnia and its aftermath. Needless to say, digital devices and are measurably to blame for the same, but it is also a result of other lifestyle factors such as recurring fatigue.
If you are a troubled sleeper, then investing in the best massage chair can help. This is because massages are found to help overcome sleeping problems.
A massage chair provides at-home relief and facilitates a night of deep, restorative sleep. However, chronic insomnia should always be treated by a healthcare professional.
Why Do You Need Massage Chair?
Have you ever found yourself at a spa session after a tiring day with your back massaged and wondered how you can get such relaxation more often? Regardless of how we spend our time, we all deserve to be pampered.
In fact, the hike in the popularity of massages indicates that this trend has caught attention in the international marketplace too.
Apart from all the benefits of purchasing the best massage chair, here are three reasons why you simply cannot make it without this product!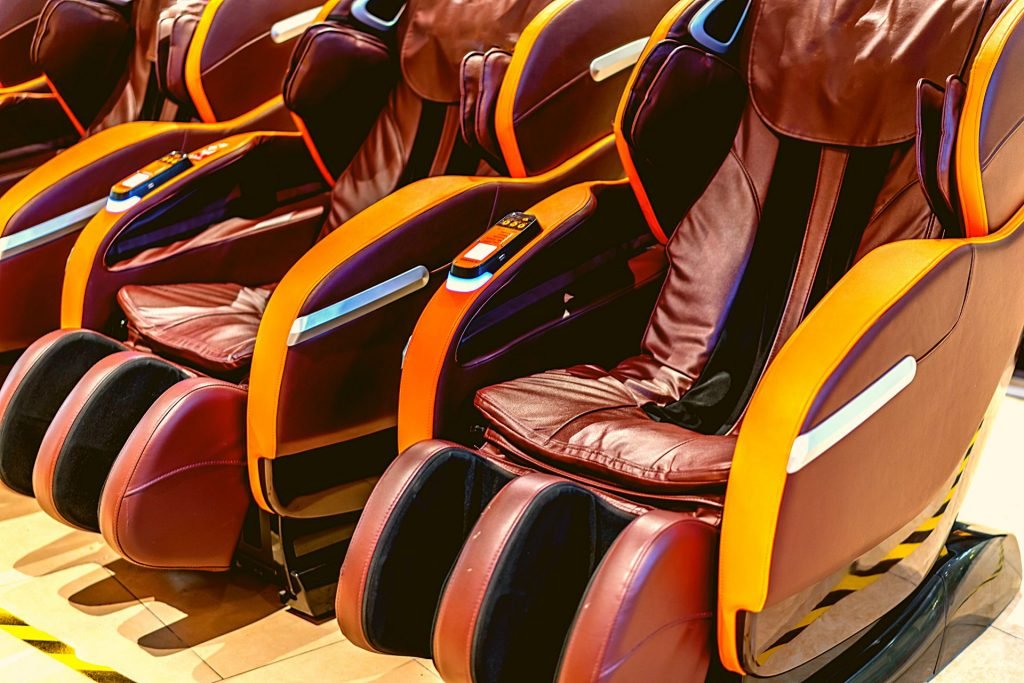 1) Improve your overall health
Massage chairs help align your spine and lower the pressure on your nerves. This causes a reduction in body ache after long working hours and improves your posture. From migraines to swelling, these products are tried and true to eliminate most kinds of health problems.
Moreover, using massage chairs also stimulates your lymph nodes, thereby strengthening your body's defense mechanism against infections. They also boost overall blood circulation and accelerate tissue regeneration.
Believe us, the list does not end here! Now, imagine how relaxing it would be to use your massage chair every single day!
2) Better breathing
The pollution sure is partly responsible for this, but our lung capacity is usually variable due to a reckless lifestyle. Often, the muscles in our body begin to contract due to improper posture. Therefore, to fix themselves in your chest, the lungs also begin contracting in size.
To compensate for this adjustment, your body begins taking faster, shorter breaths, thereby subduing the lung capacity. Luckily, a massage chair can get your breathing right as it facilitates the relaxation of muscles around your lungs. Further, this enables your lungs to fit well in your chest cavity and increases your air intake capacity.
The entire process influences your attentiveness and endurance while relieving the strain caused due to lung contraction. Just by getting a massage chair at home, you can rejuvenate your body in a regulated fashion.
3) Steady rehabilitation
The disintegration due to life-altering diseases and injuries carries a massive impact on an individual's journey towards normalcy. This is an exhausting physical and mental process that usually affects the rate of rehabilitation.
The road to recovery is often barred through severe discomfort or trauma to a patient from certain events in life. An at-home therapy through massage chairs can have a tremendous impact on driving the person towards a smooth, normal life.
Moreover, stimulating a stream of vital nutrients to injured areas of the body provides the strength required to push forward after an incident. Simply put, a few hours on your massage chair can lead to the road to recovery.
Top 5 Massage Chairs To Look For
After hours of extensive research, we have compiled the best massage chairs at different price ranges for you to get the one that suits your budget and requirement. So, let's get started.
1) Best Massage Full Body Electric Shiatsu Massage Chair Recliner
The Best Massage Electric Shiatsu massage chair does both – serves and supports. This product accommodates three mechanisms – width, speed, and intensity control. Each of these offers three different levels to provide a well-suited massage. Additionally, you can also adjust the angle of this chair.
The air massage pressure system incorporates four different settings. This product is designed with four massage points that work cumulatively with different areas to provide a relaxing session. Another excellent feature of this chair is its Air Massage System with Heat Therapy that accelerates joint and muscle recovery and helps increase the blood circulation.
This model comes with 21 Airbags for your waistline and hip, and inflate to align your pelvis and lower back. The Computerized Body Scanning takes us by surprise as it scans your body to detect your dimensions, thereby providing a customized massage.
The Best Massage Full Body massage chair is known for its functional diversity. It offers seven massage modes – tapping, kneading, stretching, combo, heating, shiatsu, and air pressure. You can also choose manual massage functions for fully immersive relaxation therapy.

2) Space-Saving Zero-Gravity Full-Body Kahuna Massage Chair
The Kahuna Massage Chair is loaded with extraordinary features. It offers twelve auto programs to choose from – 4 Stretching, Basic, and Elite programs, and state-of-the-art remote design with backlight.
This product will keep you coming back and save your personal massage programs with its Custom Memory Saving function. It comprises an adjustable shoulder airbag that you can reshape to a different hight for convenience. Also, you can easily change the position of your recliner with the End Position change button, once done with the massage.
The Acupressure points fixed on the arm successfully amplify the effect, while you place yourself comfortably with its headrest design. In addition to its heating therapy mechanism, this massage chair also includes Premium Bluetooth speakers to complete your massage in a musical style.
With the washable and detachable footer area, you no more have to worry about hygiene. This massage is FDA registered as a medical tool. Lastly, the three years of service coverage (1 year of labor and part) makes a great choice.

3) RELAXONCHAIR [MK-II Plus] Full Body Zero Gravity Shiatsu Massage Chair
With Relaxonchair, your weary body can relish the most relaxing massages ever. This product features high-quality components at a reasonable price. It offers a Buttock L-Track Massage System with rollers that conform to your spine's natural shape. These dual rollers extend from the upper back to as low as the Gluteus muscles for a full body massage.
Along with a streamlined design, this chair provides deep tissue massage throughout your body. Additionally, its stretching function, known as the "Spinal Decompression" program, facilitates human-like therapeutic massage sessions.
It features four automatic programs that mirror the actions of professional therapists to deliver a spa-like experience. Furthermore, with dynamic air cells clasping your body rightly, the massage chair slowly reduces the soreness of your muscle.
This model incorporates five manual target massages – Tapping, Kneading, Rolling, Shiatsu, and Kneading + Tapping. The built-in sensors detect the length of your spine for a tailor a massage specific to your needs.
In addition to the large viewing function screen, the one-hand remote controller lets you operate itself for your convenience.

4) Top Performance Kahuna Superior Massage Chair with SL-Track 6 Rollers
This Kahuna Superior Massage Chair boasts a revamped design with stunning features. It offers a six-roller system with an Air-Cell massage for a rejuvenating massage experience. This model provides an enormous seating area and a wide shoulder width than most other contenders. This makes it ideal for users with a bigger build, at the same time, accommodating average-sized bodies.
The massage chair provides a total of nine auto functions that allow you to choose your preferred mode of massage from diverse options. Moreover, in addition to its ergonomic structure, this product features a space-saving technology that helps you align it with your furniture, without occupying much room.
It also carries a Full-Coverage squeeze function towards the foot area with three modes – Rolling, Scraping, and Kneading. The Acupoint Detection System promotes a custom-fit, full-body massage.

5) Real Relax 2020 Massage Chair, Full Body Zero Gravity Shiatsu Recliner
The Real Relax Massage Chair features a stellar series of characteristics. It carries a suitable height range that fits people from 5.2 to 6.3 feet, with extended footrests for the taller.
The 50 airbags and rollers massage your feet and relieve your muscles from excess strain and soreness.
This massage chair carries a smart remote control system with a high-definition VFD display, which lets you view and operate all functions clearly. For easier navigation, it carries two back wheels that let you maneuver the chair despite its bulky design.
The chair also offers a built-in waist heater that promotes blood circulation in your body. It is ideal for people suffering from chronic back ailments since it targets sensitive areas and treats backaches. It also includes an LED light system and a Bluetooth audio play.

Factors To Consider Before Investing In a Massage Chair
If you are interested in enjoying all that the best massage chair has to offer and wonder about the prospect of owning one, scroll through the four important factors you must consider before making a choice!
1) Features
With ample of options available across the industry, every massage chair comes with different sets of features. For instance, Shiatsu massage chairs focus on your body's pressure points with their swaying, rolling, and pressing movements. Some chairs also deliver Swedish massages with low intensity kneading patterns.
The high-end massage chairs accompany a broad range of unimaginable features. These include expansive air-bags, USB ports, high-quality leather, music players, and more.
However, since this is quite a hefty investment, go through each attribute and verify whether you really need these, or not.
Furthermore, massage chairs target different areas of your body. If you are looking forward to a good neck massage, look for the ones that incorporate them.
For slip disc patients who undergo excessive backache, you can find massage chairs that significantly help alleviate your pain. The list is endless, so try out different models to find out the features that offer the best experience.
2) Budget
The best massage chair will not exactly be cheap, and even the reasonable ones will scrap a huge chunk of money out of your pocket. But, do not let these price tags scare you away.
The best way to make a wise investment is to evaluate your requirements and set a practical budget.
For example, if your primary purpose is to massage your back, a standard chair without a volume of features would do the job. Ultimately, the important thing is not to invest in a product that burns a hole in your pocket.
Rather, it is to purchase a durable, functional product that meets your needs.
3) Location
Most massage chairs are bulky in size, so you cannot just place them at any random corner of your house. Typically, your living room is not the right place to station your chair, since, despite the efforts to build aesthetically-appealing models, they may disturb the décor.
Since these chairs are for personal use, placing them at home, bedroom or office makes sense. Also, make sure that your chosen space has enough room to fit a large-sized massage chair.
Additionally, the chair may also incorporate foot and head recliners. So, we recommend that you do not place them near walls or in a corner. Before buying, measure your room well and calculate the amount of space you will need.
4) Customer service and warranty
Finding out how what your massage chair covers and how long its warranty lasts are crucial aspects. At the bare minimum, the one you choose should cover labor and parts.
Additionally, these products usually offer a minimum of a one-month 100% refund guarantee. Such warranties and opportunities imply that companies believe in the durability and performance of their massage chairs.
Always make sure that the customer care service of the company provides good service for professional assistance if anything goes wrong.
Most companies manufacturing and high-quality products always offer toll-free numbers and chat services to resolve user concerns. So, never overlook this aspect.
The Recommended Budget For Massage Chairs
Getting a great massage chair is certainly worth its weight in gold. These products are therapeutic, offering myriads of mental, physical, and emotional health benefits. Prices for massage chairs usually vary greatly and range anywhere between $500 to as high as $10,000.
Generally, the expensive models are high-end and provide more desirable features. That being said, many inexpensive chairs provide excellent massages too. In any case, a good chair is a practical and long-term investment.
Spending those dollars out of your pocket is stressful, but an investment in a high-quality massage chair is a sound financial move. Wondering how?
Analyze this – the price of getting a massage from a seasoned therapist goes up to $90 an hour. Add a tip and round it off to $100 for a single session.
By visiting the therapist once a week, you may end up spending roughly around $3000 every year. This is much more money than required to own a state-of-the-art massage chair from the best brands!
Moreover, instead of juggling between appointments and reaching the therapist's office, you can enjoy a massage session at an arm's reach!
FAQs
1) How efficient is heat therapy in a massage chair?
Heat therapy is one of the most beneficial functions of a massage chair. A majority of the best massage chairs accompany adjustable heat settings that further help relax your muscles through infrared heat.
While some models produce heat throughout your body, the others target specific areas. They also carry an automatic shut-off option that curbs the chances of overheating.
2) Can a massage chair injure your back?
A massage chair can bruise or hurt your back if you use it incorrectly. Therefore, follow the guidelines and never exceed the recommended amount of massage time.
3) Is a massage chair safe for use during pregnancy?
The suggestions on whether a pregnant lady should use a massage chair or not are mixed. Many experts advocate its usage for dealing with lower backache due to pregnancy.
However, some also advise avoiding it during your first trimester. So, you must speak a healthcare professional before using a massage chair.
4) Is a massage chair energy efficient?
Yes, the best massage chairs do not utilize much electricity and help you save some extra dollars. Their power consumption usually ranges between 200 to 300 watts, based on your chair's quality.
Final Takeaways
Massage chairs are an absolute blessing when it comes to lowering your stress levels and pain. They are not the cheapest but worth every single penny, and you will know when you buy one!
To make sure you get your hands on the best massage chair, analyze its features, and select the one that resonates with your needs. Get going with the chair you like, and enjoy endless massages right at home!