Exercising your legs is just as important as working the other parts of your body. Having a decent leg press machine allows you to get the full benefits of a good workout for muscles like quadriceps.
In addition to these muscles, a good leg press will tone and strengthen the gluteus maximus, your hamstrings, and calves. You will build up strength which will also help with balance.
Having a leg press means that you can safely add weight to suit your ability. It is a method of training where the person pushes the weight or resistance away from them with the legs.
There are many leg press machines on the market, and it may be confusing knowing what to look for when you buy a press. That's why we've selected our top 5 best leg press machines for you.

Here's a heavy-duty leg press. You will find that it is mounted on durable and robust rollers. The plates are made of superior steel and the coated cable is testes to 4000lb.
The padding on the machine is extra thick for comfort and the leg press comes with all the necessary tools and equipment to assemble it with the bolts and other accessories being high quality.
2. 4-Way Hip Sled to use as Leg Press, HACK Squat, Forward Thrust, Calf Raise to give a Full Lower Body Workout Unit has DLX. Pads, Wide Adj. Deck Plates, 8 Wheels for Flawless Movement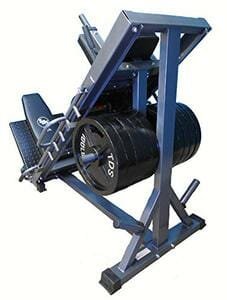 The press comes with four wheels each of which is rated to carry 750lbs. Additionally, there are four side thrust wheels for extra stability.
The press has been designed specifically for heavy-duty workouts and is solidly constructed with 2" steel tubes.
The shoulder pads are thickly stitched and well padded for extra comfort while working out and the padding is contoured for better support.
It is easy to adjust the weight and the bars can take up to 1000lbs. The entire machine weighs 300lbs.
3. Body-Solid Leg Press and Hack Squat Machine (GLPH1100) with Rubber Grip Olympic Plates (with Olympic Plates Set, 355-Pound

This machine is constructed from extra heavy-duty 11-gauge steel for the mainframe. The four-track roller system delivers smooth action and distributes weight evenly as you work.
Padding at the back and shoulders is 4" thick for extra comfort and contoured to give exceptional support where needed, namely the lower back and shoulder areas. Both pads have a locking mechanism to keep them in place.
This piece of equipment has been specifically designed for both home and commercial use, the assembled weight is 317lbs.
The size of the leg press is 56 X 83 x 34 inches and it looks compact and neat when assembled. Included are a set of black rubber-coated Olympic plates.

This leg press machine comes with a quad track roller system that evenly distributes the weight. The rollers work smoothly with no sticking.
There is a locking mechanism for both back pads to keep them in the exact position you require while working out.
The foot platform is manufactured from extra-heavy gauge diamond pattern steel which is used for both the press and the hack squat positions.

Weider Ultimate Body Works
The maximum weight capacity of this leg press is 250 lbs and it is designed to do a total workout program, working both the upper and the lower body.
The bench can be lowered and raised to different heights to strengthen and tone the body and the pulleys on either side allow you to increase or decrease weight resistance.
Included in the exercises which you can do are leg squats. Free motion cables work with your own body to give a great workout making this one of the best workout machines for legs and other body parts.
Conclusion
No matter how much o how little space you have for a home gym and the finances you have to spend on it, we think you'll find a good choice of leg press from our selection.