Deadlift, one of the three powerlifting exercises, has a lot of benefits. You burn body fat more, making deadlift an excellent way to lose weight. Regularly deadlifting strengthens your core muscles and improves your posture. Your cardiovascular ability will also increase. 
Honestly, we can keep going on about the benefits of deadlifting. But first, we'll like to ask about your deadlift form. Are you able to add any more weight? Whatever your current form or strategy is, you can improve it with your choice of footwear. 
You read right, pal. There are footwear made explicitly for deadlifting. These deadlift shoes are comfortable, flatter, and help you shift your weight back into your heels. And that's exactly where your weight should be when deadlifting. 
There are a lot of benefits to using deadlift shoes, and we'll quickly take you through them. The distinct advantage is that they improve your deadlift form. By creating the feeling you are barefoot, these shoes improve your movement and bring the about better distribution of weight.
Deadlift shoes also help you maintain a firm grip with the floor. Yes, you want to deadlift, but you don't want to be sliding around while at it. And deadlift shows also provide you with added stability. 
Now some companies specialize in making deadlift shoes. Other shoes can also serve as deadlift shoes. The problem with buying deadlift shoes is the numerous options available in the market. And it may seem as if they are all the same. 
Top 10 Best Deadlift Shoes On Amazon Today
But all deadlift shoes are not made equal. In this article, we'll be revealing the top 10 deadlift shoes available in the market. These shoes were selected after passing several requirements.
Since we are recommending ten shoes, you'll find one for yourself and acquire one of the best deadlift shoes in the market. 
Adidas Powerlift 4
This is simply the best deadlift shoe in the market. Period. And we think we don't have to spend a lot of time convincing you about that. The manufacturer Adidas is a well-known and respected brand. Adidas has been producing top-notch sports gear for years, and the Powerlift 4 is one of their finest products. 
This deadlift shoe has a very cool design and silhouette. It features a breathable canvass in the upper part which brings about ventilation during your workouts. And the canvas is stronger than regular textiles. 
The Powerlift 4 provides superb support and stability when deadlifting, thanks to the midsole. The sole of this shoe is flat and stable, making it ideal for other workouts other than deadlifting. You can also use it for squats and other Olympic lifting movements. 
There is also lace-up vamp and sturdy velcro strap to secure your feet firmly in this footwear. The flexible forefront also allows you to perform a wide range of movements with minimal restrictions. 
The flat rubber sole helps to maintain a firm grip with the floor. Oh, we forgot to mention how lightweight this footwear is. It almost feels as if you are barefooted. And thanks to the high-quality materials Adidas used to manufacture this deadlift shoe, it is durable and long-lasting. You'll certainly get value for your money when you purchase this footwear. 

Otomix Stingray Escape
Whoever thinks deadlift shoes can't be fancy hasn't seen the Otomix Stingray. This is aesthetically pleasing footwear that comes in a variety of colors. This allows you to choose the one that matches your gym outfit. 
But the Otomix Stingray isn't just about aesthetics. It's one of the best deadlift shoes in the market. Otomix has been in the mixed martial arts and wrestling space for a while and certainly knows a thing or two about footwear. And the Otomix Stingray Escape is perfection. Or very close to perfection. 
This deadlift shoe has a flat base and no cushioning. No cushioning means no traction. The rubber sole, which is thin by the way, helps to maintain a solid and firm grip with the ground and you won't be falling/slipping while wearing this shoe. 
The flexibility and versatility of the Stingray coupled with the fact that it can be fact that the lace can be tied in different ways means you can use this footwear for other workouts. 
The Otomix Stingray only has a lacing system and no straps. But this doesn't affect the incredible support you'll get from this footwear. Your deadlifting form will definitely improve with this shoe. 
The only con of this footwear is that it isn't breathable. The Otomix Stingray is lightweight and durable. You'll be using it for a long time. You can also use it for other exercises such as wrestling, MMA, martial arts, and bodybuilding. It's a quality and multipurpose shoe. 

Reebok Crossfit Lite TR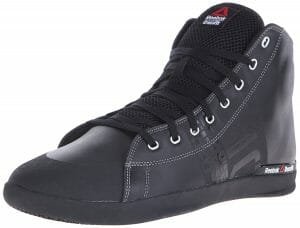 Reebok is no stranger to the footwear industry. They've been producing high-quality athletic footwear since their establishment in 1958. And the Crossfit Lite is one of the best deadlift shoes around. 
Starting with the appearance, this footwear is wickedly cool. You'll definitely like this deadlift shoe the moment you set your eyes on it. Being a crossfit footwear, it can be used to carry out a number of motions and exercises. And it is specifically designed for powerlifters. 
It has a firm grip and provides you with the needed stability and support during your workouts. It's very lightweight and also comfortable to wear. 
What we like about this footwear are the full rubber outsole and prime ankle support. There's also plenty of toe room in the front, and this allows you to spread the floor. There is also the noticeable flanges which have the benefit of added stability as you have a more stable and flat base to work with. 
High-quality materials result in a durable product. The Reebok Crossfit Lite TR has all you need for a wonderful deadlifting experience. 

Reebok Crossfit Nano 8 Flexweave 
We aren't done with Reebok footwear yet. The Reebok Nano 8 is an innovative footwear with top-notch functionality. And that's why it makes our list of best deadlift shoes. 
Beginner weightlifters (especially deadlifters) will find this footwear very useful because of its versatility. It's a solid shoe that can be used for weight lifting, running, jumping, and rope climbing – a multipurpose footwear. 
Reebok's innovative flexweave technology makes this footwear lightweight, durable, and breathable. The construction of the materials allows your feet to remain dry even during heavy workouts. Also, the materials have the advantage of absorbing moisture and get rid of odors. People with the tendency to have sweaty feet during workouts will appreciate this footwear. 
The zero-drop differential Is actually what actually makes this footwear a great deadlift shoe especially for beginners. The construction of the heel hootie ensures you get superb performance and comfort. And the forefoot has more space for flexibility. 
There's a lining in the inside of this footwear, which gives you the feeling of wearing socks. The robust outsole takes all the impact and stress of your workouts. The Reebok Crossfit Nano 8 is a high-end shoe you should consider getting.

Adidas Adipower
Adidas with another wonderful deadlift shoes. The Adipower has a high-quality chassis specifically engineered to support you during powerlifting exercises. The upper part of this footwear is breathable thanks to the strong leather and mesh material used to produce it. Your feet will always remain dry, and people with the tendency to get sweaty feet will definitely love this feature. 
The high performance of the Adidas Adipower is the TPU (thermoplastic polyurethane) material. This makes this deadlift shoe very lightweight and comfortable. TPU is also non-compressible and eliminates that may rock you back on your heels. 
If you've been deadlifting for a while, you'll know one of the biggest issues you face is the ankle stability. Adidas knows this and has equipped the Adipower to solve this issue. The Adipower has an instep strap that secures your ankle and keeps it right. 
On the aesthetics aspect, this deadlift shoe is cool and visually interesting. The strap is also aesthetically pleasing in addition to its function of providing support.

Converse Chuck Taylor
Ha, the iconic and classic Converse Chuck Taylor footwears. It's one of the most recognized brands in the world and gets better with every release/generation. 
Converse footwear can be worn by people of all ages. It's very fashionable and trendy. This shoe is not specifically made for deadlifting but has features that make it a good deadlift shoe. And that's why it makes our list of best deadlift shoes. This footwear has a flat sole which provides you with support and stability during your powerlifting sessions.
Converse footwears also have decent ankle support which makes your deadlifting sessions easier. The versatility of this footwear means you can use it for other exercises and workout routines. The absence of the heel cup means you exert yourself more and lift more weight. This will improve your technique and form. 
The canvas material used is light and durable. The comfort and lightweight makes you feel like you are barefoot. Except you are not and you also have support to help you with your deadlifting. 
The lacing system provides good support and excellent ankle compression and stability. What really makes this footwear popular among weightlifters is the price. It's very affordable. You don't have to break the bank before you buy these footwear. And the timeless and fashionable design is well-loved by people all over the globe.

Nordic Lifting Venja 
Nordic may not be as popular as the other footwear brand we've mentioned earlier. But they produce high-quality wears, and the Venja is easily among the best deadlift shoes in the market. 
This footwear has a dual closure system thanks to the lacing system and a hook and loop strap. And they secure your feet in this footwear. The sturdy sole provides you with the flat and stable base needed for your powerlifting exercises. The upper part of the Nordic Lifting Venja also is breathable, meaning your feet remain dry even during the most intense deadlifting sessions.
And the icing on the cake is that it's also very pocket friendly. So if you are on a budget, you should take a look at these deadlift shoes. The non-slip ensure you don't slip or fall during your workouts. You can even go for a little sprint around the gym. 
This deadlift shoe is durable and long-lasting. It's designed to withstand extreme stress. It also comes with a one-year warranty. Weightlifters, CrossFit enthusiasts, and powerlifters will all find this footwear very useful.

Sabo Deadlift Shoe
Sabo has been producing athletic shoes for about ten years now. And this deadlift shoe is one of the finest footwear they've ever produced. It's a unique, durable, and versatile shoe that can be used for a number of exercises such as deadlifting, weightlifting, and even boxing.
The Sabo Deadlift shoe fills you with confidence when going for your deadlifting sessions. Featuring an ultra-thin sole, 0mm heel to drop, this deadlift shoe is engineered to provide maximum ankle stability. We all know that deadlifting can cause injuries if not done properly. And the Sabo Deadlift Shoe will help you significantly reduce the risk of injuries.
When it comes to support and stability, no other footwear comes close to the Sabo Deadlift Shoe. It's simply the best. Why? Because it comes with both a metatarsal strap and an ankle strap. Deadlift shoes can be more secure than this Sabo shoe. 
The dual straps also mean this shoe fits well and brings about precise tuning of the tightness for the foot, ankle and heel. The outsole is made with high-density materials which specifically combats traction. 

Inov-8 Fastlift 335
Another excellent deadlift shoes to help you improve your form and technique. The comfort and supportive features makes this footwear one of the best deadlift shoes around today.
The Inov-8 Fastlift 335 is ideal for any kind of weightlifting. The non-heel slip and solid base provides you with the stability and support you need during your deadlifting sessions. The forefoot flexibility allows you to expand your the ground.
The lace-up system helps to adjust this deadlift shoe to the perfect fit and then secure your leg perfectly inside. This shoe has a cool design and is available in a variety of colors. And that means you can buy one that matches your gym outfit. 
The material is relatively thin and this makes this footwear very breathable, lightweight and comfortable. It also features a metatarsal strap for added stability. 
The heel is made of high-quality TPU and has height 0.65in/1.65cm. This makes the heel lighter and improves the functionality. 

Vibram KSO Evo
Vibram's vision is to inspire people all over the world with innovative products. And the KSO Evo brings them closer to achieving that vision. You know, we are kind of curious to know what your reaction is when you see this deadlift shoe. We honestly think it has a funny appearance. And so do many of its users across the globe. 
The five fingers appearance is very unusual. Perhaps Vibram is trying to differentiate themselves in the athletic shoe industry. But if you look past that, you'll see it's one of the best deadlift shoes in the world. 
For one, it's very lightweight and flexible. And the excellent grip and stability you get make it one of the best deadlift shows in the world. 
The sole of these footwear is one of the best we've seen. Made of high-quality XS Trek rubber, it protects against traction and helps improve your form and technique. 

How did we come up with this list?
There you have it, our top ten best deadlift shoes in the market. Deadlifting can cause injuries if not done properly. And one of the first things you should do to avoid this is to choose high-quality deadlift shoes. 
So how did we compile this list? A number of factors were put into consideration before we came up with this list. And some of them will be discussed below. 
Comfort
We believe this is the most important criteria to look out for when evaluating deadlift shoes. No matter how many other awesome features a deadlift shoe has, it's as good as useless if it isn't comfortable to wear. 
The sole determines how comfortable a deadlift show is and has three layers – insole, midsole outsole. The insole separates your feet from the midsole. It can be present or absent in deadlift shoes and when present, the insole usually has some cushioning. 
The midsole, as the name suggests, is the middle layer and separates the insole and outsole. And it acts as a shock absorber. 
The outsole is the most important part and provides the needed grip and support needed during deadlifting sessions. And we selected deadlift shoes with high-quality soles in our list. 
Materials
The materials of the outsole matters. Because they determine the level of grip and density you get. Your grip is how well your shoes make contact with the floor and grab it. So you definitely want a deadlift shoe that has a firm grip. This will prevent you from slipping or sliding, secure your form and greatly minimize the risk of injury. 
The density of the sole is another thing you should watch out for. Ideally, a deadlift shoe with good density will not have its sole compress during your weightlifting sessions. At the same time, the sole also must not be too rigid. Only the best products have this feature and we scoured far and wide to get you the very best!
Materials such as rubber, thermoplastic rubber, polyurethane and ethylene-vinyl acetate (EVA) are commonly used to manufacture the soles of deadlift shoes. And it would seem the best deadlift shoes have soles made from rubber. Rubber is dense and has a superior grip. 
And if you must choose a deadlift shoe made with EVA, make sure it's high-density EVA. 
Stability
You would have seen this word a lot when reading the reviews above. And you'll continue to see it. Stability of deadlift shoes is something that must be taken seriously. Some models of deadlift shoes have flanges for improved stability. Flanges, which are part of the sole, extends beyond where the foot naturally goes. The idea is to create a wider base that will support you more and improve your stability. 
Generally, most deadlift shoes don't have flanges in order to make their designs more simplistic. We rigorously screened each of the products on our list for high stability and they all passed in flying colors. 
Heel
The heel of your deadlift shoe is also important. We used the term 'heel to toe drop' in the review above. And it refers to the extent of how higher your heel is relative to the rest of your foot. 
The heel to toe drop of deadlift shoes must be as low as possible with the ideal value being 0mm. Why? This is because a low heel to drop helps put your ankle in the best position for deadlifting. 
Support
This is the type of ankle supports that comes with your deadlift shoes. And the purpose of these straps is to prevent unnecessary movements during workouts. This improves your stability and decreases the risk of injuries. 
Conclusion
Not only have we recommended the very best deadlift shoes in the market to you, but we also took you through their buying guide. You now have all you need to make an informed decision when buying a deadlift shoe. 
Choose one today and start deadlifting your way to health and vitality!