Weightlifting shoes can make a huge difference to the weightlifting experience, is a well-known fact that keeping fit is healthy for your physical and mental well-being. Quite a number of us have visited the gym at one time or another to clear our minds, lose weight or mess around with friends and co-workers. Whatever the case may be, you'd need to get all the comfort you need for better performance at the gym. There are many people who go to the gym to lift weights while wearing a pair of sneakers or running shoes but do not realize the harm that can be caused because of this.
The shoes you wear to the gym, and not just on leg day, would determine your level of progress and performance for that day and maybe throughout your entire gym membership, if you've ever felt pain or discomfort just because of your choice of weightlifting shoes, this article is for you. Here we have reviewed the best weightlifting shoes for you to choose on your weightlifting routine.
First in our review today, we have one of the best weightlifting shoes designed by one of the world's famous sports brands. It is not a surprise that the Adidas Men's Adipower Weightlift Shoes have been at the top for a couple of years now.
Coming in different colors for added style, these weightlifting shoes help you stand out at the gym. Its rubber soles also make it comfortable to stand for long hours, without having sore feet. Its rubber soles also give balance. The adjustable hook-and-loop instep is also one of the amazing features of these shoes, keeping your feet firm and secure.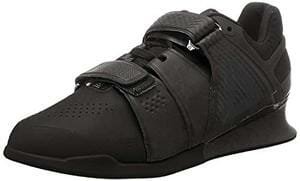 We also have the Reebok Men's Legacylifter Cross Trainer on our review too. The shape of these weightlifting shoes makes it both stylish and comfortable at the same time. For a firmer and more secure feeling, these shoes feature double upper straps – you don't need to fear that your feet would escape from the grip of these straps.
Made out of synthetic leather, perforated at the top – these shoes give your legs enough air to sweat less and adds to the comfort they already provide. In the middle of the sole, there is a TPU heel piece that provides enough stability to weightlift.

Before going into the comfort, stability and other benefits of these shoes, let's take time out to appreciate the variety of colors these shoes come in. You get to lift weights and look pretty fancy at the same time.
The Adidas Men's Powerlift.3.1 Cross Trainer provides all the grip you need for better performance, all thanks to its lace closure and an adjustable strap that'll keep these shoes tight and firm to your feet. Durability, comfortability and, stability are the three assured features of these weightlifting shoes. These shoes also give room for your feet to breathe and make weightlifting less painful.

With anti-slip soles to keep your feet firm to the ground and giving you all the necessary stability needed for weightlifting, the Nordic Lifting Powerlifting shoes make the cut for the top five best weightlifting shoes. They are sturdy and would last for a long time without damaging or needing replacement.
It also comes with Velcro straps and lace that'll grip your feet firmly. These shoes make weightlifting more comfortable. These shoes come in black and blue for added style. For every form of strenuous exercises and heavy weight lifting – these are just the right shoes for you.

Last but not the least on our review today, we have another weightlifting shoe by Adidas. The adidas Men's Powerlift 4 is perfect for heavy weightlifting with its incompressible heel that gives stability when weightlifting. The variety of colors it comes in is also quite impressive adding to your style.
For a more secure and tighter fit, it comes with laces and a hook-and-loop strap to completely avoid these shoes from leaving your fit or causing you to trip. It is lightweight, making it easier for you to lift your legs easily and, of course it is very durable – as expected.

Conclusion
While weightlifting, it is true that you'll feel a whole lot of pain – no pain, no gain, right? But the only kind of pain you'd want to be feeling is the one caused by weightlifting and not the discomfort of bad weightlifting shoes. The above-reviewed shoes are durable, comfortable, provides stability, and, stylish.
Lifting heavy weight with these shoes can never go wrong, you get so comfortable with enough room for improvement. These best weightlifting shoes will give you a run for your money and would make the perfect gift for your weightlifting friends.