Would you run outside on a bone-chilling winter day? Would you brave the sweltering, dehydrating summer afternoon to meet your cardio workout goals?
No?
Thankfully, treadmills exist. Never mind the scorching heat of the sun or the numbing blow of the wind and snow, treadmills allow you to enjoy your cardio workout from the comfort of the indoors.
One thing, though:
Training on a treadmill is not quite the same as running outside. And this can also mean that you might need a different pair of running shoes. Read Here: Top 10 Best Deadlift Shoes
How so?
You see, treadmills have a softer and more forgiving surface than other running areas such as trails or pavements. Plus, there's no turns or twists that will require you to adjust your feet and gait. However, there is the potential to land on your feet in a repetitive manner.
Where are you getting at?
Not every pair of running shoes will be right for everyone.
So, how can you narrow down your options and find the best running shoes for a treadmill for you?
How To Choose The Best Running Shoes for Treadmill
Durability
Inside the coziness of your home gym or commercial gyms, running on a treadmill means that you will not encounter the harsh elements, dodging rocks, and muddy puddles or rolling over undulations.
Thus, arguably, longevity and durability of the best running shoes for treadmills are not that much of an issue. Your shoes are not going to wear out as quickly as they do outside since your running will not be as intense.
Cushioning
Running on a treadmill is quite different from doing so outdoors, however, one thing doesn't change: You will still need enough cushioning. Your feet go through a lot of pressure as you pound through the treadmill. This is particularly true for those who tend to run at a faster speed or extended periods.
Also, take note that regardless of where you run, miles are still miles in terms of the cushioning becoming compressed, so do not get fooled into thinking that your running shoes are not worn out just because they look good—the cushioning may already be compromised.
Lightweight
Heavier shoes are not exactly harmful on your feet, however, the can be a huge obstacle when you start running since they can strain your muscles and reduce stability.
This is why it is recommended to go with lightweight shoes in order to keep an optimum body balance. A pair of lightweight shoes can encourage you to perform longer and faster without much fatigue. 
Breathability
Another factor that you need to consider is the breathability.
Did you know?
Our feet have the most sweat glands in our entire body
Without the great outdoor air to cool you down, you might benefit from having well-ventilated running shoes and avoid the clammy, hot, and later smelly feet. A pair of running shoes with mesh material is the usual option to let your feet breathe.
Support
You will be running with much more repetition on a treadmill than you would on the trail or on the road. The less variation in your motion compared to the natural environment can put much more repetitive stress on your body.
This means that if you have any alignment issues or you tend to pronate excessively, then you definitely need shoes that can offer you the right support so that you won't have to experience sore knees.
Type of Feet
If you're already experiencing any kind of foot discomfort or pain, then it is highly recommended that you talk to a podiatrist before you buy the best running shoes for treadmill. The wrong shoes may worsen your discomfort ad even cause injury. Although this might not be the case for most, it is better to determine your feet type in order to find the right running shoes out there:
Normal
A running shoe also needs to be flexible, flexing along with your feet. If they are not flexible, then you can experience discomfort and pains as well as issues like shin splints. Also, the best running shoes for treadmills should not bend in the arch, instead, it bends at the ball of your foot. 
Flat Feet
Next to normal, most people will have flat feet. This is where the feet have little to no arch at all. You will not see a curve going from your heel to your big toes and most of the time over pronate when running. If this is the case, then you will need extra cushioning and support.
High Arches
Feet with high arches are probably the ones requiring most care since people with high-arched feet can frequently fall while running. Thus you will need a pair of running shoes with extra arch support, high flexibility in the forefoot, and enough cushion to absorb the shock.
Pronation
In addition to the type of feet you have, some people may need to consider the pronation. When the foot hits the ground as you run, it naturally rolls inward, distributing the impact. This is called pronation. In general, there are 3 types of runners:
Neutral Pronation
As your outside heel hits the ground, your foot rolls inward until your forefoot is completely on the ground, pushing off evenly across the forefoot.
Under pronation
As your outside heel hits the ground, the inward roll of your foot is less than normal, which causes a concentrated impact force in the outside of your foot, and pushing off is only done by the smaller toes.
Overpronation
Again, as the outside heel hits the ground, the inward roll of your foot is more than the normal which causes the big toe to make the push. This can lead to uneven shock distribution and causing your big toe to do more work. As mentioned before, overpronators, as well as under pronators, will need extra cushioning inside of running shoes' front soles.
Style
Of course, you want to look awesome while running on the treadmill. And there are tons of designs and styles you can choose from that can match your preference. That way, you can feel and look confident, which can also help in improving your runs.
Flexibility
A running shoe also needs to be flexible, flexing along with your feet. If they are not flexible, then you can experience discomfort and pains as well as issues like shin splints. Also, the best running shoes for treadmills should not bend in the arch, instead, it bends at the ball of your foot. Twisting them, they should also move without a problem.
Budget
The budget is also a priority. You should not look for the cheapest running shoes you can find or you risk injuring yourself. Fortunately, you can find a great pair of running shoes for a reasonable price without compromising quality like the ones on our list.
The Top 6 Best Running Shoes For Treadmill
Now that you have a general idea of what to look for when buying for the best running shoes for treadmill, we now present to you our top picks.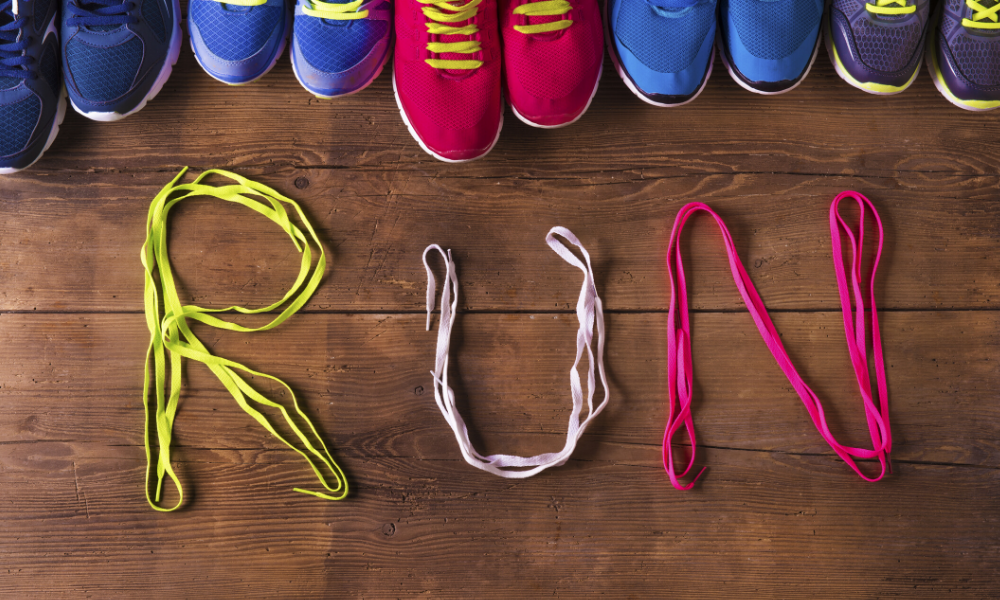 3 Best Men's Running Shoes for Treadmill
NIKE Air Zoom Winflo 6
From the popular shoe brand, the Nike Air Zoom Winflo is indeed a check (pun intended) for your daily treadmill running. This pair of running shoes offer maximum strength, a responsive gait, and the ideal multi-surface traction.
It features an engineered fly mesh material, ensuring breathability and support in strategic areas while the inner lining provides superior comfort and a perfect fit in every step you make. Meanwhile, the dynamic fit system along with the flywire cables offer ideal grip and support.
Not only that, but this pair of running shoes also have cushioned foam sole for a responsive cushioning. The sturdy rubber tread, on the other hand, makes it versatile, providing traction on multiple surfaces. With its snug-fitting and ample space for your toe to spread, this Air Zoom Is probably one of the best running shoes for a treadmill from Nike.

Saucony Cohesion 10 Running Shoes
Saucony claims that the Cohesion 10 Running Shoes is suitable to be "your everyday training partner". The running shoes are encased with superb cushioning, comfort, and flexibility for crushing just about any workout and activity you have, including treadmill running and conquering the long, bumpy road ahead.
It features a rugged look and is most often recommended for tougher terrains and trail, but also do well on the treadmill. It features a strong and durable outsole and premium quality construction, so you can run to your heart's content without worrying about fast wearing.
Other than that, the running shoes also feature a Hell Grid System that offers soft and stable cushioning. Meanwhile, the breathable mesh upper provides better ventilation. With its superior traction and good arch support, this pair of running shoes is best recommended for people with flat feet.

New Balance 890 V7 Running Shoes
The 890 V7 from reliable shoe manufacturer New Balance is said to be the "go-to trainer for serious runners". With its larger engineered opening in the vamp, this pair of running shoes offer superb breathability to keep your feet dry and cool.
Meanwhile, the Ground Contact Revlite tech offers you a springy and lightweight ride while also reducing weight. Also, the lightweight solid rubber forefoot strips offer a superb response and strategic traction in key areas.
The shoes also boast a hypoknit upper that offers a dynamic and breathable fit with the gusseted tongue that offers a comfortable and snug midfoot fit. It also features a minimalist design that makes it perfect for both everyday training or regular trips to the gym.

3 Best Women's Running Shoes for Treadmill
ASICS Gel-Kayano 26 Running Shoes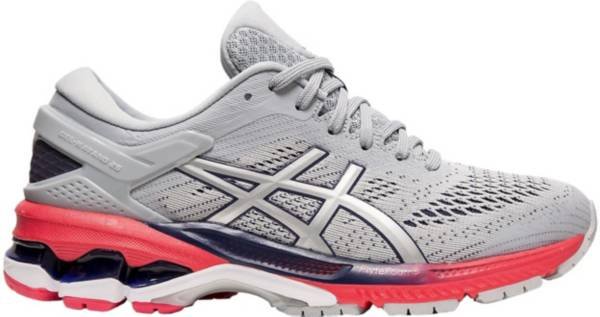 Enjoy great comfort and superior bouncy feel with the Gel-Kayano 26 running shoes from ASICS. The shoes feature GEL technology to the rear and forefoot for excellent high-density shock absorption so you feel comfortable over long distances or periods of running.
In addition, the EVA sock liner also provides excellent cushioning and rebound. Meanwhile, the Guidance Trusstic System tech offers a whole new definition of stability as it works with the contoured midsole for controlling torsion.
Furthermore, the SPEVA 45 Lasting tech helps improves the bounce back attributes, putting a spring in your every step. Now, if your feet usually roll inwards as you run on the treadmill, then the DUOMAX midsole can provide you a smoother control of over pronation by combining 2 different density material to reduce the risks of bunions and flat feet.
You will also like the AHAR rubber sponge that helps in reducing excessive wearing of the shoes, promising a longer lifespan than most running shoes. Lastly, this edition o the ASICS Gel-Kayano 26 showcases a variety of vibrant designs that encourages you to unleash your inner runner self and even comes with reflective design details to improve your visibility when you are running after dark.

Brooks Women's Launch 4 Running Shoes
"Ready. Set. Blast Off!"
This is the tagline or the Brooks Launch 4 Running Shoes. This pair of running shoes is said to set your run with gravity-defying cushioning and excellent response. Brooks designed the heel Segmented Crash Pad and midfoot transition zone to work together for a quicker heel-to-toe transition. Thus, making it more comfortable even after a long period of running.
The running shoes also feature an improved U-Groove which helps the heel find its natural motion path. There's also the 3D Fit Print upper tech offering a strategic stretch and superb structure for a better feel and fitting. Meanwhile, the air mesh fabric upper will definitely provide you optimal breathability, comfort, and moisture management, so you never have to worry about stinky feet anymore.
The comfy fabric lining offers a great in-shoe feel while the full-length midsole compound uses an insole board for increased flexibility and plush. Also, there is the blown rubber in its forefoot that gives you an extra-bouncy toe-off while the HPR Plus rubber on its outsole is resistant to abrasion, providing long-lasting durability. If you're environmentally-conscious, you will also love the fact that these shoes feature BioMoGo and Brooks DNA midsole. This means
that while it offers long-lasting cushioning, it is also an environment-friendly material that breaks down up to 50 times faster at landfills.

AdidasCloudfoam QT Racer
Who wouldn't know the Adidas brand? This particular running shoes from the shoe giant, the Cloudfoam QT Racer is built for speed. As its name implies, these running shoes are suitable for faster running and racing, thanks to its Cloudfoam soles and sock liner.
Inside, it features a memory foam that conforms to your feet, providing a snug fit for motion control and preventing injuries as you give your all running on the treadmill. Other than that, there are also the mesh uppers that offer superior ventilation and keeping your feet cool and away from stinking odor.
It also features shock absorption tech, so you don't have to worry about aching feet even during the toughest or longest treadmill runs.

Frequently Asked Questions
Q: What's the difference between road running and treadmill running?
A: The environment. Road running means you will be running on trails or roads. Meanwhile, being on the treadmill, you have a much-controlled terrain and environment. For outdoor running, you can condition your muscles as you run on different paths and elevations. Plus, there's the enjoyment and view as well. Meanwhile, with treadmills, you have more control over your distance and speed.
Q: Is there a difference between treadmill and road or trail running in terms of footwear requirements?
A: No. Well, almost.
The longer answer is that it depends on the individual. There are conflicting opinions as to whether you need different running shoes for treadmill running and for outside use.
Most people would simply use the same pair for both running out of convenience. Others like to keep a pair of shoes for specifically for running on treadmills, mainly because they do heavy-duty trail or outdoor running. However, depending on your anatomy and running style, your technique may or may not change.
Studies revealed that when people run on a treadmill they tend to land with a slightly flatter foot than running outside. In addition, they tend to have a quicker and shorter stride when running on the treadmill. Thus, they often require a pair of running shoes with improved cushioning and has lighter weight.
Q: Can I use trail running shoes on the treadmill?
A: Sure you can! As a matter of fact, your trail running shoes can be worn just about anywhere. However, it is recommended that you use a dedicated shoe designed for use on treadmills and pavement if you are going to do this on a regular basis.
Q: Can I wear sneakers on the treadmill?
A: No one can stop you to do so, but we highly advise against it. You need to always wear appropriate running shoes, ideally those for the treadmill or running on pavement. The casual sneakers are generally made for fashion and not for function, so they are not going to offer you the appropriate cushioning and flexing.
Q: Can I run barefoot on the treadmill?
A: A lot of people are now trying to go barefoot running with most of them running on treadmills and roads without shoes. Sometimes, they would wear shoes with little cushioning, mimicking the feel of being barefoot.
However, we strongly advise against that since it is very dangerous to do so, especially on the treadmill. You see, treadmills generate heat due to the moving belt and cause friction. Plus, they do not have a very soft and smooth surface. Your feet can easily burn up, causing pain, burns as well as blisters without proper cushioning from a pair of running shoes.
The heat can also cause your feet to sweat, putting you at risk of slipping. Not only that, running barefoot on the treadmill can cause you to accidentally stub your toes on the machine if you run too fast.
Running Off
Whether you are someone who wants to sweat during the winter or just prefer to run at the comforts of your own home or in a commercial gym, you probably know and feel the difference it make than running outdoors. And while the treadmill can offer you great health benefits, it is important that you have the best running shoes for treadmill for a great overall running experience.
The market offers a multitude of running shoes out there, however, the above-mentioned running shoes are, no doubt, the best ones you can find. We hope you find this article helpful and please don't forget to share it with your family, friends, and fellow treadmill runners.
Have a wonderful, sweaty running!