The Power Rack is a piece of vital fitness equipment you should have if you want a redefined workout experience. You also need a Power Rack if you really want to build muscle.
Power racks keep you safe during workouts by preventing situations such as falling weight. You will also be able to perform a wide range of exercises on a Power Rack.
There are hundreds of Power Racks in the market and you might be confused when selecting the best Power Rack for your workout.
But hey, we got you covered. We'll be talking about the best power racks in the market. Whether you want to invest heavily in a Power Rack or are a budget shopper, you'll find an equipment within your price on our list.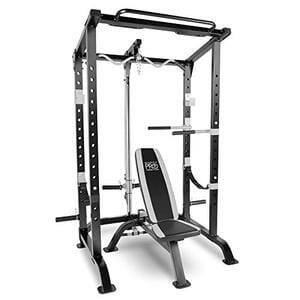 We've ranked the Impex Marcy Pro Full Cage the best Power Rack in the market. And with good reasons. For one, it looks sophisticated and sleek. And your body will look the same with regular use.
It's very strong, sturdy and durable. And it is packed with a wide range of workouts that target and strengthen core muscles.
The Marcy Fitness Pro Cage features an adjustable bench that allows you to position yourself comfortably during a workout. There are a dip bar, pull-up bar, and a barbell training station. There's even a lat pulldown station.
Like with most Power Racks and cages, it doesn't come with a weight plate and barbell. So you are going to buy those separately.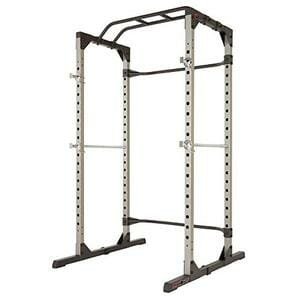 If you are all about versatility and stability, then the Fitness Reality 810XLT Super Max Power Cage is the best Power Rack for you. It's what you were looking for.
You'll enjoy diverse exercises such as squats, bench presses, sit-up, pushups, pull-ups, and lifts on this Power Rack. There are models with a lat pulldown bar attachment and can support as heavy as 800 pounds of weight.
Accessories like dip bars, J hooks, and weight holders come with the Fitness Reality Super Max Cage. If you want a heavy-duty workout, then you should consider this power rack.

If you are an athlete, you will benefit immensely from owning a Power Rack. In fact, it is the best power rack for you. The Body Champ Power Rank System is good for staying in shape and it is affordable and durable.
A sturdy U-shaped base provides stability and a pull bar allows you to do a wide range of exercises such as squats and pull-ups. You can also bench presses.
With this power rack, you'll be able to safely engage in some great workouts in the comfort of your home. There is also the J hooks, safety catches, two weight holders and floor anchors. All these are to provide a great and safe workout.
It's possible for you to attach resistance bands to the steel rack for a more challenging workout.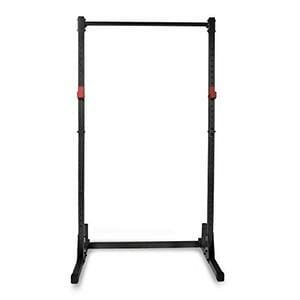 If you are on a budget and want an inexpensive Power Rack that won't limit your options, then the CAP Barbell is the best Power Rack for you.
The CAP Barbell Power Rack Exercise Stand features a compact stand with a half-rack design that allows you to perform a wide range of exercises. The rack has a 500-pound catching capacity and a 750-pound pull-up weight limit.
11 and 12-gauge steel tubing makes this equipment strong and sturdy. Durable zinc hardware and powder coating finish preventing rusting and confer longevity. Features such as weight holders and triangular joints allow you to enjoy the benefits of the high-end Power Racks and make this budget equipment a total bargain.

Not everyone has a dedicated room for gym equipment. If you want to save floor space, then the Titan Fitness Space Saving Rack is the best Power Rack for you. This Power Rack is manufactured to take less floor space and doesn't have the solid base of most racks in the market.
Sacrificing the base allows the wall-mounting feature to be added. The Titan Space Saving Rack is affordable, easy to assemble and has great functionality.
The 11-gauge steel construction makes this Power Rack a piece of sturdy equipment. And it also features an adjustable J hook like most premium Power Racks. Overall, it is simple and effective

Conclusion
We considered the price, space, safety, and purpose of the equipment when compiling this list. What actually determines the best Power Rack for you is your budget and your goal. Do you want heavy-duty equipment? Or have limited space and want a Power Rack that won't take much of your floor space.
All these factors were put into consideration to provide a list that will always have a Power Rack for you.