If you are quite serious about improving your strength conditioning using explosive power, then a good slam ball should be on your fitness arsenal. Slam balls are highly functional and versatile. Most of the workouts you do with them are fun, like a kid throwing his ball on the wall and catching as it bounces. Only you would have to use much more explosive power and the ball not bouncing back. Read Here: Bowflex Xceed Home Gym Reviews
However, like any exercise equipment, not all slam balls are created to be equal. Without knowing anything, you might end up spending some of your hard-earned dollars on a slam ball that easily wears and gets damaged after a few powerful slams.
Not to worry though!
We're here to help you out. We listed the top 7 best medicine balls for slamming or more commonly called slam balls.
But first…
Slam Ball Or Medicine Ball? What's The Difference?
When you started getting interested in medicine balls, you might come across the term slam balls. People often use them interchangeably, causing confusion about the two.
However, here is the truth.
Slam Balls are a kind of medicine balls. Both are generally the same workout equipment. Well, except for a big difference.
Slam balls are balls that you slam.
They are specially designed rubber balls that may come in a variety of weight. Due to their thicker outer shells, slam balls are tougher and more durable than the regular medicine balls. They can withstand heavy slamming and impact throwing that the softer traditional medicine ball can't. You can throw them in walls, floors our outside surface, and won't bounce back, standing still since they are full of sand.
Thus, slam balls are mainly used to train your strength, conditioning, coordination, and power. Medicine balls, on the other hand, are not always required for slamming. Thus, they are mostly made of softer materials such as plastic, rubber, and leather. They are also specifically made for indoor use and workouts like overhead throws, rotating throws, and other non-slamming motions. In short, they are gentle and are not designed for maximum impact.
Why Choose Slam Balls?
Other than its tougher outer shell? Well, slam balls are made for intense training. They come in a variety of weights so you can train for your specific needs. It also means developing your movement patterns in 3D. They are highly functional— building coordination, rotational strength stability. Plus, you can use them to load and strengthen specific movements you perform during your workout.
Slam balls are particularly helpful for any activity or sport that has a large rotational demand. This includes everything from sprinting to golf. They do not get enough attention in most workout training. However, those rotation slings also support the body for long-term health and sports conditioning and performance.
What else?
Slam balls are also effective in toning your muscles. With the good amount of weight they carry, you can expect to tone your muscles with every slam you make. Furthermore, it also improves your muscle power. Not a lot of other heavy exercise gears and equipment can do the same as slam balls.
By throwing the ball, you develop the explosive strength without the need to slow down for your safety. Thus, you can push yourself to full capacity in order to exert an effort. Such movements fire up your muscles in order to perform harder, straining then developing them even further.
Buying Guide: How To Choose The Right Slam Ball
Choosing the right slam ball is crucial. This is because making a bad choice can be quite costly, both in terms of the cash you pay and the value and effectiveness of the workout you get. So, here are some things you need to consider when choosing the right slam ball for your home gym.
Grip and Texture
In general, slam balls have 2 styles of grip texture. The heavily aggressive, tire tread-like grip texture that provides you the best grip. Only it can be hard on softer and delicate hands, especially when your workout calls for a hundred reps.
Or…
The light to moderate grip texture like you would see in basketball. They are much easier on the hands. However, the gentler texture costs the grip, making the ball slick when your palms become sweaty.
Firmness, Bounce, and Shape
Slam balls can be quite firm to being pliable and soft. Most balls are somewhere in between. The firmer balls will typically have more bounce.
The traditional slam balls, however, should not roll or bounce. They stay in place after you throw and slam them. Meanwhile, the softer slam balls will change shape after throwing and slamming it. This makes it challenging to pick the ball up.
Valve? No Valve?
There are a few slam balls with a built-in valve so you can adjust air pressure. The main advantage of this valve is so you can deflate and inflate the ball to the firmness you want. Inflating it should make it firmer and giving you a small amount of bounce.
The only downside is that valves become a weak point for slam balls. Slam balls without valves are usually filled with sand. This means that they don't have any weak spots when thrown. The only problem is that you won't be able to adjust it at all.
Size
In general, smaller diameter balls are better for explosive workouts such as overhead slams. Meanwhile, the larger ones are better for workouts such as med ball cleans.
However, you should also consider how comfortable you can grip the ball. A ball that is too large or too small for your hand can be difficult to hold and grip during the movement. In general, 9 inches slam balls are considered to be the best diameter for standard and overall functional training.
Weight
The weight of the slam ball will definitely influence your workout routine and its effects. Choosing the right slam ball weight will depend on your strength, fitness goals, and, more importantly, your experience with slam balls.
For starters, you do not need to get the heaviest one. There is no reason to use heavyweight if you are only focusing on rotation strength, power, and coordination. You can add weight over time. You only need to focus on your own body and needs and being self-aware.
Movement quality always comes first.
So, if you are stuck between 2 slam balls, always go for the lighter ones for starters. In addition, you also need to think about what you are using it for. For a rotating throw, you do not need much weight. However, for an overhead throw with a focus on power, you might need a heavier one. Not for conditioning and core strength, it is somewhere between the two.
Lastly, as a general guide, most women will have to start with the lighter 10 pounds slam ball. While men can double this weight. Still, your own experience and needs should always lead the way.
The 7 Best Medicine Balls for Slamming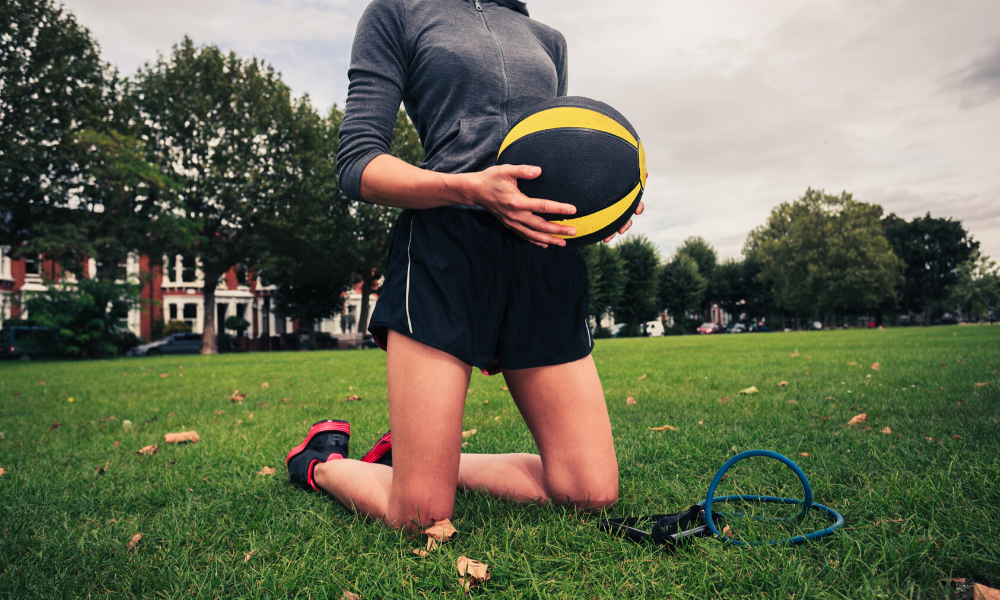 Now that you have a general idea of what slam balls are and the things to consider when buying one, here is our list of the Best Medicine Balls for Slamming in the market today!
1) TRX Training Slam Ball
The TRX Slam Ball is a high-rated best medicine balls for slamming that helps unleash your power. With the TRX Slam Ball, you can engage your entire body with high-intensity slamming, building cardio, strength, and explosive power.
Designed to persist even the toughest and highest impact workouts, this slam ball features an ultra-durable, thick rubber shell. This shell helps absorb high impact from core-strengthening dead bounce and slamming. Meanwhile, the easy-grip rugged and textured surface of the ball provides a firm and secure grip. This should help keep a sure grip on the ball as you throw it down with all your might.
TRX sold these balls individually and comes in various weights. You can choose from 50, 40, 30, 25, 20, 15, 10, 8, and 6 pounds of weight. This way, you can choose the right one for your fitness level and workout requirement.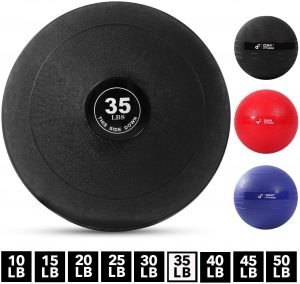 Next, we have the weighted slam balls from Day 1 Fitness. This slam ball is built and designed to endure even the toughest and highest impact slams you can make. This is because of the thick outer shell that helps absorb multiple impacts throwing and slamming.
Inside, you get a sand-filled core. This ensures that the dead weight offers you a challenging exercise. But guarantees that it will not damage your floors, walls, or your trainer's hands. At first look, this slam ball may not offer you a firm grip. However, with its slightly coarse shell as well as the circumferential rings, you should have a nice and secure grip of this slam ball.
The slam ball is also available in several bright colors— red, black, and blue. Not only that, but you can also choose from various weight—10, 15, 25, 20, 40, 45, 30, 35, and 50 pounds.

3) j/fit Slam Ball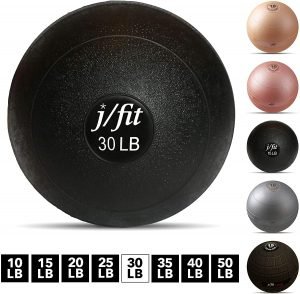 At first look, the slam ball from j/fit looks somewhat similar to Day 1 Fitness's slam ball. This slam ball features a thicker outer layer with 20 percent more skin to the outer core. This provides you a longer-lasting and durable slam ball. Not only that, the manufacturer even added 25 percent more skin to the surrounding valve area. This is to reduce its vulnerability and weakness in that particular area.
The classic slam ball from j/fit features a textured grip. This allows your fingers to perfectly hold the ball and making it is easy to grip and slam into the flour. Should you want something with more texture, j/fit offers their treaded version of slam balls.
They are thicker than this classic one and have a heavily textured grip so you have the most secure hold on the ball. Engineered for durability, these slam balls are suitable for both outdoor and indoor workout sessions. Lastly, this 9 inches diameter slam ball is offered in various sizes. This include 15, 25, 20, 35, 30, 50 and 40 pounds.

The Valor ball is a top pick and favorite for some athletes. Its outer surface is made of 5mm thick rubber that is super durable. Thus, you can slam it and throw it on the ground with your full force without
worrying about damage. Its textured surface also offers you a better grip that helps prevent it from slipping when throwing and slamming it on the ground. The ball features a zero bounce. It changes shape with each slam, offering you the added challenge. In addition, the ball can be inflated with air to the ideal psi using the inflation valve.
The slam ball is available in several weight options. This include 50, 40, 45, 35, 30, 10, 15, and 20 pounds. For added convenience, the weight value is painted in white in the middle of the ball. This allows you to easily identify the right weight, especially if you are getting more than one slam ball.

Here's a great slam ball that looks like the mighty TRX slam ball we mentioned earlier. This slam ball from Yes4All features a polyvinyl chloride outer shell that is built to withstand even the toughest and most brutal slams you can make.
Its resilient shell is rotationally molded for seamless construction. This adds more durability and ensuring that it can't split over time of abuse use. Furthermore, its outer shell is covered with a grooved and textured grip. This allows you to have a firm and secure hold on the ball even with your sweaty hands.
Meanwhile, its inside is filled with sand that prevents it from rolling or bouncing. This allows you to enhance the firmness and balance of the ball. This best medicine balls for slamming are designed for CrossFit workouts, MMA, wrestling, and general athletic training. You can choose from 6 different weight options including 10, 20, 15, 25, 20, and 40 pounds.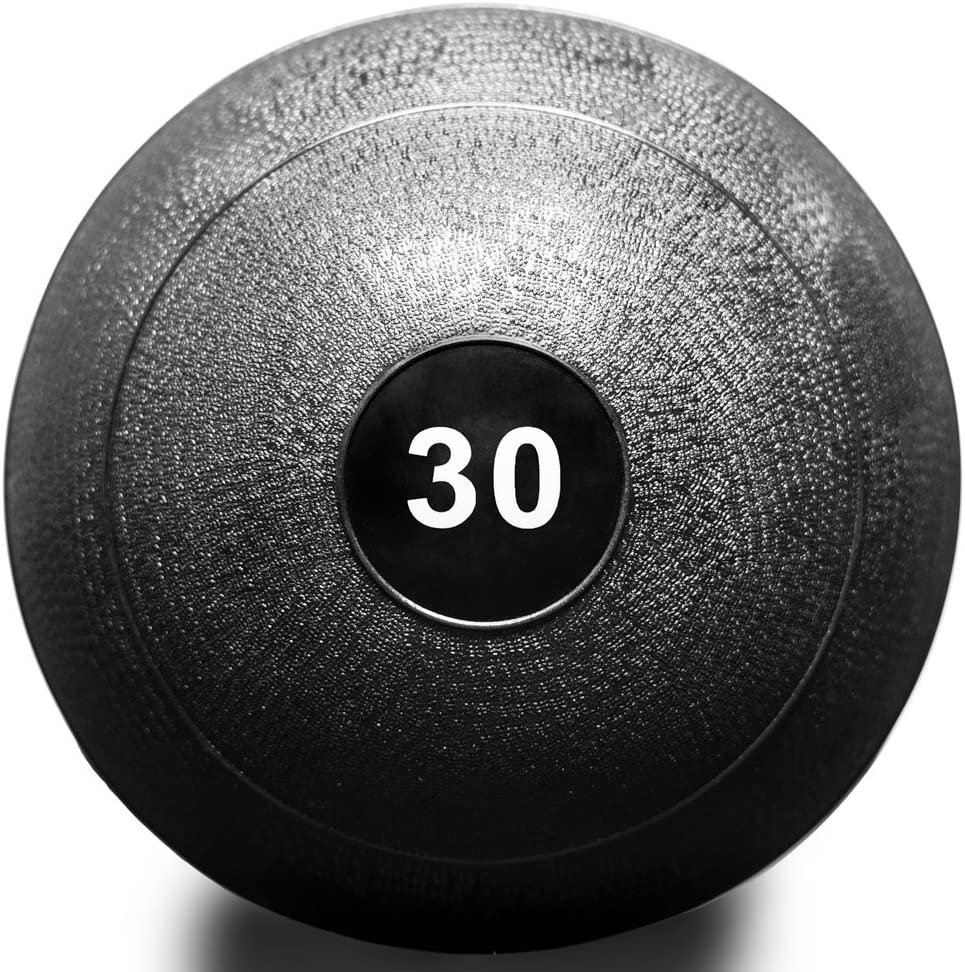 Strong and more durable than most slam balls, this is the promise of the Rep Fitness V2 Slam Balls. The version 2 slam ball from renowned company Rep Fitness is designed to endure the abuse of most Cross Training exercises and well as slamming workouts.
Rep Fitness claims to create much stronger slam balls with up to 50 percent thicker shell than its previous slam balls. That and the reinforced air nozzle allows you to slam these balls over and over again without damage. The balls are also made with the extra-grippy outer core. This way you do not have to worry about slipping balls in the middle of your workout routine. Inside, the slam ball is filled with sand. This offers you a low to no bounce that adds a challenge to your workout routine.
Available in several sizes, from 5 pounds up to 100 pounds, you have a wider range of options. Take note that slam balls weighing 30 pounds and under have a 9 inches diameter. While those balls weighing 35 pounds and more also gets larger as you go up in weight. To ensure the quality and promise of these slam balls, Rep Fitness also offers a full 6-month warranty for commercial use and a 1-year warranty for home use.

This slam ball from RAGE Fitness is considered to be one of the most durable and toughest slam balls out there. It features an outer shell made of heavy-duty and ultra-durable rubber. It is also a high endurance impact approved slam ball. This way you can slam and throw it with all your might without worrying about damages.
Meanwhile, its slick black color helps keep it looking clean and scuff-free. The textured surface also provides you a nice grip. Thus, you don't have to worry about your sweaty hands or the ball slipping away when working out.
This slam ball also allows customization. You can adjust its air capacity and overall fitness thanks to the air valve. Still, the ball offers a zero bounce that is ideal for various throwing and slamming routines. Like most balls in this list, this one also comes in various weights to choose from.

Frequently Asked Questions
Q: Can I use a medicine ball for slamming?
A: Sure you can. There are some med-balls designed for soft slamming. However, if you want to try out your explosive strength at full capacity, then you better consider slam-balls instead.
Medicine balls are simple weighted balls that add resistance to every movement in your workout. Meanwhile, slam balls are designed and manufactured for high impact.
Sure you can slam both balls. However, slam balls are tougher and can be used in any conditions. Meanwhile, medicine balls, especially the softer ones, won't be able to take high impact and get damaged easily.
Q: Can I use the slam ball as a medicine ball?
A: Of course you can! This is what makes the slam ball highly versatile than medicine balls. While the medicine balls don't work well as slam balls, a slam ball works really well as a medicine ball.
Medicine balls are simple. They the easy-to-hold way of loading your workouts without using barbell or dumbbell. Slam balls are exactly the same. Yet, they are more durable and do not bounce so they offer you a greater range of workouts as a result. The only problem is that you can't incorporate any workout that requires the bouncing motion since slam balls won't be able to bounce.
All in all, there is very little reason to pick up a medicine ball over a slam ball. With the added resilience and capability of putting maximum force into a slam ball, makes this a winner. Remember, you can perform all medicine ball throws that you want with the slam balls, but not vice-versa.
Q: How to use a slam ball?
A: Slam balls are pretty popular in hardcore training such as CrossFit.
The primary workout you'll be doing with a slam ball is, of course, slamming. Here you lift the ball above your head. Then using your power to throw it down at the floor as hard as you can. Do this while bending your knees ever slightly and activating your core in order to create the best form and providing more force.
From this position, squat down to retrieve the ball. Engaging your arms to lift it up over your head and repeating the movement. By doing this movement quickly or using heavier balls, you'll definitely sweat up and get out of breath.
This full-body movement will work each part of your body to full effect ad can be used to burn out fats and tone those muscles. Aside from slamming, you can also complete a number of workouts with the slam ball. These may include lunges, overhead presses, and squats by holding the weighted ball. This is where you can use slam balls the same way as you would use a dumbbell or a regular medicine ball to add resistance to your bodyweight movements.
Conclusion
And there you have it!
The slam balls mentioned above are just some of the best in the market. We recommend that you buy one from our above list. However, if you don't seem to like any of the above products, make sure to find the right one with our comprehensive guide.
Regardless of what you choose, slam balls are versatile fitness equipment and should find its place in your home gym arsenal. Slam balls should offer you superb strength conditioning, gain explosive power, and better coordination that other heavyweight fitness equipment can't simply give you.