Waking up each day to visit the gym can be a little frustrating, even when you manage to do so, finding the perfect spin class could be such a big deal. Like me, you would definitely love to roll off your bed, get on a spin bike, and burn that fat indoors, right? Well, that's possible with spin bikes. These spin bikes afford you the opportunity to carry on your workout sessions from the convenience of your home.
Most people have found it quite difficult when it comes to picking the best spin bike to settle for. If you're one of those, not to worry, I've got you covered. I'll be discussing some of the best spin bikes you can choose from.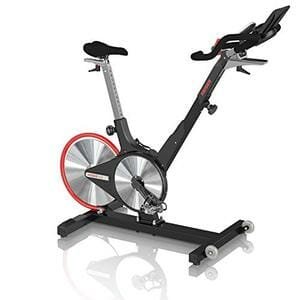 This advanced and high-end spin bike comes with a matching price tag. If your budget allows, getting this spin bike could be one of the best decisions you will make.
Built with quality materials, the Keiser M3i Cycle Bundle has been designed to be stable, sturdy, durable, and low maintenance. Designed with a modern look, this spin bike is ideal for all types of body size and shape. In addition to its modern and advanced look, the Keiser M3i Cycle Bundle comes with a smart computer that displays all the information you will be needing for a purposeful workout session.

Built with some of the best materials, the Evolution Pro Indoor Spin Bike is stable and capable of supporting people that weigh roughly 330 pounds. The 44-pound flywheel attached to this spin bike ensures that the bike does not jolt or become shaky during all of your workout sessions.
In addition to coming with adjustable seats for all body types and shapes, this spin bike from Sunny Health & Fitness makes it incredibly easy for you to adjust the resistance as much as you want. It is ideal for both beginners and experts alike.
If you're planning to improve your routine into something more challenging, then I'll recommend this spin bike for you.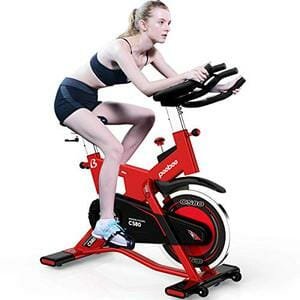 This spin bike was built solely to offer you the needed convenience as you set out to burn fat. Built with a 40-pound flywheel, the Pooboo Pro Indoor Cycling Bike offers quiet and smooth workout sessions.
In addition to its convenient and sturdy design, this spin bike comes with an advanced smart computer capable of tracking your workout performance. It displays the time spent, your heart rate, distance covered, and calories burnt.
In addition to being a smart bike, the Pooboo Pro Indoor Cycling Bike has these impressive ergonomic PU seats that offer an additional level of comfort.

If you're on a budget, then the L NOW Cycling Bike is the best choice for you right now. One of the most interesting features I noticed about this spin bike is its ability to accommodate every body shape and type.
To ensure a smooth, comfortable, and quiet workout session, the L NOW Cycling Bike has been built with an adjustable seat. In addition to being a sturdy and budget-friendly spin bike, this bike comes with a smart display screen that tracks your performance, the distance you have covered, your calories, and your blood rate.

Being a mid-range fitness spin bike, this spin bike offers you value for your money. Unlike most of the others mentioned, the Bladez Fitness Master GS Spin Bike offers a realistic and impressive riding experience that cannot be matched.
Built with a 44-pounds flywheel, this is currently one of the best exercise bikes you can get your hands on right now. In addition to having a sturdy construction which makes it quite heavy, it comes with an LCD display screen that helps you keep track of your performance amidst other important aspects of your workout sessions.

Conclusion
Getting the best spin bike for your daily workout sessions is easy if you know the best one to go for. These exercise bikes mentioned here have been built to offer you an impressive cycling experience. While most of them come with more advanced features, you would definitely agree that they are good bikes to choose from.
Spin bikes are ideal for people seeking to lose a couple of pounds. While visiting a gym regularly may prove to be a herculean task for you, getting any of these bikes I've discussed above will definitely help you improve your workout routine and your general performance level.