The great thing about the world today is the opportunity to choose from a variety of items and equipment. We have a whole lot of ellipticals in the market today, and they all come in different structures, colors and, prices; choosing one has got to be difficult.
Just in case you're in search of the best elliptical under 1000 to get started with, or you already have one, which isn't working as expected, you'll feel a lot better and be able to make a better decision at the end of this review. Unless you have a brand, you choose to remain loyal to; this article would be of great help to you. Below are the top five best elliptical under $1000;
Schwinn 470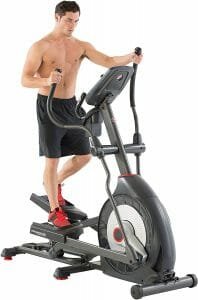 The Schwinn 470 is a compact elliptical under 1000 and our top pick for today. It is stylish and rigid, so you'll be using this elliptical for a long time without bothering about damages and frequent repairs. Just so operating this device and having fun while exercising it features a Dual Track LCD Display, media shelf, adjustable fan and, MP3 console speakers.
It could also be connected to the Schwinn Trainer App and other apps like it for an easy guide to exercising right. Just in case you feel like working out harder or you're preparing for a race, it has 25 levels of resistance and 29 different workout programs too.

Nautilus E616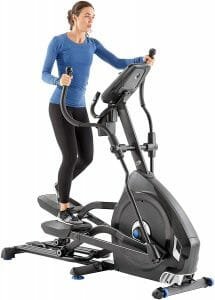 The Nautilus Elliptical Training Series is one of the big sellers in the home fitness market. The durability, function and, design of their machines has earned them the top spot and the Nautilus E616 has proven to be one of their best products yet.
Its ergonomically designed handlebars make it easier to hold in different positions. For a more intense and efficient workout, this elliptical features 25 levels of resistance. You also get to listen to good music while working out and an adjustable fan to cool your skin. With 29 different fitness programs, you get to feel a lot healthier after each workout session.

Sunny Health Fitness SF-E902
Get to work out with confidence with this elliptical with non-slip pedals that'll keep you balanced whenever you need to stroll or run like you're in a race. With the Sunny Health & Fitness SF-E902, you don't just exercise your heart; you also get a total body workout – legs, hands and, abdomen. It features a fully functional LCD monitor, which displays the time, distance and, calories burnt. Its adjustable abdominal pad also keeps you comfortable during your work out session, it'll keep you in place. You also get to fold this elliptical into half whenever you're done working out to save space.

Horizon Fitness 7.0 AE Elliptical Cross Trainer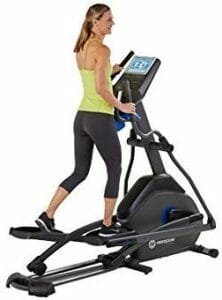 We also have one of the best elliptical for home use on our review. Get intense work out switching between 20 levels of resistance. With this elliptical, you can control your workout sessions with an already included app that'll keep you on track at all times.
Its certified six-star frame has perfect ergonomics that'll keep you comfortable when working out and even when you're trying out different positions. You also get to listen to your favorite songs and playlist while working out, all thanks to its Bluetooth connected integrated speakers. It also features a device holder, so you get to keep your phone close by just in case a call comes in.

Sunny Health Fitness SF-E905
Finally, we have another elliptical from Sunny Health & Fitness, so we expect this to be a good one. Take note of your progress and give yourself room for improvement with its LCD monitor that displays time, calories and distance walked. It also features handles that give you enough support to maintain your balance.
Run as fast as you can or walk as slowly as you like, you'd never fall off with its non-slip pedals that keep your feet firm. This elliptical machine also features an adjustable resistance knob to reduce or increase the intensity of your work out.

Conclusion
Staying healthy, entertained and feeling a sense of accomplishment wouldn't be so difficult anymore with the help of the best elliptical under 1000. You get to look good and save money at the same time. The above-reviewed machines are sturdy, of great ergonomic design and, easy to use and control.
Listening to good music while working out is both fun and therapeutic, and these elliptical machines help you out with that. I hope this article has been able to convince you and stop you from purchasing that terrible elliptical machine you almost bought and save you from going through the stress of trial and error.