The elliptical machine is a favorite piece of cardio equipment. It is ideal for those who love cycling or walking without going outdoors. Plus, ellipticals are the best cardio machines that will not cause trouble on your joints and is suitable for those recovering after an injury. There are lots of elliptical machines out there. The challenge now is finding the right one based on your workout and personal requirement, specifically one that fits your tight budget. Read Here: Top 5 Best Elliptical Under 1000
You see, most elliptical machines are expensive. This is why most people are less interested in investing in elliptical machines. The good news is, you can find a good quality elliptical at an affordable price. It can be difficult, but we already did that for you. Here are the best elliptical machines under $300.
Top 5 Best Elliptical Machines Under $300
The EFITMENT E006 Magnetic Elliptical Machine offers you a smooth-slowing and no-impact workout for your lower and upper body. Featuring a belt-driven flywheel, this elliptical ensures a smooth, quiet and maintenance-free workout.
With the 13 inches stride length, this elliptical machine is able to accommodate the average user. To monitor your heart rate, the E006 features a hand pulse sensor-equipped into the stationary bars. This allows you to track your heart rate and is useful for determining your workout goals.
Boasting 8 levels of magnetic resistance you can change your workout routine to be more challenging. It is also super easy to adjust with just a simple twist of the tension knob. Thus, you get to meet your fitness goal while progressing to another level of fitness.
Meanwhile, the bright LCD monitor shows you the speed distance, time, pulse rate, calories burned and scan. For your comfort, the elliptical also has a textured, large and slip-resistant foot platform as well as handlebars for balance and safety. In order to prevent tipping on uneven surfaces, the elliptical features leg stabilizers. Simply turn the End Caps until it is level to the surface. With the portability wheels, you can simply tip the machine upward and move the machine from one room to another. For the ultimate convenience, it also has a tablet and phone holder so you can watch fitness videos or movies from the digital monitor.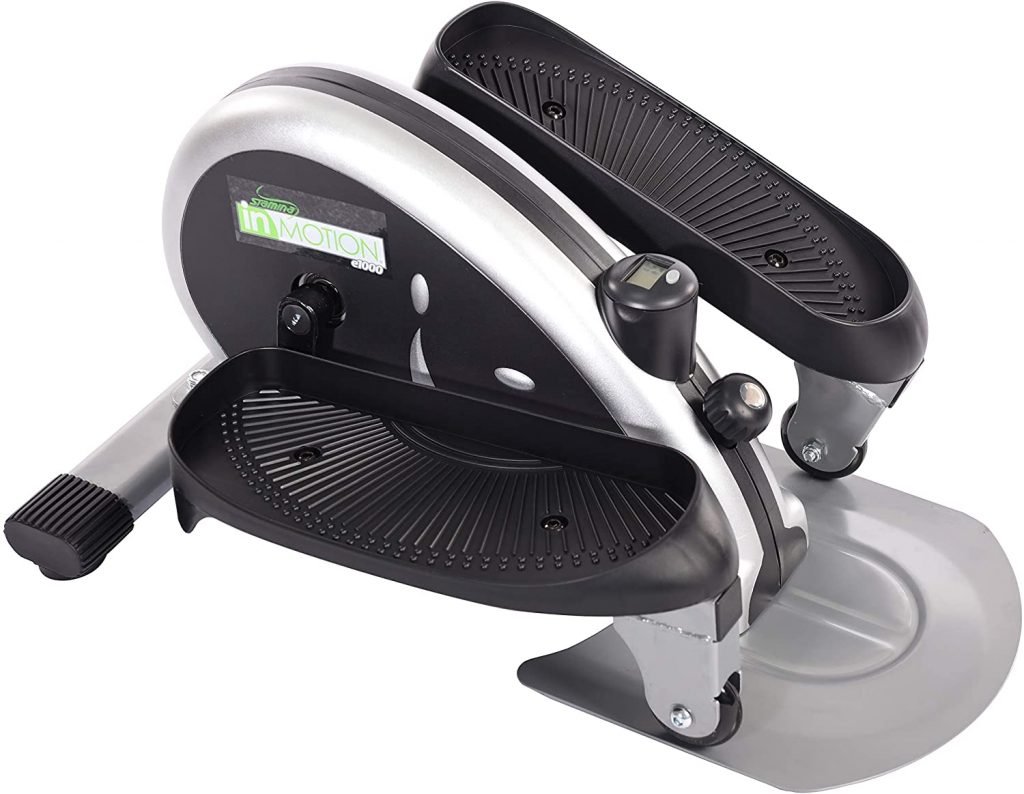 Boasting a 4-star rating with over 4,000 reviews on Amazon alone, the Stamina InMotion E1000 is one of the best portable ellipticals you can find. This under-desk elliptical can be used standing, sitting or by pedaling in reverse motion so you can get a versatile and convenient workout throughout the day.
Compact and lightweight, this strider is easy to use and transport. It is unobtrusive and quiet too. Its minimal space requirement is only 24.5 x 17 inches. But don't let its small size fool you.
This strider features an adjustable tension knob. This way you can change the intensity of your workout. See your workout data with the small display monitor below the pedals. From there, you can see the total strides, the number of strides per minute, calories burned and exercise duration. The device also has a scam faction so that you can see your workout stats periodically
Meanwhile, the textured pedal allows you to pedal with ease and comfort. Despite its small size, it can still accommodate up to 250 pounds of weight.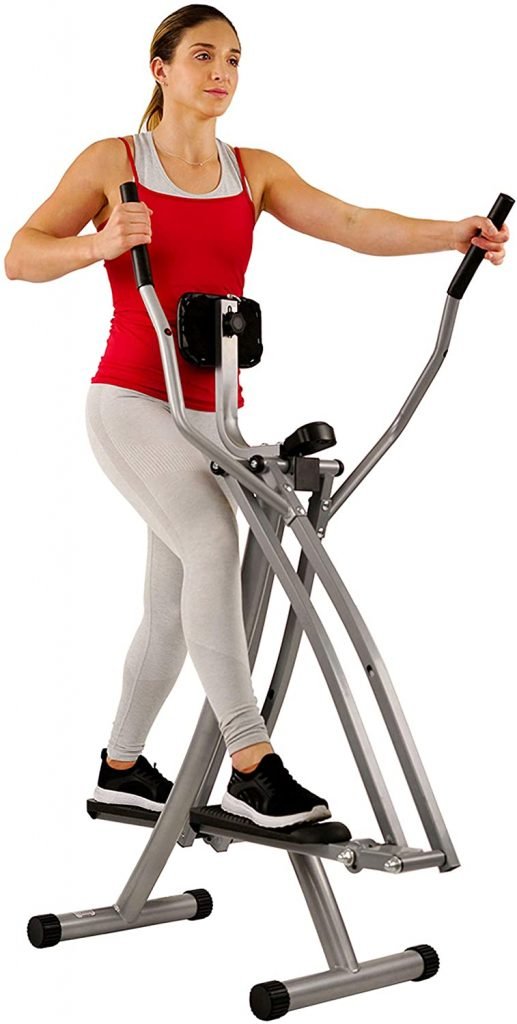 Another reliable elliptical machine under $300, the SF-E902 from Sunny Health & Fitness is a nice option. This air elliptical trainer offers you a superb aerobic workout. It gives you all the benefits of walking, stretching, cross-country, running and aerobic dancing. It does all that without the damaging impacts and jarring movements to your body.
With a long 30 inches of stride, this elliptical machine allows you to propel your legs backward and forward with stability and ease. This should allow you to extend your legs further. Thus, you can work on your hamstrings and deep muscles for more engaging workout sessions. Meanwhile, the non-slip footpads eliminate the issue of safety and balancing as you work out. In addition, the oversized texture design accommodates all feet sizes while ensuring a firm grip during an intense workout. Keep tracking your workout progress with the bright digital monitor.
This screen display will the time and distance of your workout. Also, the convenient scanning mode displays all crucial data as you work towards your fitness goal. To challenge you, even more, there is also the built-in fitness programs you can choose from. With its sturdy and durable build, this elliptical trainer has a maximum weight capacity of 220 pounds. Meanwhile, its premium and heavy-duty steel frame are built for even the most intense workout session.

Another great under-desk elliptical model, the Cubii Jr is a popular device for those who like to workout while doing paperwork. This low-impact and straightforward elliptical allow you to get a heart-pumping workout while sitting on your desk. This makes it perfect to prevent a sedentary life that most office workers have.
Manufactured and designed to be super quiet, you can use the Cubii JR and discreetly workout without disturbing your co-workers. Meanwhile, its smooth and low profile elliptical motion will ensure that your knees won't hit the desk. With the patented ergonomic angles, this under-desk elliptical provides a smooth motion that has minimal impact on your joints. This makes it ideal for home rehab or those looking for a joint-friendly workout device.
It is also fully-equipped with a display monitor in between the pedals. This allows you to monitor and track your workouts in real-time. It even records RPM, calories burned, distance, time and stride. Not only that, it even has 8 resistance levels which you can adjust with the convenient tension knob. This way you can control and adjust the intensity of your workout routine. With its small and simple design, it is super easy and quick to assemble. Just take it out of the box, fix the 4 screws and you are done.

Last but not the least, we have a compact and electricity-free elliptical machine for everyone. The Body Rider Fan Elliptical Machine features you motion handlebars that synchronously move with the pedals. Thus, it allows you to work your lower and upper body while offering zero impact on your joints.
Its chain-driven fan wheel runs smoothly and quietly for a nice cardio workout experience. You can also control its resistance level. You only need to adjust the friction belt tension control knob. This should provide you a challenge and progress in your workout routine.
Meanwhile, the Smart LCD screen offers you real-time monitoring of workout data. The multi-functional console monitor shows things like speed, distance, time and even the calories burned during your workout.
Measuring 25 x 9 x 36 inches, this elliptical trainer is compact and small enough to fight tight spaces and small home gyms. To make it easier for you to use, the elliptical machine even comes with a workout video. This should help guide you on product usage.

Buying Guide: Choosing The Best Elliptical Machines Under $300
Purchasing an elliptical machine is a major decision that should not be taken lightly. Even with the budget ellipticals, you are still spending hundreds of dollars. Thus, it is important that you know a few considerations before making a purchase.
1) Full-Size VS Under-Desk Ellipticals
When talking about the elliptical machine, you might be thinking about the full-size machines complete with a handlebar and pedals. These are the traditional design of the elliptical trainer. They allow you to train both your upper and lower body and keep your heart pumping.
However, if you are looking for a smaller, more compact model, there are also the under-desk ellipticals. These are the full-sized ellipticals without the handlebar and large flywheels and console.
In short, they look like a pair of biking pedals with a tiny track. Thy does not offer much stride. However, they are suitable if you do not have the time to work out outside your office. You simply place them under your desk and work out as you do the paperwork.
2) Resistance
This refers to how effective the elliptical fights your motion. Resistance levels provide you a challenge on your cycling workout. Models from this price range offer a various number of selectable resistance levels. This may range at least 6 – 8 resistance levels or a maximum of at least 16 – 18 in the higher end machines.
Furthermore, most ellipticals under 300 feature the "air resistance system". This means that as you move, the fan inside the wheel blows air inside to create resistance. So, the faster you pedal, the higher resistance you have. The only problem is that they tend to be quite noisy.
Now, for a quieter experience, go with ellipticals with magnetic resistance. Although rare, there are ellipticals under 300 featuring this type of resistance. 
3) Stride
Most ellipticals on this price range will feature a stride length from 10 to 22 inches long. This should be enough to comfortably accommodate the average users. You need to consider various stride lengths depending on how you want to use the machine and your body size.
For the runners, a longer stride is recommended. For the walkers, a shorter stride length is good enough. Not shorter users under 5 feet 7 inches can comfortable workout with 15 – 20 inches of stride. However, for the taller ones, a 20 inches or more stride length is suitable.
4) Incline
Although rare in this price range, if you can find one with this feature, then it is definitely welcome. Inclines can be fixed or adjustable. Cheaper models will feature a fixed incline. This is more than enough for those looking for a bit of challenge in their workout routine.
However, for the athletes or those who want to hike and wish to lose a few more pounds than usual, then adjustable incline is a useful feature. Still, this is a feature that you will mostly see on the more expensive models.
5) Weight and Structure
The stability of an elliptical machine is among the primary factor to consider. This helps you determine just how safe and stable the machine is while you work out.
The weight of the machine, as well as the flywheel, will guarantee the stability of the structure. Meanwhile, a solid and sturdy construction should allow you to use your investment for years to come. In addition, it is also important to find an elliptical that can support your weight. Most elliptical machines on this price range can accommodate up to 300 pounds of weight.
6) Flywheel
As mentioned before, the flywheel guarantees a stable and sturdy ground as you work out. In addition, the location of the flywheel is also crucial. A wheel located at the front favors muscle gain. While a rear-wheel will help you gain endurance and promote weight loss.
7) Handlebar
Another essential element that you want to look at is the handlebar. The handlebar will determine whether you will build your upper body or not.
Stationary handlebars mean that you won't be able to move them and only acts as a stabilizer for your upper body. Meanwhile, movable handlebars allow you to train your upper body and work synchronously with your lower body.
8) Training Programs
The best elliptical trainer under $300 features several options for training programs. They feature pre-recorded programs in the console, depending on your workout goals and what you wish to work on. The elliptical guides you to perform a certain type of training whose intensity and duration are set automatically but the machine.
9) Display
Unlike high-end ellipticals that you find in most gyms and fitness centers, elliptical machines under 300 offer you limited display screen. Still, they offer you valuable data and information. These may include:
Training Duration: This is probably the most relevant parameter for most users. It shows the total amount of time you've been at it on the machine.
Calorie Count: This shows you the estimated calories burned during your training.
Cardiac Activity: When the elliptical machine is equipped with a heartbeat detection sensor, it displays data on your cardiac activity and monitor your heartbeat precisely.
Traveled Distance: In addition to displaying the duration of your training, some ellipticals also displays the total distance that has been traveled during your workout.
Resistance Levels: When the elliptical features magnetic resistance, it can also display data on the set resistance level during your training.
These are just some of the data provided on a basic display. Some machines even allow you to record your data and keep track of your workouts. This allows you to monitor your progress or the goals achieved over time.
10) Pulse Monitor
As mentioned before, there are some models that monitor your heart rate as you work out.
This can be done in 2 ways.
First, some models feature sensors on the handlebar. They take the pulse from your arm or hand and displays the data on the machine's screen.
The second one is through a chest belt or strap. These are more precise devices that you need to wear throughout your workout to monitor your heart rate. It displays the data on the console via a wireless connection. As you would expect, the latter is more often seen on the higher-end and expensive ellipticals.
11) Comfort and Convenience
Most elliptical will offer you padded and contoured handlebars. This offers you comfort even after extended workout sessions. Also, you need to take a look at the machine's pedals. Probably the biggest concern for most users, pedals that don't fit your feet can make it impossible or difficult to have a fulfilling workout.
If you can, find an elliptical with adjustable pedals. This should help you change and make them fit your feet better. Other ellipticals offer convenient features in the form of a bottle holder, USB ports and speakers. A bottle holder should help keep a bottle of cool water within your reach.
Meanwhile, USB ports provide you a charging station for your mobile device as you work out. On some models, the USB port allows you to insert a USB thumb drive to download and upload workout data. Lastly, the speaker should allow you to work out to the beat of your favorite songs without wearing the annoying earphones.
12) Space Requirement
Another thing you want to consider is whether the elliptical can fit into your home gym or not. The good news is that most elliptical on this price range are generally smaller and have a compact design to fit even small apartments or home gyms. What good is a nice and affordable elliptical if you can't fit it inside your room or home gym?
13) Warranty
An elliptical under $300 is still a big investment. Thus, you need to determine if the model offers a back-up warranty for your peace of mind. Most models on this price range come with a warranty of up to 6 months to a year or two. Also, it comes with a lesser warranty period for manufacturing parts as well as labor and maintenance services.
Frequently Asked Questions
Q: Is elliptical better than a treadmill?
A: Both machines are great for a cardio workout. However, they differ in the way they train your body. In general, ellipticals are more compact and smaller. They also train both your lower and upper body at the same time. But the main advantage of an elliptical is that they are easier on your joints.
In short, ellipticals are better for those who are recovering from lower-body injuries as well as those looking for a low-impact workout. Meanwhile, treadmills are said to be best for an intense cardio workout. Thus, they make favorite equipment for the athletes. Treadmills also mimic outdoor running better than an elliptical.
Still, since it is a high-impact workout equipment, they are also quite stressful on your joints and may cause injuries if you are not careful.
Q: Can I get injured with an elliptical machine?
A: Ellipticals are considered low-impact and a favorite for those suffering from joint problems or recovering from injuries. However, it does not mean that it cannot cause injuries.
Some training experts will caution you regarding elliptical that does not offer a natural stride as that of jogging, cycling or walking. It restricts your mechanical motion and risking you from injuries.
However, the high injury risk is mostly a result of abusive or wrong use of the elliptical machine.
Q: What are the benefits of elliptical machines?
A: Like any physical activity, an elliptical influences your state of health.
Its main benefit is for your heart. Being a machine for a cardio workout, ellipticals help stimulate your blood circulation, push your heart to pump faster and help develop good cardiovascular health. Like the heart, the elliptical also allows you to work on your breathing and providing you with stronger lungs.
Also, ellipticals allow you to work out in a motion that mimics natural walking, cycling and running. It does these without the impact and force that may cause serious injuries on your joints.
Probably the most common reason why people like the elliptical, this machine can help with weight loss. Like any physical activity, working out on an elliptical machine will make you sweat and keep your heart pumping, burning all those unwanted calories.
Conclusion
So there you have it! Picking the best elliptical machine under $300 should be a bit easier for you now! Make sure to look for the features that you need most and let our buying guide lead you to the best elliptical machine under 300. If you trust us, consider picking an elliptical from our list above. We guarantee you that they offer good features that should help you start working toward your workout goals today!