There are many benefits to having and maintaining healthy body weight. For one, you will be protected and less prone to a number of illnesses. Your risk of having heart disease, stroke, some forms of cancer, diabetes, and osteoporosis is significantly reduced. There are a lot more diseases you'll be at low risk of having, but we'll just stop with the above ones. 
So how do you know your weight? The answer is obvious; you need a weight scale or, as it's also popularly referred to, a bathroom scale. Weight scales are also called bathroom scales because the bathroom is the standard location to put them in the Us. But you don't necessarily have to put them in the bathroom. 
Now the first thing you want your bathroom scale to have is accuracy. There are a lot of weight scales out there that give you the wrong figures. There's just too much error and variation. And this makes most bathroom scales unreliable. Read Here: Best Knee Brace for Working Out: Top 5 Editor's Picks
But we know you want one of the best bathroom scales in the market. Something that gives accurate and reliable data. So we did a lot of research and testing to come up with the ten best bathroom scales. The best bathroom scales measure more than your weight.
Your body fat level, body mass index (BMI), visceral health, and cardio health are other parameters that can be monitored by these high-end weight scales. You probably raised an eyebrow when we said some scales could measure body fat. Yeah, don't be too surprised. Scientists are always coming up with new innovations. 
Top 10 Best Bathroom Scales Reviews
This list will contain scales that measure only your weights as well as those that measure other parameters. If you need extra information, go for the latter. But if all you need is just your weight, go for the more basic models. So here we go.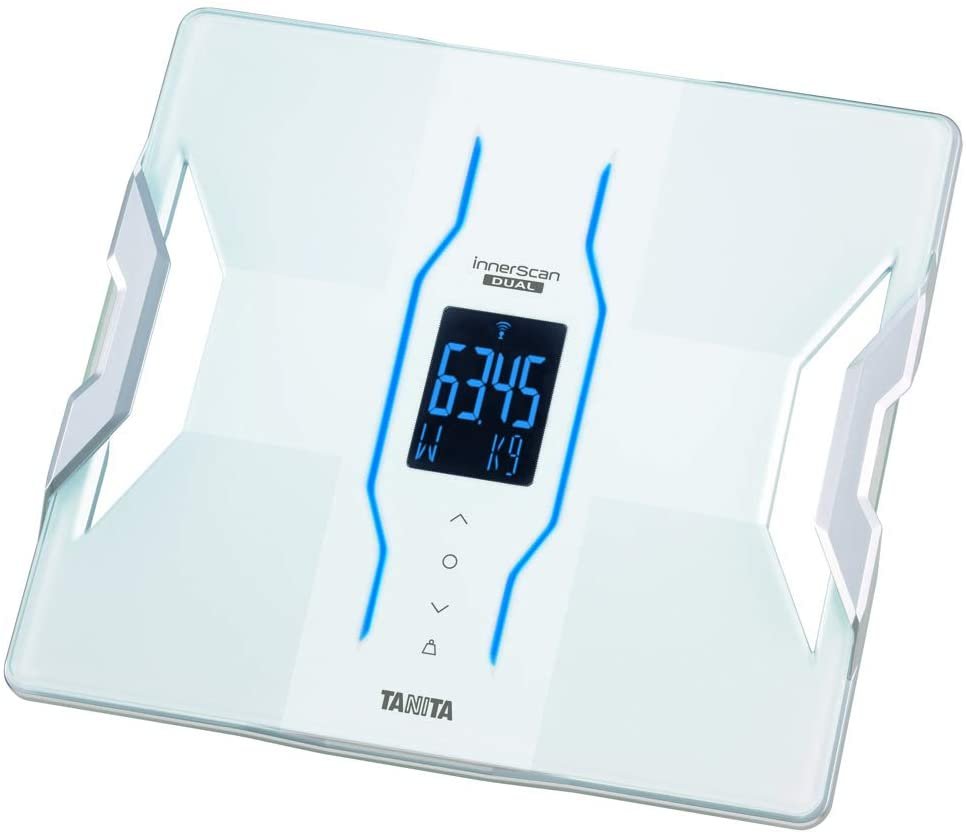 This smart monitor scale wins our best bathroom scale in the market award. And it does a lot of functions than your average weight scale. Starting with the design, this bathroom scale is very stylish and it also has touch functionality. Overall, it has a sleek design and will suit your bathroom if you decide to put it there.
Your measurements are displayed on a large LED screen. Your view of the screen isn't blocked even when you are standing on the scale. The portable design also means you can easily keep it in a cupboard or shelf. You can measure your weight (obviously), body fat %, muscle mass, and quality, BMR, metabolic age, body water, and visceral fat. It is all these parameters that make us choose this bathroom scale as the best. 
Four long-lasting AAA batteries power this weight scale. All your data is sent to a cloud-based account you will set up when you purchase this product. This bathroom scale gets information by sending tiny, harmless electrical signals into your body. 
The Tanita RD-953 is high-end equipment and the price tag reflects that. The accuracy and reliability of its results are what we like about this bathroom scale. 

If you are already a Fitbit user, then you should get this scale. But you don't necessarily have to be a Fitbit user to use this weight scale though. The Fitbit Aria 2 is very similar to the Tanita RD just that it has simpler functionality. But the Aria has better aesthetics and is more connected. This device is easily one of the best weight scales in the market. 
But it doesn't only show you your weight. Your weight is not very useful alone, so this scale also tells you your BMI and body fat percentage. All of your information is uploaded to your Fitbit account. And this allows you to monitor your trend in your weight measurements and see how fast you are gaining or losing weight. 
Three long-lasting AA batteries power this weight scale. Also, this bathroom scale can withstand about 400 pounds. A winky smiley face welcomes you the moment you get on this scale. It's a subtle feature we like very much. There are also a number of personalized icons you can work with. 
This bathroom scale also gives accurate and consistent results. You have two options to connect to this scale – Bluetooth and Wi-Fi. You need to be a little patient when using this scale as it takes this weight scale a little time to get your full readings. It's something common with all smart scales. 

We hold the Renpho Bluetooth Body Fat Scale in high regard for a number of reasons we'll be telling you. Its superb functionality makes it one of the best weight scales in the market currently. Let's start with the price. The Renpho Bluetooth scale is very affordable. You don't have to break the bank to get this weight scale. And the cool features that come with this product make it an absolute bargain. No kidding. 
It has Bluetooth connectivity as the name clearly states. This scale can handle up to 396 lbs. You go above that, and it gives off an overload warning. The accuracy of this product is to the tenths of a pound. It also measures your body mass index and classifies it either as normal, overweight or obese. Another metric it measures is your body fat percentage. 
Overall, this scale can measure 11 body measurements, which include BMI, water percentage, skeletal muscle, protein, bone mass, muscle mass, fat-free body weight, body age, basal metabolism, and body fat percentage. Yeah, it's a lot. Three AAA batteries power this scale. The connection option is either Bluetooth or Wi-Fi. You can also use nutrition apps and information to track the effectiveness of different diets. This will allow you to discover the most successful programs which you can then adopt. 
The only issue we found with this scale is that it doesn't display all the metrics visually. Only your weight is displayed on the screen of the scale while you'll have to view other measurements on the app. It's not that it's very inconvenient. But it'd be nice to be able to see all the metrics at a glance on the scale. Notwithstanding, this is still a great product. 

So far, all the scales we've been talking about can take different body measurements and connect to different apps, among other fancy features. Well, this weight scale isn't one of them. This EatSmart scale goes back to the basics and does only one thing – measure your weight! 
It just tells you your weight. We know it's not much. But let's face it, sometimes that's all you need. It can be used right out of the box. All you need is to put in the four AAA batteries, and you are good to go. The 3.5-inch LCD screen comes to life, and you can easily choose the unit in which your weight will be measured (kilograms or pounds).
The very first measurement you take won't be accurate as the machine will calibrate itself during that time. Subsequent measurements will then be accurate and reliable. An easy to understand user manual comes with this scale. Read it and you'll get the hang of it in no time. Truly, this EatSmart product is one of the best weight scales available today. 
The scale is made of tempered glass and can handle up to 400 pounds. And the scale automatically shuts down the moment you are finished. Note that you might need to recalibrate this scale if you change its location. Precision is written in the name of this scale and it'll be very ironic if it's measurements are not precise. Fortunately, they are. Featuring four high-gauge precision sensors, it can measure your weight up to the nearest .2 pounds.
EatSmart includes a free body measuring tape in the package. You can easily use the tape to know inches gained or lost around different body areas. Did we also mention that this scale is affordable? It's very pocket friendly and also long-lasting.

Inexpensive with superb functionality, the Salter Ultra Slim Analyser is a bargain scale. We honestly think this is the best deal you'll find in the market. Using Bioelectrical Impedance Analysis (BIA), this scale measures your Body Fat Percentage, Body Water & BMI. These metrics will then let you make proper adjustments to your diet and fitness regime. 
This scale is easy to use and its measurements are accurate. You can activate the Salter Ultra Slim Analyser with vibration. To do this, just tap your foot on this scale and it will come to life. Then get on it to measure your weight. 
Four different people can use this scale with each person having their own account by putting in their names, heights, gender, and age. These data will also be taken into consideration when the device is measuring your body composition. This scale is durable thanks to the toughened glass platform (6mm thick). The LCD screen is easy to interpret and you can change the units of your measurements (kg, st, lb). 



The Omron BF511 is more than a scale. It measures your body composition with clinical accuracy. If just measuring your weight isn't enough, then you should consider going for this product. It's not only among the best bathroom scales around, but it's also among the best smart scales. 
This smart scale accurately measures six body metrics, namely BMI, body fat percentage, skeletal muscle, visceral fat level, resting metabolism, visceral fat percentage. Using light sensors, this product will provide useful insights into your body composition. Bioelectrical Impedance Analysis (BIA) ensures accurate readings. The screen is large and easy to interpret and read. And up to four different people can create an account on this smart scale. There's also an inbuilt memory that stores your data and helps you keep track of it. 
Using this device can motivate you to achieve your diet or fitness goals. This is because you can easily track the progress of your fitness plan and make the necessary adjustments. And it can be used by a whole family. Having the potential to be used by a whole family, the manufacturers used high-quality materials to manufacture this scale. And that makes it durable and long-lasting. 

If you are an athlete, you are going to need a scale that can measure more than your weight. And the Tanita BC 1500 Ironman is the perfect scale for you. It provides you with lots of data. The price is on the high side, so you can look at other scales on this list if it's outside your budget. If you are not an athlete, you won't find most of the features useful. 
This smart scale is made by two big players in the fitness niche – Tanita and Ironman. And it utilizes eight electrodes to measure your body metrics. Four retractable handles and sensors can be found on the scale's platform and they make sure you get precise and accurate readings. 
This sophisticated scale can provide readings for full-body composition (fat/water/muscle) and also specific body parts like left leg, right leg, trunk, right arm, and left arm. The software isn't the most user-friendly but triathletes love it that way.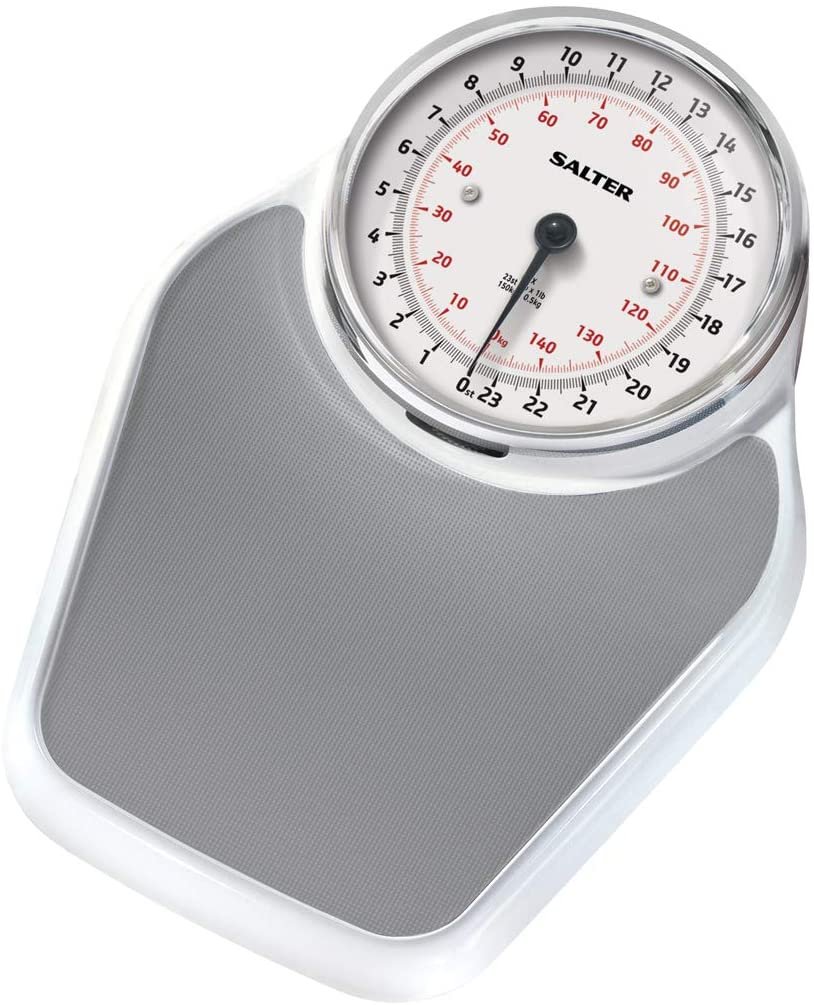 A true weight scale that does nothing more than to measure your weight. No fancy functionality, no extra features. This is great for people that just want to keep track of their weight. And this mechanical scale is very affordable and pocket friendly. Users have given rave reviews about this device and it is truly one of the best weight scales available today. 
This scale can handle up to 150kg. The display is large and easy to read. Also, it has the conventional dial face of weight scales. All the measurements you need are on display and the pointer is very sensitive, thereby giving you accurate results. The platform is large and spacious allowing you to comfortably measure your weight.
Your weight is measured in three units namely kg, st and lbs. And reading your measurements is super easy! This is a sturdy weight scale. Thanks to the solid construction and anti-slip surface, you can use this scale after coming out of the shower. Don't worry, you won't slip. 
We've been mentioning mechanical a lot and that's what this scale is. It isn't powered by batteries and doesn't use buttons. Everything is all mechanical and the scale requires little to no maintenance. And what more, the results from this scale are accurate and consistent.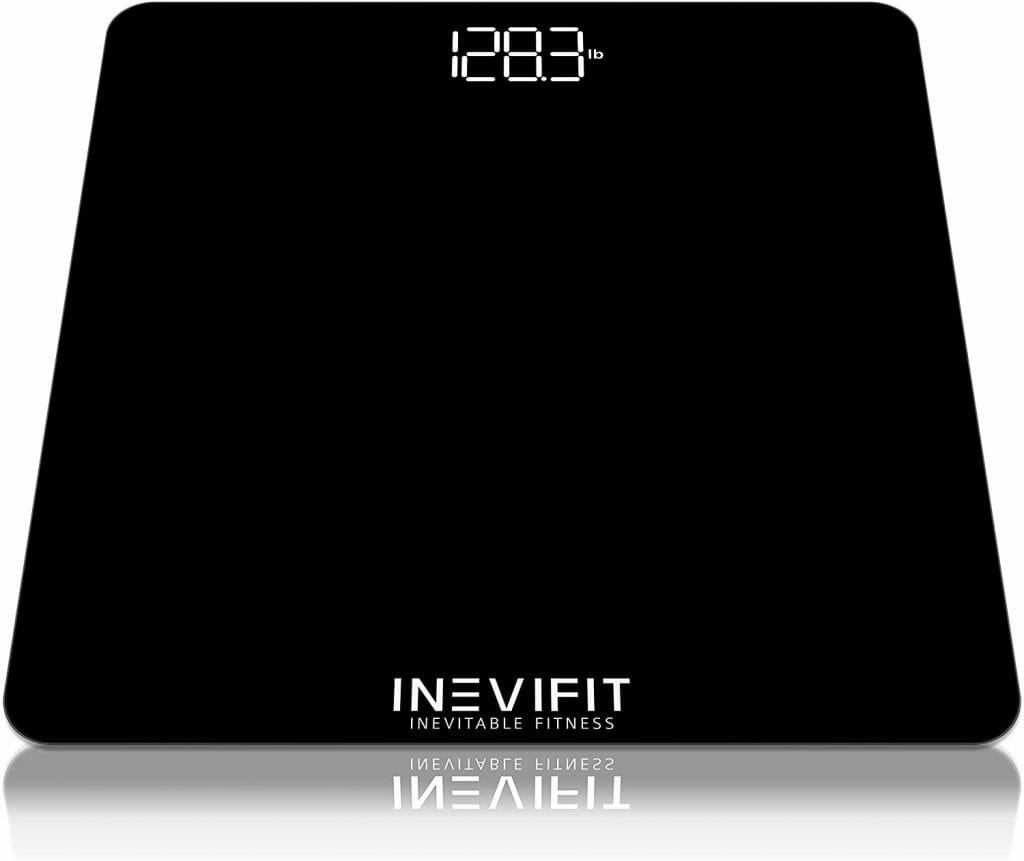 Another scale that only measures your weight, so a weight scale. This scale is very sensitive thanks to the four precise latest version sensors it uses to measure your weight. The results are accurate and consistent making this device one of the best bathrom scales around.
It's very easy to use and features a 3.5-inch extra-large display. You can easily see your measurements from any angle or distance. No kidding! This is a no-nonsense scale. You step on it and get your results almost instantly. The 'Smart and Step on' technology INEVIFIT uses instantly provides accurate results as soon as you step on this scale. No need to waste time checking weight, right?
The platform is made from plastic, a material more durable than glass. This scale also has four rubber feet that provide stability. The non-skid surface ensures you don't slip or fall off this scale even if you are taking your weight after coming straight from the bathroom. 
There are also anti-collision round corners that protect your toe from injury. This scale can handle up to 180kg and units of measurements available include lb, kg and st. And two AAA batteries power this device.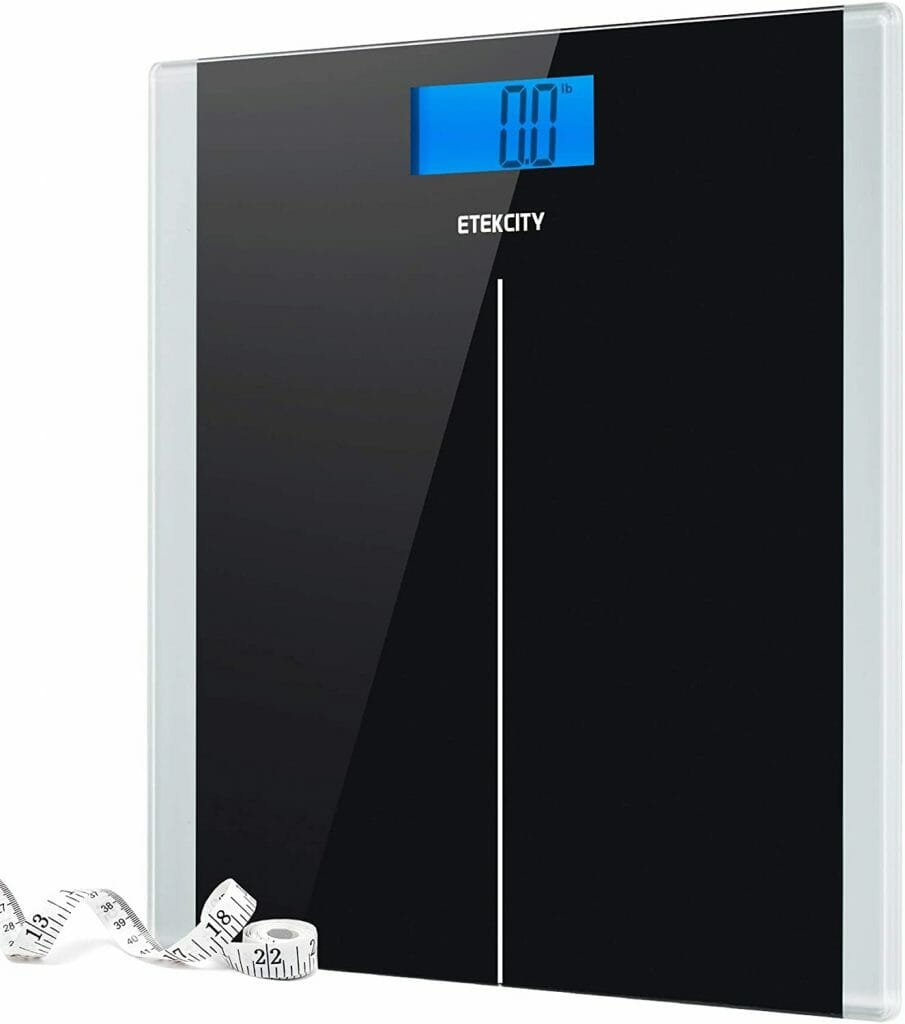 The last weight scale we'll be reviewing. And it's a straightforward scale that instantly tells you your weight. It comes with four high precision sensors that deliver accurate, reliable and trustworthy results. And hey, your readings are easy to read thanks to the sizeable LCD screen. Do you need to see your readings in other units? No problem, there's a button on the scale that will quickly do conversions for you. Results can be displayed in kilograms, pounds or stones. 
The platform is made of ultra-chic tempered glass which is strong and durable. There's also the auto on/off feature which makes it convenient to use this scale. And the two AAA batteries, which power this scale, last longer as this scale will automatically switch off after 15 seconds of no activity. The manufacturers include a free measuring tape which you can use to track weight gain or loss. And the durability of this scale means you'll be using it for a long time. 

How did we come up with this list(Buyer's Guide)?
Bathroom scales have evolved over to years to become devices that can do a lot more than just measure your weight. You know smartwatches can do a lot more than just tell you what time it is. That's how it is with the new generation of weight scales. 
They can track your BMI, body fat percentage and so on. Some can even connect to different apps or software on your laptop or phones. To cater to the needs of all our readers, we included basic scales (those that can measure only weight) and the smart ones (those that have other functionalities). 
This is because people have different needs. Some people may just be interested in tracking their weight. And you'll agree with us that it'll make no sense for such people to buy smart scales especially when they are usually more expensive. But if you need more information about your body composition, feel free to go for smart scales. We also considered the price when compiling this list. So you'll always find a scale that's within your budget on our list. 
Ease of use and quality of display
These are two features we looked out for. You definitely want your weight/smart scale to be as user-friendly as possible. And having a display that's large, easy to read and interpret makes things a lot easier. 
Size
The size is another factor we put into consideration. All the scales on our list are sturdy and spacious. These scales will easily accommodate you and taking your weight will be more comfortable. Small scales won't accommodate you well. And this might lead to inaccurate results and damage to the platform. 
Resistance to humidity
Remember we said the standard location for bathroom scales and smart scales is the bathroom. As such, you should only buy high-quality scales that can withstand moisture and extra heat. Water may splash on the scales occasionally and things can definitely get steamy in the bathroom. So you should get a scale that can withstand these conditions. 
Accuracy
There are lots of scales out there that lie to users. We took the accuracy of the scales on our list seriously and did extensive research and testing on some of them. We only selected scales that produced accurate, reliable and consistent results. The truth is that all scales have some margin of error. However, you want scales that give measurements that are very close to your real body weight and composition. And the scales on our list meet this requirement. 
Features
Yep, what are the metrics you care about? For bathroom scales, it's just the weight. Simple. But if you want more information like BMI, muscle mass, body fat, then you go for smart scales. 
Most smart scales can support multiple users. Then the scales automatically distinguish each user based on their weights or local Bluetooth profiles from a person's phone. It's not always flawless though as the device can mistake one person for another if their body weights are similar. But hey, you can always manually correct the profile. A number of users that can be supported vary among scales and can be four, eight or as many as sixteen. 
Durability
This is another feature we don't joke with. What's the essence of buying something that doesn't last? We checked for the durability of the scales on our list and they all passed in flying colors. People that are using those scales gave us rave reviews when it comes to durability. 
Conclusion
The above bathroom scales will help you keep track of your weight and other parameters you want. We also talked about how we compiled this list (it's a buying guide actually) so you can make informed decisions when buying a bathroom scale.  Choose one today and start keeping track of your weight and fitness goals.