Dumbbells are typically used for weight exercises. The benefits are wide and varied but that depends on how heavy are the weights that you use. Dumbbells will help improve your muscle tone, strength as well as your cardiovascular endurance among many other things. Lighter dumbbells,5lbs or less, generally help with cardiovascular health. You can use them while on a treadmill or aerobic exercise. Heavier dumbbells are used by athletes to help them with bodybuilding.
Looking for the best dumbbells will depend on the kind of exercise that you want to do. You can adjust the weight based on your strength and endurance and opt for a heavier weight as you get stronger. The best thing about adjustable dumbbells gives you the opportunity to listen to your body. The best adjustable dumbbells will give you the option to add, subtract or adjust the dial on your dumbbells easily so it will better fit your training regimen. Adjustable dumbbells offer you the versatility of wider weight options while removing the hassle of weight machines when it comes to portability.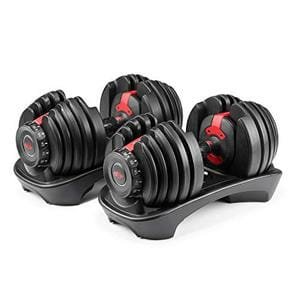 This all-in-one adjustable set gives you the selection of weights of up to 52 pounds. You can easily switch from one weight level to the next without the bulky additional plates cluttering your space. Turn the dial and just like that before you know it, you're strong enough to lift 52lbs of weight. This adjustable dumbbells dial-up in increments of 2.5lbs up to 25 pounds from then on the weights adjust 5lbs heavier each time you turn the dial. These dumbbells also come with a stand for easy storage. You can also download the Bowflex app so you can keep track of your exercises. If this isn't the best adjustable dumbbell you can find then just let the ratings and reviews speak for themselves.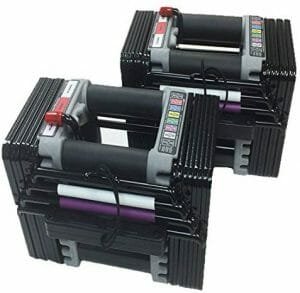 PowerBlock has been making adjustable dumbbell sets since 1991 so you know they definitely know what they're doing. They are one of the first to develop this equipment. This dumbbell set can hold 70lbs of weight and then a max of 90lbs. The PowerBlock Elite features a straight padded handle. The side rail of the dumbbell has a color band that corresponds to a weight chart so you can easily identify how heavy you're lifting. The weight spans from 5lbs to 50lbs and additional weight extensions of 70lbs and 90lbs can be purchased for a more challenging lift.

A more traditional selection of adjustable dumbbells but you know what they say, nothing beats a classic. This set can be perfect for beginners to professional athletes. The grip is diamond-knurled design for a better grip capacity. You can easily add or remove weight to customize your weight exercises that will suit you perfectly. Safety will not be an issue, the CAP adjustable barbell has threaded ends with a spin-lock collars with rubberized O-rings that will safely secure the weight plates onto the dumbbell.

Ativafit offers an adjustable all-in-one dumbbell. Easily adjust from 5.5 to 27.5lbs with the equipment's push-pull design. Never worry about accidentally dropping your dumbbell with the soft grip, textured handle of this adjustable dumbbell. This dumbbell is perfect for strength, weight, and toning exercises. Save money and space with this set. One dumbbell is equal to 4 dumbbells of different weight. It's designed to be compact so it won't take up a lot of space at your home or gym.

This dumbbell set includes a dumbbell connector that will easily transform your two dumbbells into a barbell giving you a wider variation of your exercise. It's perfect for all types of fitness buffs. The plates are made of cast-iron material giving them a longer life span. The two 15in diamond knurled handles are designed for safety and better grip for a worry-free exercise. Add and remove plates based on your exercise program for maximum effectiveness.

Conclusion
Get your mind and body better with the help of adjustable dumbbells. Train your muscles and your joints for better strength and endurance. Free weight training will give you a wider range of motion therefore a wider range of exercises to choose from. Like any exercises they are more effective with the right technique, form, and equipment. It's advisable especially when moving up to a heavier weight training with dumbbells to consult a trainer so you can avoid any future injuries. Don't compromise your health while trying to get fit.