We all know it takes a whole lot of will power to embark on a fitness journey. We have our dream bodies all pictured in our heads, but one way or another, we get caught up in 'life' that makes it impossible to hit the gym, and this is where having a home gym comes in.
Working out in the comfort of your home is pretty much amazing. You get to multi-task – maybe watch the morning news while squatting and take comfortable breaks in-between. Anyways, working out efficiently at home is only possible using the best home gym equipment. Here are some of the best home gym equipment you'd be needing for effective results;
Marcy 150-lb Multifunctional Home Gym Station for Total Body Training MWM-990
Keeping fit within the comfort of your home is made easier using one of these home gym equipment. The Marcy 150-lb MWM-990 features dual action press arms, which makes it possible to do a variety of chest and arm exercises to develop your biceps, triceps and, other muscles.
You feel a lot more comfortable when working out, all thanks to its ergonomically designed high-density to reduce the pain you'd most likely feel while working out. Just in case you need to work on your biceps alone, it also features an adjustable and removable curl bicep pad. Made out of heavy-duty steel, this equipment is also very sturdy.

Bowflex Home Gym Series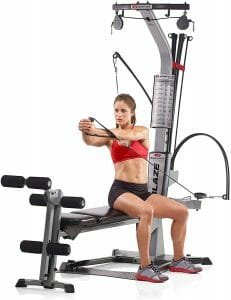 The Bowflex Home Gym Series is also good when it comes to keeping you fit in the comfort of your home. With this home gym equipment, you get to do a total of 60 exercises or more efficiently and comfortably. 
It also features multiple cables and pulley positions to help you get creative and do whatever exercise you feel is best for you. To make it easier to use, it comes with an instructional placard. Triple function hand and ankle grip to keep you firm and in place for an efficient workout session. With an upgradeable power rod resistance, staying fit and healthy becomes easier.

Marcy Multifunction Steel Home Gym 150lb Stack MWM-988
If you're looking for a heavy-duty, durable home workout machine, the Marcy 150lb Stack MWM-988 is the ideal home gym equipment for you. It features two different lateral bars that make it easier to work out in different positions. Its double station pulley system in connection with the lateral bars makes lifting weights, pullovers and, pulley rows that'll help you stay fit.
This home gym equipment also features a dual function press with two different settings; vertical butterfly and chest press for stronger muscles. With four foam rollers, you get to exercise your legs comfortably.

Marcy Smith Cage Workout Machine Total Body Training Home Gym System with Linear Bearing
With this home gym equipment, you get to do a lot of chest and arm exercises because of its durable and multi-functional press arms. This equipment is made with heavy-duty steel – so you're ready to use it for a long time without fixing it too frequently or having the need to get a new one.
For ease and convenience, this equipment also features six different weight pegs that give you easy access to your weights and keep them organized. With this equipment, you get to exercise every part of your body without having a gym membership. 

BodyBoss 2.0
For a portable home gym equipment, the BodyBoss 2.0 is just the best overall exercise equipment for home workouts. The BodyBoss 2.0 is designed to reduce the space other home gym equipment occupies. It consists of a bar, base, bands, door anchor, handles and, straps.
This home gym equipment makes working out anywhere and anytime comfortable and completely efficient because everything you'd ever need to stay fit is fully packed with every purchase. Its portability is our favorite thing about this home gym equipment. You get to go wherever you want to and still find enough time and space to work out in the comfort of your home.

Conclusion
Now that the biggest excuse as to why we don't work out has been cleared, keeping fit would be pretty straightforward. A lot of people find it challenging to work out because they're shy and find working out around people uncomfortable, but with the best home gym equipment, working out in the comfort of your home makes things a whole lot better.
You'll feel a lot more comfortable using any of this home gym equipment and love the idea of working out in no time. Achieving body goals is just a click away, and you don't need to get on a bus to get it.