Every day we make life-changing decisions and becoming a crossfitter is just one out of the many life decisions we get to make. Intense workouts and strict dieting are basically one of the few perks of being a crossfitter, which is actually a big decision and a tough journey to embark on, but this journey would only feel better when you're properly geared up for it (putting on the right CrossFit shoes)
One of the biggest but mostly overlooked decisions to make would be choosing the right CrossFit shoes. Many crossfitters care so little about the main source of comfort and stability, which is caring for your feet while trying to take care of the whole body.
A lot of CrossFit shoes have been designed to make crossfitters way comfortable and make crossfitting less painful on the feet, but we'd be looking at the top five best CrossFit shoes today. Below are some of the best CrossFit shoes just in case you've been wondering;
Reebok Men's Nano 9 Cross Trainer
The Reebok Men's Nano 9 Cross Trainer is our top pick for the best CrossFit shoes and there's a lot of reasons why this is so. There are so many reasons why these shoes are a crossfitter's favorite. These shoes are perfectly designed for all CrossFit exercises providing total comfort and support to the feet.
Its polyurethane Nano shell keeps the middle of your soul free from abrasions. Making it possible to work out on all flow materials and its rubber outsoles are to thank for this. The upper part of these shoes is also woven to make it stay in shape even when stretched.

Nike Metcon 5 Training Shoes
One of the best ways to treat your feet right during your WOD is getting yourself a pair of Nike Metcon 5. These shoes take care of the whole of your feet from the ankle where you have a mesh that ensures there's enough space for your feet to breathe to the heel where there's another mesh, which makes your heels feel the breeze too.
Another amazing feature of these shoes is its outsole which makes it suitable for sliding and moving in different directions without causing you to trip. Its drop-in midsole also gives you all the stability you'll need while standing or lifting weights.

NOBULL High-Top Trainer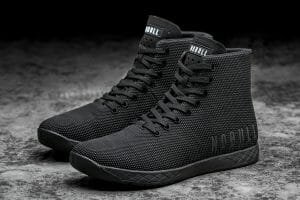 If you're tired of the regular design of other CrossFit shoes, you'd find the NOBULL high-top trainer would take you to the high rise of fashion and efficiency altogether. Its outsole is designed to comfortably work in any environment, you get to switch from different floor materials – from indoor to outdoor floor materials without feeling the effect on your feet. Its traction is brilliant.
These shoes are resistant to abrasion and have a mesh of high flexibility that'll make your feet able to breathe no matter the hard work you're doing. You get to run, lift weights and, do a lot more comfortably with a pair of these shoes.

Inov-8 Men's F-Lite 235 V3 – Ultimate Supernatural Cross Training Shoes
If you've ever craved for a multi-functional CrossFit shoe, the Inov-8 Men's F-Lite 235 V3 could be your best bet yet. These shoes are lightweight, so you wouldn't find it difficult to move your legs in one of these. Its unique outsoles give your feet all the flexibility and comfort it needs for longer and more efficient workout periods.
These shoes provide extra comfort to your feet with its elastic mesh liners that keep the feet tight and free at the same time. It also protects your toes from hitting boxes, all thanks to its welded toe bumper.

adidas Men's Powerlift.3.1 Cross Trainer
With a combination of durability and style, the Adidas Men's Powerlift.3.1 Cross Trainer is sure to keep you comfortable during your CrossFit exercises. The upper part – around the ankle is made up of lightweight synthetic leather that gives your ankles the comfort and support they need.
For a firmer and tighter grip to the feet, these shoes feature a lace closure and a strap. Its specially designed mesh makes it easier for your feet to breathe. Its outsoles are super-comfortable and durable, so you only get to make replacements after many years of use.

Conclusion 
Choosing the best shoes for Crossfit is never an easy task, especially now that there are so many brands with various features and designs that could get you confused when you need to select the right one for you.
The above-reviewed CrossFit shoes are durable, comfortable and they come in various beautiful designs. Purchasing one of these would be worth every penny and you wouldn't have any regrets. The good thing about these shoes is, they make all your crossfitting exercises even much easier to complete. I hope this article has been really helpful, so you don't get confused or make the wrong decision whenever it's time to get a new pair.